| | |
| --- | --- |
| J.D. Power Overall Satisfaction Ranking | N/A |
| A.M. Best Rating | N/A |
| Customer Service | 1-888-512-4204 or [email protected] |
| Discounts | N/A |
See how this company stacks up against our top rated renters insurance companies
When you rent an apartment, it's important to have renters insurance. Although buying insurance may seem like something for landlords or homeowners to worry about, the reality is that tenants absolutely need coverage to protect their belongings and to protect themselves against liability if an accident occurs at home.
There are many places you can get renters insurance. eRenterPlan is one option. Many tenants are referred to eRenterPlan when the building they live in requires insurance coverage. Unfortunately, that's the only way you can get coverage from the company. eRenterPlan policies are available only if your building is registered with LeasingDesk Insurance Services, a California insurance agency.
If you have been referred to the company, check out this eRenterPlan review before purchasing coverage. We'll help you decide if this insurance provider is worth considering or if you should look elsewhere to get protection.
In this review:
About eRenterPlan
eRenterPlan doesn't actually underwrite insurance coverage itself. When you take out a policy, your coverage is backed by either American Modern Insurance Group, Markel, or American National Property and Casualty Company. If your building isn't registered with LeasingDesk, you can still request a quote through eRenterPlan but your coverage will come through a partner called CoverMyStuff rather than through eRenterPlan directly.
How Much Does eRenterPlan Insurance Cost?
Coverage options vary depending where you live, your apartment, and the specifics of the policy you are interested in. If you have an animal that has caused anyone injury or if you or any of your co-tenants have made a damage claim recently, your policy costs will be higher or you may be denied coverage altogether.
To give you an idea of the prices that you may pay with eRenterPlan, we ran a test with an apartment complex that participates in the program in the 33549 zip code in Lutz, Florida. Tenants in this building would have to pay $18.25 per month or $189.00 annually if they opted to make a one-time lump-sum payment.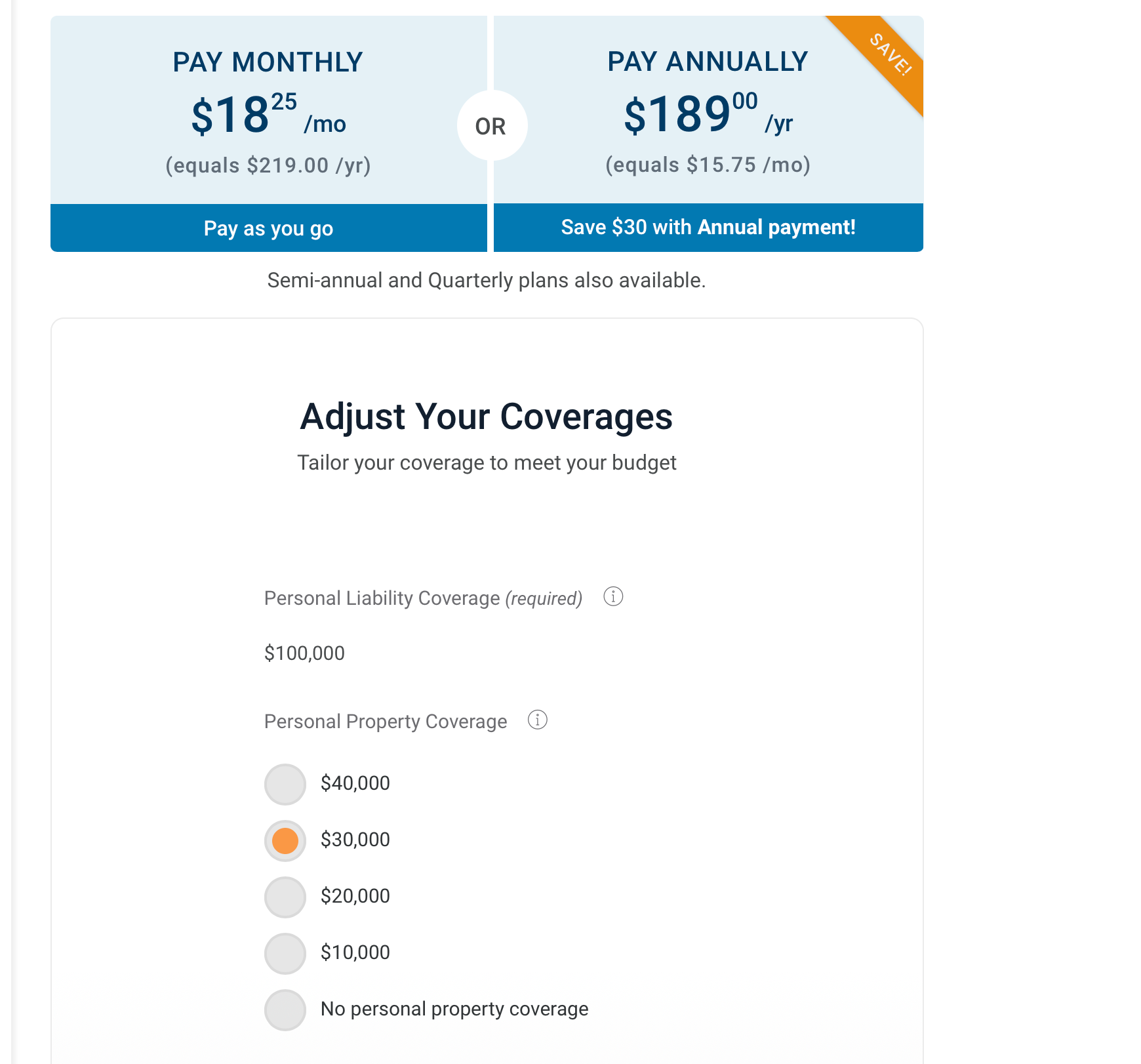 This price includes the following coverage options:
$100,000 in personal liability coverage
$30,000 in personal property coverage
A $250 deductible on your policy
If you sign up for a monthly plan, you will also need to pay a $2.50 billing fee per month. This price is higher than some competitor quotes, but is not the highest price you could pay for similar coverage on an apartment within the same zip code.
What does an eRenterPlan Policy Cover?
Liability
When you purchase an eRenterPlan policy, you are required to buy $100,000 in personal liability coverage. Personal liability coverage provides protection in the event that someone is injured while at your apartment and you are sued as a result.
It can also cover you if your animal injures someone, such as if your dog bites another person. It pays for legal bills, any settlement that you reach with the person who was hurt, and any court damages up to policy limits.
Unlike with some insurers, you do not have flexibility when it comes to the amount of personal liability coverage you can obtain through eRenterPlan. You must buy $100,000 in coverage.
Personal Property
You do have the option to choose the amount of personal property coverage you want. You can decline personal property coverage or can obtain coverage for $10,000, $20,000, $30,000 or $40,000 in coverage.
Personal property coverage pays for any damage to your property that might occur. For example, if there is a fire or flood in your apartment, personal property damage would pay you to replace or repair your lost possessions.
While your landlord's property insurance should cover the unit itself in most cases, your landlord's insurance doesn't typically cover your possessions. So if you want to make sure you can replace your possessions if something goes wrong, you will need personal property coverage.
Deductible
You will also have a $250 deductible for property damage coverage. This means you have to pay for the first $250 in damage before your insurer begins covering losses.
What's Required to Get Insured by eRenterPlan?
The only way to get insurance directly from eRenterPlan is if your building's property management company signed up to make eRenterPlan the primary renters insurance company for your building. You can't just buy this coverage, and if you try to get a quote from the eRenterPlan website, you'll be offered coverage from CoverMyStuff.
However, just because your building may have made eRenterPlan its primary insurer does not mean you are required to buy coverage through the company. Depending on local laws, you likely have the opportunity to buy coverage through any renters insurance provider that does business in your region—even if your building's property manager doesn't make it seem as though you have this option.
Not only can you shop around for coverage, but you should shop around. There are many other renters insurance providers that offer better rates, multi-policy discounts if you bundle renters and auto policies, and more customizable coverage.
Primary Drawbacks of eRenterPlan Insurance
There are some significant disadvantages to choosing coverage from eRenterPlan:
Premiums may be more expensive than similar coverage from other renters insurance companies.
You can't qualify for multi-policy discounts, which many competitors offer.
eRenterPlan doesn't underwrite its own policies, so a different company will actually be providing your insurance. This won't necessarily affect you, but it could delay or complicate the claims filing process.
eRenterPlan is not focused on making products attractive to consumers since the primary business model for this insurer is to sell insurance to managers of apartment communities.
Where is eRenterPlan Insurance Available?
eRenterPlan renters insurance coverage is available only if your property manager signed up with LeasingDesk. You can input your zip code on eRenterPlan.com to see if your building is listed. If it is not, you cannot get coverage here.
eRenterPlan Customer Service
eRenterPlan gets poor reviews from many customers, with one Yelp user referring to the insurer as the "worst company ever." Other users have complained about difficulty canceling policies, slow refunds, inability to talk with a human representative, and problems getting claims processed.
If you do need to speak with someone from the company, their phone number is 888-512-4204. Their customer service hours are Monday through Thursday 8 AM to 10 PM EST, Friday 8 AM to 9 PM EST, and Saturday or Sunday 9 AM to 7 PM EST.
There is also an online Contact Us form you can complete on eRenterPlan's website, or you can email [email protected]
Alternatives to eRenterPlan Insurance
If you'd prefer to get insurance through a different renters insurance company, you have many options. Here are some companies to consider:
Lemonade

Lemonade was founded in April of 2015 to provide a different way to get renters insurance. AI and chatbots handle policies and process claims, allowing consumers to bypass brokers and reducing the overall cost of insurance.
Coverage is available in select states including Arizona, New Mexico, New York, Rhode Island, Texas, Georgia, Nevada, Ohio, California, Illinois, New Jersey, Pennsylvania, Maryland, Iowa, Wisconsin, and the District of Columbia. Here are some of the key things that you need to know about policies from Lemonade:
Renters insurance policies charge premiums as low as

$5

per month.
Coverage is customizable.
You have the option to choose a policy with no deductibles.
Many claims are paid out in seconds after instant online review.
Lemonade pays out claims, takes out their own fixed fee, and allocates any remaining money to an annual Giveback fund, which is then donated to charities that policyholders care about.
Nationwide

Nationwide is a major property/casualty insurer that offers both renters insurance and other types of insurance coverage, including pet insurance and auto insurance. Multi-policy discounts are available to Nationwide customers. Here's what you need to know:
It's LendEDU's top-rated renters insurance company based on our weighted rankings.
It received an A+ rating from A.M. Best and the Better Business Bureau.
Coverage is available in 44 states.
You can buy liability coverage and policies are fully customizable.
Allstate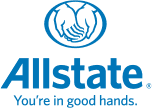 Allstate, like Nationwide, offers many types of insurance coverage, as well as multi-policy discounts. Policy costs vary based on where you live, but you can get quotes from Allstate to estimate the cost of your coverage using the company's online assessment tool. If you are considering coverage through Allstate, some of the key things to know include the following:
It's LendEDU's second-highest-rated renters insurance company.
It has an A+ rating from both A.M. Best and the Better Business Bureau.
Coverage for renters is available in all 50 states.
Policies are fully customizable, and you can get liability coverage.
Bottom Line: Shop Around Before Getting Covered by eRenterPlan
eRenterPlan is more expensive than many competitors, it's not very customizable, and you can only get coverage if you live in a building that has registered with LeasingDesk. Most consumers should strongly consider looking elsewhere for rental insurance before getting covered by eRenterPlan.