Allstate Renters Insurance Review
Allstate is a popular renters insurance provider. Costs vary depending on type of building, location, and coverage selected. The online assessment tool can help determine availability, eligible discounts, requirements, and restrictions.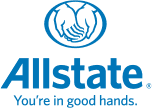 on Allstate's secure website
What we like:
Extensive policy discounts
| | |
| --- | --- |
| J.D. Power Overall Satisfaction Rating | 2 out of 5 stars |
| A.M. Best Rating | A+ |
| Contact Number | 1-877-810-2920 |
| Discounts | Multi-Policy, Smart Home, Automatic/Pay In-Full, Claim-Free |
See how Allstate stacks up against our top rated renters insurance companies
You're probably familiar with homeowners insurance and why it's needed, but you might not be as familiar with renters insurance—or why it's a good idea. Even if you don't own your home or apartment, renters insurance can protect what you own inside of your living space if something happens. It can cover water damage, problems from fire, or other issues that can come up in your area and damage your belongings.
There are many companies that offer renters insurance, and Allstate is just one of them. Is Allstate renters insurance right for you? Read on for an overview of what their renters insurance looks like.
Cost
Allstate renters insurance cost is initially based upon where you live and can vary widely. Pricing information isn't readily available online, unless you use the online assessment tool.
>> Read More: Average Cost of Renters Insurance
According to the Insurance Information Institute, a January 2018 study of all renters insurance policies found that Mississippi has the highest average annual premium at $262, and North Dakota has the least expensive premiums at $114. If you aren't in one of those two states, you can expect to pay an average of about $188 per year—less than $16 per month.
Coverage
While some insurers don't cover water damage, Allstate does, including extensive coverage for damage caused by sewer problems. They also offer a higher per-item coverage than many other companies; you can buy riders for your policy that can cover the full cost of high-value items such as jewelry, which is normally capped at $1,500 per item.
Coverage isn't determined by a pre-set policy amount, either—your total payout is determined by the number and value of items that you're insuring. That means you can get the coverage you need based upon the items you own, instead of getting a blanket policy that may not cover everything you need.
Advertisement
Don't just save on your insurance, match!
Shopping around for the best insurance is easy and fast with InsuraMatch
Compare quotes from over 30 leading insurance companies
Get expert insurance advice from a licensed advisor and find your match
Requirements to Get Insured
In order to get approved for Allstate renters insurance and get the best rates available, you'll want a solid credit history and renting history, which means no evictions, bankruptcies, or accounts currently in collections. You also have to be renting—this coverage isn't available if you're living with your parents rent-free or if you own your home.
You also need to live in an area where Allstate offers coverage; if you're outside the United States, for instance, you may have an issue getting covered. Once you have a policy in hand, however, you'll need to keep making your monthly payments; if they lapse or are late, you could find your coverage canceled.
You also need to live in an area where Allstate offers coverage; if you're outside the United States, for instance, you may have an issue getting covered. Once you have a policy in hand, however, you'll need to keep making your monthly payments; if they lapse or are late, you could find your coverage canceled.
Primary Drawbacks
While Allstate's coverage is excellent, the location-based rates mean you could pay some pretty high bills. A policyholder in Detroit, for example, will pay twice what someone in rural Iowa may pay, and someone in an area that deals with a natural disaster every year, such as forest fires, could pay more than someone whose biggest worry is whether the apartment above them leaves the bathtub running too long. You'll want to check Allstate's website for a free assessment of your projected cost based on where you live.
Availability
While anyone living in the United States will probably have Allstate renters insurance available, the cost of the coverage could vary enough by area to make it a bit cost-prohibitive for some renters. Allstate, however, offers a number of discounts. If you also have your auto insurance through them, for instance, you'll get a discount on your renters insurance. Other discounts include those based on age, automatic payments, and a "Safe Home" discount, which offers a break on the policy cost if you have fire alarms or security systems.
Customer Service
Allstate is known for their stellar customer service and intuitive customer interfaces online. Not only is their website easy to use, but you can also chat live with a customer service representative from their site during regular business hours.
Other options for talking to an agent include their locator, which finds an agent near you with whom you can go in and talk face to face. You can even tweet them by tagging @Allstatecares and they'll answer. For those who prefer a phone number, you can call 1-877-810-2920.
Bottom Line
Allstate renters insurance is a solid choice, especially if you're new to the concept and want to use a company that can help walk you through the process of getting started. While the varying cost by area can be a huge drawback, the discounts available can help defray that cost. The peace of mind you'll have knowing that your personal belongings are protected no matter what happens to the building they're in, however, doesn't come with a price tag.
4.38
Allstate Renters Insurance

Jeff Gitlen is a graduate of the University of Delaware. He writes about a wide range of financial topics including student loans, credit cards, small business financing, and more. His work has been featured on a number of sites including Bloomberg, CNBC, Forbes, Market Watch, and more.