Some offers mentioned on this page may be outdated. To confirm offers and credit card details, check the issuer's website.
---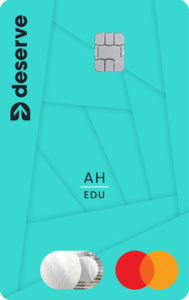 on Deserve's secure website
What we like:
Straight forward rewards for students
| | |
| --- | --- |
| Intro Offer | One year of Amazon Prime Student after spending $500 in the first three months from account opening |
| Rewards Rate | 1% cash back on all purchases |
| Regular Variable APR | 20.99% |
| Annual Fee | $0 |
See how this card stacks up to our top rated student credit cards
Deserve Mastercards are issued by Celtic Bank, Member FDIC.
Card Details
Overview
Cardmembers earn 1% cash-back on all purchases
Available to international students without a social security number
No foreign transaction or annual fees
One year of Amazon Prime Student after spending $500 in the first three months following account opening
Cell phone insurance for up to $600
Travel assistance, roadside assistance, and price protection services available at no cost
Variable APR
20.99% for all cardmembers and may fluctuate over time
Pros
The credit card offers a relatively high credit limit even for cardmembers with little-to-no credit history
Cardmembers have a variety of additional benefits and services included with their card for no additional fee
International students are eligible for the credit card
There are no annual fees or foreign transaction fees with the credit card
Cons
Cash back earned is only available in the form of a statement credit which is applied automatically in increments of $25
There are no balance transfer or cash advance transactions allowed with the credit card
Increasing the credit line is not allowed unless the cardmember switches to another type of credit card altogether
There is no opportunity to qualify for a lower interest rate and the rate may fluctuate over time
Bonus Rewards
No bonus rewards are available for this credit card offer
Rewards Points
All purchases made on the card earn 1% cash-back without limits
Intro Variable APR
There is no introductory variable APR for new cardmembers; all cardmembers receive an interest rate of 20.99% which may fluctuate over time
Recommended Credit Score
New applicants for the card do not need a strong or long credit history to qualify, and therefore, there is no minimum recommended credit score. This credit card is specifically designed for students who have low income, a low credit score, or few other accounts on their credit report.
---
Full Deserve EDU Credit Card Review
The Deserve EDU Mastercard is designed specifically for college students, allowing them to use credit while building a track record of financial responsibility at the same time.
The credit card is a rewards card that offers 1% cash-back on all purchases, redeemable for statement credits, without limitations on cash-back earned.
The Deserve EDU Mastercard is available for nearly all college students, whether or not they have a credit history or high credit score. International students may also apply, without a social security number, and credit lines are available up to $5,000 per cardmember.
The credit card has no foreign transactions fees and no annual fee, making it a better option than some comparable student credit cards with fees.
Benefits
The Deserve EDU Mastercard for college students offers several benefits above and beyond the 1% cash-back on purchases.
Cardmembers can receive reimbursement for Amazon Prime Student after spending $500 on the card within the first three months of account opening. The card also provides cell phone protection up to $600, car rental collision damage waivers, travel assistance services, and roadside assistance services. Cardmembers receive extended warranty offers on eligible purchases, along with price protection and ID theft protection directly from Mastercard.
The most valuable benefit, however, is the fact that new cardmembers do not need strong credit scores or history to qualify.
Downsides
Although the Deserve EDU credit card comes with several perks, downsides do exist.
Cardmembers are limited to statement credits only when it comes to redeeming earned cash-back rewards. These statement credits are automatically applied to an outstanding balance as soon as there is $25 available in rewards.
Cardmembers also have no introductory variable APR for purchases and no access to balance transfers or cash advances with the credit card. The Deserve EDU credit card also limits the maximum credit line to $5,000, even if credit history or score improves over time.
How It Compares to Similar Cards
There are several options for credit cards specifically for college students, but the Deserve EDU Mastercard is one of the few that does not have a minimum credit score requirement. This unique feature makes it a better option for students who have little-to-no credit history, or international students who have no social security number or a US-based bank account.
The card also offers more value to cardmembers because it has no annual fee and no foreign transaction fees, unlike similar college student credit cards.
The cash-back offered with the Deserve EDU credit card are comparable to other student credit cards, although there are some card issuers that offer higher rewards on some eligible purchases.
You can also check out our review of the Deserve Pro Credit Card.
Bottom Line
The Deserve EDU Mastercard is a strong choice for college students who have a minimal credit history or a low credit score but want to earn rewards on everyday purchases. Because the card has no annual or foreign transaction fees, and there are no limits on rewards, this is a better option for some students as a beginner rewards card.
Want to check out other cards? See our best credit card picks here.
4.5
Deserve EDU Credit Card

Dave Rathmanner, a graduate of the University of Delaware, regularly plans and writes content about student loans, personal loans, credit cards, small business loans, mortgages, and a variety of other financial products. Dave's work has been featured in the Chicago Tribune, Bloomberg, Forbes, CNBC, U.S. News, International Business Times, Consumer Reports, VICE, Yahoo Finance, NPR, and more.
Best Credit Cards by Type