CreditWise vs. Credit Karma: My Results & Experience
Both CreditWise and Credit Karma allow you to monitor your credit score online. I decided to compare both services below to see which was best.

As a Capital One banking customer, I was recently asked to check my credit score with CreditWise, a tool offered by Capital One.
At LendEDU, we've reviewed CreditWise in the past, so I had heard of the service. Having also been a loyal Credit Karma user for a few years now, I thought it would be interesting to see how my credit score is reported on CreditWise vs. Credit Karma.
In this review:
Comparing my credit scores on CreditWise & Credit Karma
CreditWise reported my credit score as 800, using the TransUnion VantageScore 3.0 model: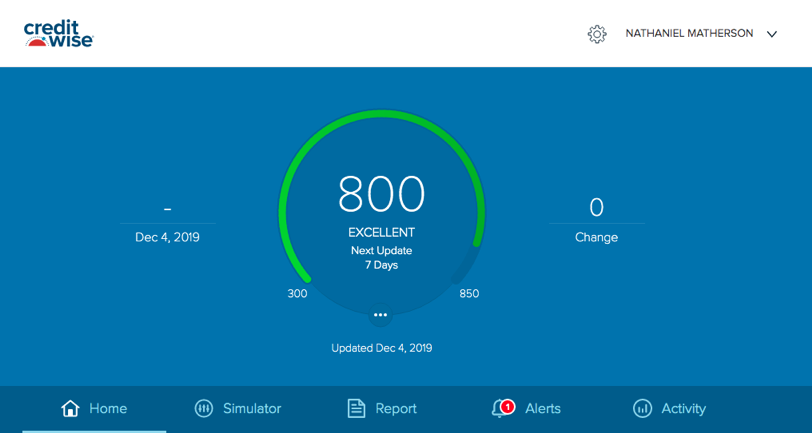 Credit Karma also reported my credit score as 800, using the TransUnion VantageScore 3.0 model:

However, Credit Karma also reported my credit score as 804 using the Equifax VantageScore 3.0 model.
And this makes sense. Using the same data from my credit report, both CreditWise and Credit Karma should be returning the same score using the same model. However, as I've written about in the past, the VantageScore 3.0 model can vary quite dramatically from the FICO model.
There is more to these services than just your credit score. More on this below.
Comparing credit score simulators
Like Credit Karma, CreditWise provides your credit score immediately upon login. From there, you can view your credit utilization, payment history, recent hard inquiries, available credit, new accounts, and more.
The credit score simulator is interesting, and works similar to the simulator we've created at LendEDU. As a test, I simulated that I borrowed $10,000 using a personal loan. According to CreditWise, my credit score would drop by 17 points to 783 afterwards: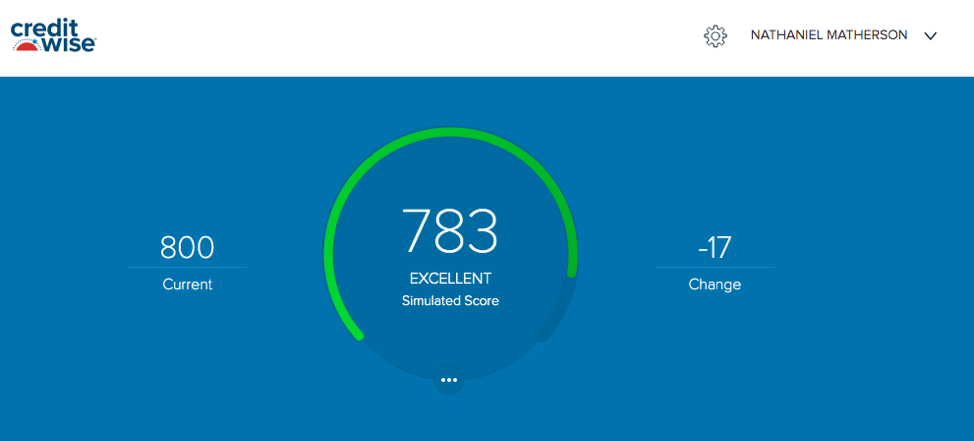 I repeated this exact experiment using Credit Karma's simulator. The results were identical, and my score was projected to drop by 17 points to 783:
Personally, the credit score simulators seem to be identical in capabilities. I'll call it a tie.
Score Improvement vs. Recommendations
Over the past few months, I've been working to improve my credit score by lowering my credit utilization ratio, paying down student loan debt, and making all of my payments on time.
So I was excited to compare how CreditWise and Credit Karma help you make changes to your score. Both services offer tips for improving your finances, which they call "Score Improvement" and "Recommendations," respectively.
CreditWise's "Score Improvement" tool
CreditWise's Score Improvement tool is pretty basic and doesn't feel very personalized. In short, CreditWise provides a series of FAQs to help you learn more about your credit report and score. While this info can be helpful, it's not tailored to my unique needs or situation.
Credit Karma's "Recommendations"
Credit Karma takes a slightly different approach. In Credit Karma's Recommendations tab, users are suggested to apply for a variety of financial products that are selected based upon your compensation, approval odds, and information from your credit report.
For example, at the top of my recommendations, Credit Karma provides an offer for the Chase Sapphire Preferred Card, with "Excellent Approval Odds." Credit Karma has even pre-approved me for $15,000 in personal loans from Upgrade and Prosper.
These recommendations are really simply advertisements for financial products, which is completely fine, but not necessarily helpful to me.
How they compare
CreditWise provides more actionable information to learn about your credit score, whereas, Credit Karma provides a tailored advertisement of financial products. Here, the two services provide very different user experiences.
Other major differences
Credit Karma offers a wide variety of tools that CreditWise does not offer, including a tax service, a service to help you claim unclaimed money, and even a savings account feature.
To me CreditWise feels like a lighter weight version of Credit Karma. And to be fair, Credit Karma's business is its platform. CreditWise is simply a feature and free tool offered by Capital One, and it isn't core to Capital One's business.
Both tools are helpful, free, and return similar results. Going forward, I am probably going to be using Credit Karma more often, and CreditWise once in a while.

Nate was the co-founder and CEO of LendEDU. He has a passion for financial literacy and a personal relationship with student debt, and he likes to use his experience to help others. Nate graduated with B.S. in Finance from the University of Delaware. At the time of graduation, Nate had over $50,000 in student loan debt.