Capital One Waived My Cashier's Check Fee, Here's Why
If you need a cashier's check from your Capital One 360 account, you will be charged a fee. However, it may be possible to avoid it.

Typically, Capital One 360 customers can purchase a cashier's check for $20 online with overnight shipping or $10 in person at a branch.
However, I recently needed a cashier's check and was able to get one for free from my local branch in Hoboken, New Jersey. The process for getting a cashier's check from your local Capital One Bank branch might be just as easy for you.
All you need to do is ask for a free one.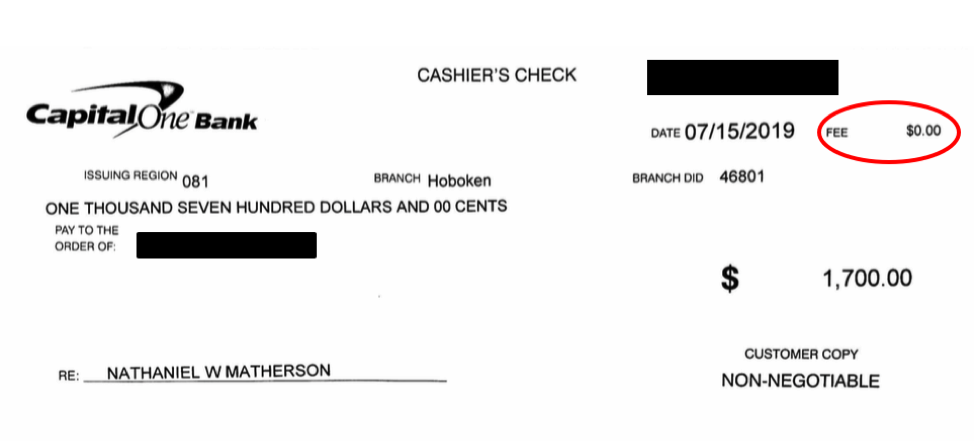 Here is what happened
Having recently moved apartments, I needed a cashier's check to repay a security deposit to one of my roommates. A cashier's check is similar to a personal or business check, but it is guaranteed by the bank.
When you request a cashier's check, the bank—in this case, Capital One—will immediately take the funds from your account to guarantee the check will clear for the depositor.
>> Read more: Capital One 360 Review
During my lunch break, I walked over to the branch and spoke to a teller without a wait.
I asked her for a cashier's check, and then asked her what the cost would be. First, she asked me the amount. I said $1,700. Next, she asked me how long I've been a Capital One Bank customer. I said I've been a customer since before Capital One purchased my account from ING Direct in 2011.
She told me the price would be $0.00.
>> Read more: Best Free Checking Accounts
Based on how she asked the question, I suspect either my account's age or the amount of the cashier's check actually had an impact. Based on my personal experience, if you are asked to pay $10.00, I'd simply ask for a free one based on your account age. In my case, the teller simply offered it to me, although my experience could be unique.
The entire process took about 10 minutes, and I was back in the office in about 30 minutes.
Online ordering for added convenience
You can also order a Capital One cashier's check online for $20. Included in that price is overnight shipping to the destination of your choice, which is convenient and feels like a pretty good deal to me.
>> Read more: Best Online Banks
To order online, simply click Account Services and Settings from the menu. Next, choose Checks, and then Cashier's Check.
Fill out the fields that say Pay To The Order Of, Amount, and Memo (optional). Finally, fill out the Payee Info with the payee's mailing address.
Capital One makes ordering cashier's checks easy, whether you are in-person at a branch or online. Based on my experience, it is possible that you can get a free cashier's check in person; however, the online ordering and delivery option is also convenient.

Nate was the co-founder and CEO of LendEDU. He has a passion for financial literacy and a personal relationship with student debt, and he likes to use his experience to help others. Nate graduated with B.S. in Finance from the University of Delaware. At the time of graduation, Nate had over $50,000 in student loan debt.