You've likely heard a lot about prepaid debit cards. For example, you might remember when the Kardashian sisters got in trouble when their prepaid card was called out for charging onerous fees. You might have also seen them advertised and available for purchase in check out lines at department or convenient stores. But just what are prepaid debit cards and why are so many Americans using them?
Prepaid debit cards are a payment option that has some of the functionalities of both a bank account and a credit card. You can use them as a payment option almost anywhere that would accept a normal credit card, whether online or in a retail store.
But, unlike credit cards, prepaid debit cards require that you put money onto them before you make a purchase. They are often confused with secured credit cards, a credit vehicle for those who have bad credit that requires the user to put a deposit down in order to qualify to borrow money. Unlike secured credit cards, using a prepaid debit card does not build your credit or report your payment activity to credit bureaus.
So, what can you do with one of the best prepaid cards on the market? It depends on a few things, but you can often load money onto the card either at designated reload locations or online, deposit checks onto your card or cash them, take out money via ATMs or at a bank branch, pay for purchases via PIN or signature transactions, write checks and pay bills online. Basically, you can do almost anything you could do with a credit card or bank account.
Comparison of the 5 Best Prepaid Cards
| | | | | | |
| --- | --- | --- | --- | --- | --- |
| | American Express Serve | Netspend Prepaid Card | Paypal Prepaid MasterCard | Walmart Money Card | Brinks Money Prepaid MasterCard |
| Cost | $0 Online | $0 | $0 Online | $3 | $0 |
| Monthly Fee | $1 | N/A | $4.95 | $5 | $0 |
| ATM Fee | $0* | $2.50 | $1.95 | $2.50 | $2.50 |
| Lost Card Fee | $0 | $9.95 | N/A | $3 | $9.95 |
| Foreign Transactions | 2.7% | 3.5% | 2.5% | 3% | 3.5% |
*at MoneyPass Network ATMs

Why You Might Use a Prepaid Debit Card
There are a lot of reasons why people use prepaid debit cards. Some people use them instead of a bank account in order to write checks, cash checks, and pay bills online, whereas others have a bank account and use them only in certain situations. For example, some people are afraid of overspending and find comfort in loading only a certain amount of money onto their prepaid cards. Others use prepaid debit cards to combat fraud or limit its impact – particularly when purchasing things online when they don't want to expose their credit card number.
Some people are drawn to the best prepaid cards because they can't qualify for a credit card but require the use and convenience of a prepaid debit card to pay for things online or at places only credit cards are accepted. One of the benefits of prepaid debit cards is that they also allow you to cash government checks up to two days faster than banks which is appealing to many people who are on fixed incomes.
There are also people who use prepaid debit cards to keep money safe when they're travelling or to teach their kids about money by uploading a certain amount every month as an allowance onto a card.
What to Look for When Searching for the Best Prepaid Debit Card
Unfortunately, the Kardashian branded card isn't the only prepaid debit card that is notorious for its high fees. There are a lot of prepaid debit cards that charge fees for just about everything, so it's important to read all the fine print before you plunk your money down for a prepaid debit card. Luckily, there are some options that are better than others and you can find the best prepaid debit card if you know how you want to use your card and choose a card that won't charge you for the types of transactions you intend to make.
Most prepaid debit cards charge some kind of a monthly maintenance fee, although there are some cards that will waive that fee if you keep a specific balance or set up a monthly direct deposit of at least $500 or $1,000. You'll want to find a card with a low monthly fee – preferably under $5.00. If you plan on keeping a higher balance on your card or setting up a direct deposit, you'll want to look for a card that will waive your monthly account fee.
You should also pay attention to spending and loading limits for your card. Each card has a different maximum balance, a maximum daily load amount, and a maximum amount you can spend on purchases, ATM withdrawals, or other withdrawals.
Many prepaid debit cards will charge you to reload your card, whether when you do so in store, online, via mobile app, or by cashing a check. The best prepaid cards are those that give you several free options for reloading money onto their cards.
For example, many cards will allow you to reload money online for free, but will charge you to cash checks or reload your card at one of their network locations. As long as you have an option to reload money onto your card for free or a low fee that is convenient for you then that might be a good card for you. If you want to be able to reload your card at retail locations or via an ATM, you will almost always have to pay some fee to do so, but you should look for a prepaid card that has many convenient retailers where you can reload your card conveniently.
Another thing you might want to look for is rewards points. Some cards offer cashback rewards points to their customers that are similar to credit card rewards points where you get back a certain percentage for every dollar you spend. While these types of cards can be good, some charge a high monthly fee for the privilege, so be sure to do the math yourself to make sure that the added cost is worthwhile.
The 5 Best Prepaid Cards
American Express Serve Prepaid Debit Card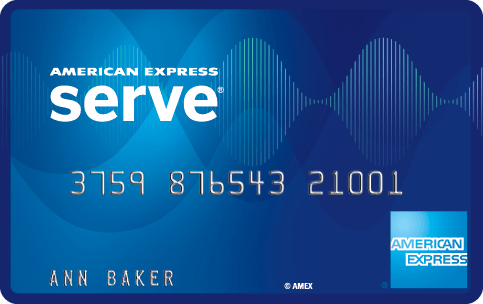 American Express is well-known for their credit cards, so many people trust them when choosing a prepaid debit card. There are actually three options with it comes to American Express Serve Prepaid Debit Cards: the basic Serve card, the Serve card with free reloads, and the Serve card that offers cash back.
The basic card has the cheapest monthly fee at just $1 per month which is waived if you have a direct deposit of $500 linked to your card while the free reload card charges $4.95 per month and the cash back card charges $5.95 per month.
All of the cards are free if you order them online, but can cost up to $3.95 if you buy them at a retail store. The cards have no fees for signature or PIN transactions. They also offer free withdrawals from ATMs that are within the MoneyPass network, but charge a $2.50 fee for out-of-network ATMS in addition to any ATM operator fees charged. Some benefits of the Serve card include that you can make free bill payments online, send and receive money for free to others with Serve cards, and put money aside into a 'savings' subaccount. American Express also has a very easy to use Serve card app and offers fraud protection on your purchases.
The cash back Serve card gives you 1% cashback on all your transactions, but it charges you a premium for that privilege. In order to make back your money, you would have to spend at least $600 per month with your Serve card. The fee for the free reload card will pay for itself if you reload your card just two times per month.
Some downsides include the fact that the cards charge 2.7% for foreign transactions and that it charges a premium for mobile check deposits, Depositing a check is free if you can wait 10 days for your money, but if you want it right away you will pay 1% on all payroll and government checks or 5% on other types of checks with a $5 minimum.
The American Express Serve cards are easily some of the best prepaid cards out there and they offer some great features and some of the lowest fees, but whether they're right for you will depend on how you plan to use your card.
---
The NetSpend Prepaid Debit Card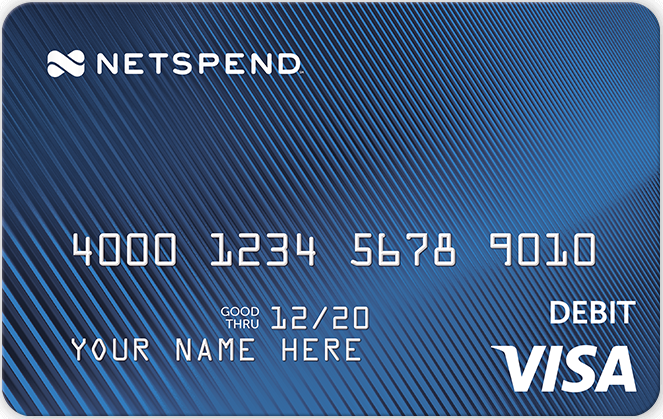 NetSpend was founded in 1999 and runs a network of prepaid debit card reload locations that many of the other prepaid debit cards use as places where you can add money to your card. There are over 130,000 reload locations in the NetSpend network.
The Netspend card is free to order online, but you have to pay up to $2.95 if you buy it in a store. There are two plans that you can choose from for using the card: a pay-as-you-go plan or the monthly plan. With the pay-as-you-go plan, you'll pay up to $2 per transaction every time you use your card. The monthly plan cost $9.95, but if you receive $500 in monthly direct deposits you only have to pay $5 per month. One of the benefits of the NetSpend Prepaid Debit Card is that it offers free transfers from your bank account or PayPal account. They also provide up to 5% in interest on the first $1,000 you set aside in savings on your card.
One of the downsides of the NetSpend Prepaid Savings Cards is that the vast reload network is costly – they charge up to $3.95 for each cash reload. There is also a fee to use an ATM or bank to withdraw funds of $2.50 plus any ATM operator or bank fees. NetSpend also charges $0.50 for balance inquiries at ATMs and does not offer you the option of writing checks.
On the whole, NetSpend is a convenient option since there are multiple reload options, but there are other cards that tend to have fewer fees and use the same reload network.
---
PayPal Prepaid Mastercard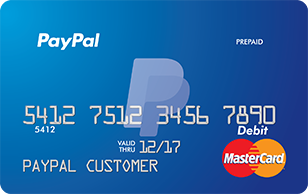 PayPal is not typically known for its payment cards. Instead, they're famous for the online payment processing services that they provide to businesses and individuals. But many people either send money or earn money online and therefore have money in their PayPal accounts which they have to transfer to bank accounts in order to access and use. If you have a PayPal account, then you might consider getting a PayPal Prepaid MasterCard in order to access your money more quickly and easily. Transferring money from a PayPal account to the PayPal Prepaid MasterCard happens instantaneously and is free.
Some of the benefits of using the PayPal Prepaid MasterCard is that the card is free if you purchase it online, and there are no fees if your account is inactive. It also has a really high purchase limit compared to other cards and a high card value. You can make purchases up to $5,000 and add up to $15,000 to your card.
Another benefit is there are no signature or PIN transaction fees, and you can get cashback from retail locations. The PayPal Prepaid MasterCard is part of the NetSpend Network that has over 130,000 locations across the country where you can reload your card.
The PayPal Prepaid MasterCard offers a rewards program and they also pay interest on money that you put in a savings feature. They pay 5% interest on balances up to $1,000 and 0.5% after that. They also provide a free secondary card and free balance inquiries via PayPal, email, text message, and PayPal customer service.

Some of the drawbacks of using a PayPal Prepaid MasterCard are that there is a monthly fee of $4.95 that is charged even if you have a high balance. It also costs $4.95 in order to buy the card at a retail store and it cost $5.95 to get the rest of your funds in your account via check if you're closing your account. If you want to withdraw money using your card, you will also pay a number of different fees. PayPal charges $1.95 for every ATM withdrawal in addition to what the ATM operator charges you. They also charge a $2.50 to withdraw money at a bank and a $1 fee if you have any ATM transactions that get declined.
They also have a low limit for how much you can transfer to your card every day of only $300 and it costs up to $3.95 when you load your card at any location within the NetSpend network. If you want to deposit checks, you will have to pay 1% of the amount of a government check and 4% of the amount of any other checks unless you choose the free ten-day processing option.
The PayPal Prepaid MasterCard can be a good deal for you. For those who already actively use PayPal, it could be the best prepaid debit card for you, especially because there is no way to access online accounts unless you have a card linked to a PayPal account.
---
Walmart Money Card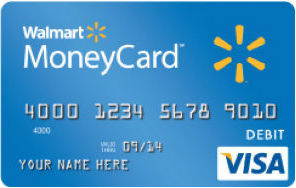 Walmart is a well-known and well-respected name and if you shop at Walmart regularly it might make sense for you to purchase the Walmart Money Card.
One of the benefits of the Walmart Money Card is that they charge a relatively low monthly fee of just $5 per month and that monthly fee can be waived if you load $1,000 on the card. Just be careful you keep your account active since after two months of not using the card you will be charged the monthly fee again.
The good news is that there are no fees for either PIN or signature transactions, cash withdrawals at any Walmart location, or getting cashback directly from your card at retail stores. You can also earn cashback rewards of up to $75 a year as they give you 3% cashback when you shop at Walmart.com, 1% cashback when you stop at Walmart stores, and 2% cashback when you shop at Murphy's USA or Walmart gas stations.
There are also free direct deposits of either payroll or government benefits, and free online bank transfers to the card. You can also pay your bills online for free and transfer money between friends and family. While they do charge a fee for money orders it's only $0.70 – that is cheaper than most banks charge. There is also the ability to move money into a savings account feature which is called the MoneyCard Vault and there are cash prizes available in order to encourage people to save. In addition, you can get a second card for just three dollars with no additional monthly fee.
Despite these benefits, there are some drawbacks and these include the fact that there is a $2.50 fee for bank teller or ATM withdrawal plus any additional fee charged by either the bank or the ATM company. Another drawback is that you have to pay $3 to put cash on to Walmart Money Card at the Walmart checkout, and up to $4.95 to reload your card at retailers who are within the Green Dot reload network. It also costs money to deposit a check using their mobile app – but the cost is only $0.95. If you want to use checks with your prepaid card, it cost $5.95 for 12 checks which is about $0.50 per check.

On the whole, the Walmart Money Card is a reasonably good prepaid debit card option. It isn't the cheapest card that you'll find, but it does have lower monthly fees and lower fees than average.
---
Brinks Money Prepaid Mastercard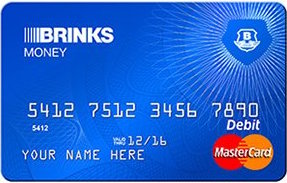 You likely associate the Brinks brand with their armoured trucks that pick up and drop off money from banks or ATM machines. They've been in the business of securing both cash and valuables since 1859 and now they've partnered with MasterCard to offer a prepaid debit card with some unique advantages.
The Brinks Money Prepaid MasterCard have three different plan options that you can choose from. There is the Pay-As-You-Go Plan which has no monthly fee, but which charges $1 for each signature transaction and $2 for each PIN transaction. There's also a maintenance fee of $5.95 if there no activity after 90 days. Then there is a Monthly Plan that has a $9.95 fee, but which comes with no additional fees for any kind of transactions. Finally, there is a Preferred Fee Plan that has a $5 monthly fee which includes signature and PIN transactions, but to qualify for that plan you have to set up a direct deposit of at least $500 per month.
The three plans allow you the flexibility to decide which plan is right for you based on how you want to use the card. The Pay-As-You-Go-Plan might be right if you plan to use the card only for emergencies, but if you plan on frequent usage, the other two plans will be more cost effective.
One advantage of the Brinks Money Prepaid MasterCard is that it is part of the large NetSpend reload network with over 130,000 reload locations – which means that you can easily add money to your card. While you will pay a fee for those reloads which varies based on the location, there are no fees for reloading your card via direct deposit. Here are also no fees to reload your card online.
Other big advantages are that you can earn cashback via the PayBack Rewards program when you shop at certain restaurants and shops, and they insure your money via the FDIC by depositing your funds in the BOFL Federal Bank.
Despite the advantages, there are some significant drawbacks to the Brinks Money Prepaid MasterCard. There are a lot of fees associated with this card. For example, there is a out-of-network withdrawal fee for ATMs of $2.50 or $4.95 for international ATMs, there's an international transaction fee of 3.5%, and there are fees involved when you reload money at retail stores and those fees vary by location.

While the Brinks Money Prepaid MasterCard has some great benefits, there are also a lot of fees so it's best for those who plan on reloading their cards via direct deposit or online.

Jeff Gitlen is a graduate of the University of Delaware. He writes about a wide range of financial topics including student loans, credit cards, small business financing, and more. His work has been featured on a number of sites including Bloomberg, CNBC, Forbes, Market Watch, and more.