As credit cards have become an essential financial management tool for growing businesses, issuers have raised the bar to offer cash back, benefits, and rewards in the ever-expanding business credit card market.
By comparing your options, you can find the card that is best for your business. Here are our picks for the best business credit cards.
Best business credit cards:
Reviews of the best business credit cards
Below, you'll find reviews of our picks for the best business credit cards.
Best overall: Ink Business Unlimited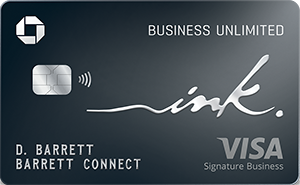 Nest Steps
LendEDU Rating: 4.8/5
Rewards rate: 1.5%
Annual fee: $0
Editor's thoughts: This card comes with a valuable welcome bonus, a high cash back rate on all purchases, and no annual fee
The Ink Business Unlimited card is our top-rated credit card for businesses. New businesses can earn $900 after spending $6,000 on purchases in the first three months after account opening. All cash back made can be redeemed without any restrictions on the amount you take out or how you want to take it out.
Here is the rewards rate breakdown:
Sizable welcome offer with a manageable spending requirement

Solid cash-back rate on all purchases

Employee cards at no additional cost

No annual fee
Benefits outside the cash back are limited
To learn more about this card and what it offers, click here.
---
Best for hotel rewards: Hilton Honors American Express Business Card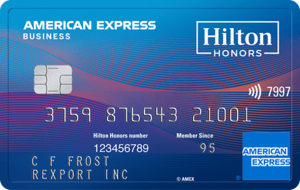 Next Steps
LendEDU Rating: 4.6/5
Rewards rate: 3x – 12x
Annual fee: $95
Editor's thoughts: This card comes with a wide variety of bonus category rewards opportunities and a manageable annual fee
Terms Apply.
The Hilton Honors American Express Business Card is best for businesses looking to earn rewards at Hilton hotels. New businesses can earn a total of 130,000 bonus points after spending $3,000 in the first three months.
This card should only be considered if your business plans on staying at Hilton hotels and resorts when traveling.
Here is the rewards rate breakdown:
12x points on purchases made directly with hotels and resorts in the Hilton portfolio
6x points at U.S. gas stations
6x points on wireless telephone services purchases from U.S. service providers
6x points on U.S. shipping
6x points at U.S. restaurants
6x points on flights booked directly with airlines or with Amex Travel
6x points on car rentals booked directly from select car rental companies
3x points on all other eligible purchases
Complimentary Hilton Honors Gold status

Several benefits for making your stays at Hilton hotels or resorts cheaper and more rewarding

Sizable welcome offer with a manageable spending requirement

Earn points on a wide variety of bonus categories

No foreign transaction fees
Annual fee

May not be suitable if you don't plan to stay at a Hilton when traveling
To learn more about this card and what it offers, click here.
---
Best for earning cash back on office supplies: Ink Business Cash Credit Card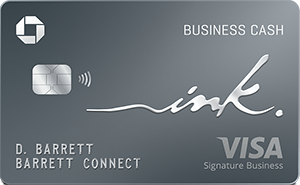 Next Steps
LendEDU Rating: 4.7/5
Rewards rate: 1% – 5%
Annual fee: $0
Editor's thoughts: This card offers a high welcome bonus and high rewards rates for office supply spending
The Ink Business Cash Credit Card is our top-rated card for earning rewards on office supplies. New businesses can earn $900 after spending $6,000 on purchases within the first three months from account opening.
Here is the rewards rate breakdown:
5% cash back on the first $25,000 spent in combined purchases at office supply stores and on internet, cable, and phone services each account anniversary year
2% cash back on the first $25,000 spent in combined purchases at gas stations and restaurants each anniversary year
1% cash back on all other purchases
Large welcome bonus

Employee cards at no additional cost

Enjoy fraud protection, purchase protection, personalized account alerts, and more

Introductory APR offer on purchases

No annual fee
Few added benefits outside cash-back rates

Cash-back rates have caps each anniversary year
To learn more about this card and what it offers, click here.
---
How we chose the best business credit cards
To find the best business credit cards, our Editorial Team analyzed cards by introductory APR and bonuses, rewards rates, redemption options, other benefits, annual fees, and whether or not the issuer is nationally recognized.
Learn more about our ratings and methodology here.
How business credit cards benefit businesses
Many people would have a difficult time managing their finances without credit cards, and businesses that need to cover brief shortfalls and manage cash flow are no different. It's especially important for small businesses to establish credit so they can have access to the financing they need to expand.
When used effectively, a business credit card is an essential cash management tool and helps a business establish itself as a legitimate member of the business community. Here are some additional reasons why a business credit card can be essential for businesses, including small business owners.
Keeps personal and business finances separate
If you really want to annoy the IRS or your accountant, try presenting them with business records that mix business and personal expenses. It's one of the quickest routes to an audit and can complicate your life. Carrying one of the best business credit cards can help keep these finances separate, while rewarding you for doing so.
Flexibility, control, and convenience
In today's digital world, it's nearly impossible not to use the internet to make some purchases. So you need a credit card. Plus, you never know when you'll need to make a sudden purchase that requires short-term financing. Having a business credit card can ensure your business makes purchases efficiently, and will enable the business to better control expenses, especially with employees.
Cash flow management
Making purchases with a business credit card can help the business keep cash flow positive throughout the billing cycle. Payments to a credit card can be timed to customer receipts, allowing the business to stay liquid by holding cash and leveraging credit. And, because business credit card accounts provide daily transaction records and monthly spending breakdowns, business owners can better manage and control cash flow.
They can be very rewarding for small businesses
The best small business credit cards have cash back and travel rewards programs that can truly reduce the outlay for supplies, equipment, and travel. Reward points are typically higher on business-related purchases such as supplies and travel, so they can be used to reduce costs.
Give your business some credit
When you do need extended financing, the bank will look at both your personal credit history and your business credit history. A business credit card can be an efficient way to build a credit history for your business.
What should the best business credit card have
Today, businesses of all sizes have a growing number of choices in business credit cards – from small businesses trying to establish credit to larger companies looking to maximize rewards. While there are many similarities between business credit cards, a business should consider the key factors that will most impact their cash flow and their capacity to manage credit.
Annual percentage rate and account balances
Generally, the annual percentage rate (APR) for business credit cards tends to be higher than for personal credit cards, making them less attractive for carrying monthly balances. The best use of a business credit card is as a cash alternative, spending no more than what is budgeted each month. Although some businesses, in a planned strategy, may make larger capital expenditures that could require several months of cash flow to cover the expense.
If a business anticipates carrying a balance, it should only consider business credit cards with the lowest possible APR for which it can qualify. It is important to note that, although new regulations prevent credit card issuers from raising the APR on personal credit cards before they are 60-days delinquent, that doesn't apply to business credit cards. If a business has trouble managing its credit card payments, issuers can increase the APR almost immediately. It can become very costly to carry a balance under those circumstances.
Business credit cards that offer a rewards program tend to have higher APRs. Considering that the average rewards rate among these business credit cards is about 2%, businesses that carry a balance for even a few months will see any advantage from rewards erased by the costs of interest. If businesses anticipate the possibility of carrying a balance, it's ideal to choose a card with the lowest possible APR versus a card with a tempting rewards program.
Conversely, businesses with a strong cash flow and the ability to pay the balance in full each month could benefit more from a credit card with a good rewards program. The APR tends to be higher, but it won't matter if the business doesn't incur interest charges.
Fees
With business credit cards, there is almost no way to avoid fees. Most cards, especially those with rewards programs, charge an annual fee that can run as high as $100 per year or more for some of the most exclusive cards. Higher annual fees should be weighed against the value the business expects to receive from rewards.
There are exceptions, however. The amount of the fee is sometimes dictated by the APR offered or by the number of other benefits offered. Low-fee or no-fee cards may be harder to qualify for or may have a lower rewards rate. Consider other fees as well, including late or returned payment fees.
Employee cards
Most businesses have multiple employees authorized to use company credit cards. This is when having a business credit card can really pay off. The best business credit cards not only offer additional cards for employees, they also enable the business to dictate the spending levels on multiple cards, which can give more control.
Most business credit card issuers will offer additional cards at no extra cost, but only up to a certain number. Credit card fees for extra cards can quickly eat into the value of having employee credit cards, so be clear about card policies upfront. The value of having employee credit cards can also be diminished if there is no way to manage the account and track spending. So, ask your issuer about online account management tools as well.
Rewards program
Frankly, many businesses choose their business credit card based almost exclusively on the rewards program – and with good reason. Some rewards programs can be very beneficial, especially if they are directly aligned with the company's spending habits. There is also a significant difference between programs that pay cash back and those that award points, and businesses will benefit differently by having either one depending on their activities. Here are the main spending categories to consider when choosing a rewards program.
Planes, trains, automobiles, and hotels
Businesses that require their employees to travel frequently should look closely at travel rewards business cards. Programs focused primarily on travel tend to offer the highest rewards for air travel and hotels, and are often the best business credit cards for gaining the most value. Many travel rewards business cards also offer additional travel benefits, such as airport lounge access, complimentary baggage fees, free companion tickets, and other perks that can offer great returns to frequent travelers. For businesses with just one or two people who only travel periodically, other cards that focus on spending categories like office supplies or gas may be better options.
Office supplies, utilities, and gas
Many rewards programs emphasize business-related spending categories, such as office supplies, cable, and phone services. Some also include dining and gas as main spending categories. Businesses that have a large, local sales team that wines and dines clients could use those rewards to offset entertainment expenses.
Businesses that have larger expenses in any of these categories would benefit from these alternative rewards programs over travel rewards programs. The cash-back programs may be preferable because they offer more flexibility in how the rewards can be redeemed. Cash back is usually paid as statement credits that can be used for any purpose.
Frequently asked questions about business credit cards
Are cash-back rewards or points better for your business?
The deciding factor between cash back and points is how your business would use the them. For example, travel and hotel points are good if you and your employees are avid travelers. Cash back is a great option for businesses, especially because with incentives based on meeting certain spending goals that many cards provide. For example, some business credit cards offer 3% cash back if you spend a certain amount after opening your card. Annual cash back options may have some restrictions, so confirm the details on the program.
What is the difference between a business credit card and a business charge card?
There are three main differences between business credit cards and business charge cards: spending limits, monthly billing, and overall effect on your credit score. Credit cards almost always have a spending limit, based on credit history and clients' business needs. Charge cards have no spending limit, meaning you can theoretically spend as much as needed each month. On a credit card, your balance rolls over from one month to the next, but charge cards require full payment every month. Finally, because your charge card bill doesn't roll over into the next month's billing period, credit score is reported differently than it is from a credit card.
Does it make sense to pay an annual fee for a business credit card?
Yes. First, the annual fee can almost always be offset as a business expense during the end-of-year taxes. This is good news for your tax return and helps offset the costs associated with business credit cards. Second, most cards with an annual fee come with more perks than those without a fee. If you already have researched the rewards program and other perks of the card, weigh that against the annual fee to see if it pays off.
What are some of the non-financial perks offered by business credit cards?
Beyond the rewards points and the cash-back options offered on almost all business credit cards, most cards extend other lesser-known, non-financial perks. Some credit cards offer extended insurance for damage or loss of baggage during travel, as well as insurance for cell phones and extended rental car insurance.
Most credit cards also offer extended warranties beyond the standard factory warranty provided on goods and services. Which means if you buy a computer monitor with a one-year limited warranty, most credit cards will automatically extend that warranty for two more years. If you travel a lot, you may also want to find credit cards that offer free or extended roadside assistance, trip cancellation, or trip delay insurance.
Do business credit cards earn rewards on employee purchases?
If the primary business card is a points or rewards card, then all secondary account holders will also earn rewards. Whether it's the employer or the employee making the purchase, points accumulate through all of the credit card's users.
There is some debate as to whether the employee or the employer has a right to those points, so outline the rules regarding point ownership before handing over a company card to an employee. In general, if the company pays for the annual membership, the company would own the points. On the flip side, if it's the employee paying the yearly fee, then they would accumulate the points.
Some employers rely on credit card points programs to give bonuses to their employees. That can be a good incentive program for the employee, and a cost-saving tool for the company.
Do you need a business credit card that integrates with your accounting software?
For a business, you need to account for all business expenditures. That's likely part of the reason why you've signed up for a business credit card in the first place. Separating your business and your personal accounts is only the first step to getting your business financials in order. The next step connecting all business accounts to your accounting software.
All major credit cards should connect easily to whatever accounting software your business relies on. Having all transactions automatically reported saves hours of manual entry, as well as reduces the risk of error. It saves the hassle of tracking down every card-holding employee each month.
Can you get approved for a business credit card if your personal credit is fair or bad?
Personal credit scores are separate from business credit scores, except if the card requires a personal guarantee. Credit scores, whether personal or business-related, are a way for the banks, credit cards, and other lenders to determine creditworthiness. In a properly structured business, a business owner's credit doesn't factor into the business's financial standing.
Your personal credit score will influence your business's ability to secure a business credit card if your personal and business finances are intertwined, or your business has little credit history. Incorporated businesses, with good standing, should have no issue getting a business credit card, even if the owner has poor or bad credit.
Are there any business cards that do not require a personal guarantee?
Small businesses with few assets, little savings, and only recent financial history have a high risk of lapsing on bill payments. Business owners know this, banks know this, and so do credit card companies. Because of the potential for risk, many credit card companies require businesses to sign a document called a personal guarantee. These documents provide legal assurances in the event the company cannot pay its credit card bills. If the company falls behind in payments, the responsibility then falls on the cardholder.
When a personal guarantee is warranted, the applicant must submit their own credit information along with the history of their company. When credit cards require personal guarantees, their credit reporting influences both the credit profile of the business and the primary cardholder.
Even if you've carefully structured your business to protect yourself from personal liability, a personal guarantee on a credit card may make you liable. If the company fails, the personal guarantee has allowed creditors to go after personal assets. A credit card requiring a personal guarantee should always be approached with caution.
Can business owners earn sign-up bonuses on cards?
Absolutely! The best business credit cards often advertise sign-on bonuses to potential customers. There is fierce competition between credit card companies to win your business. As each card company vies to get your attention, they often offer lucrative sign-on bonuses.
The competition is so fierce that the sign-on bonuses are sometimes even better than those offered on personal credit cards. Shop around to explore the various sign-on bonus options, and don't be afraid to speak with a representative to try to negotiate a better deal. While a sign-on bonus shouldn't be the primary reason for choosing a card, it can be a deciding factor in the final decision.
Do certain business credit cards offer incentives for making large purchases?
Credit card companies love to see large purchases on credit cards because more it often means they can earn more money from the subsequent monthly interest. Because credit card companies want to encourage larger purchases, they often offer incentives, like more points, or a higher cash-back rate. For example, The Platinum Card® gives 1.5 times points on purchases above $5,000.
Many cards, like the Business Platinum Card® from American Express and the Ink Business Preferred, issue tens of thousands of bonus points if you spend over a preset amount within a given time frame after opening. For the Chase credit card, this could equal rewards worth upwards of $1,680. Read the fine print on these rewards bonus because there is often a cap on their total.
Do rewards earned on business cards expire?
Typically, rewards points earned on business credit cards don't expire. However, every rewards program is different so confirm with the company directly. Before signing up for a loyalty program, read the fine print to determine if and when the points expire. In the rare case that the loyalty points do have an expiration date, there are usually easy ways to circumvent it, including accessing the points program once every year or making at least one purchase per year.
Often it is an unused card that triggers the rewards expiration. If you don't use your card within a year, you may lose the points. Some common travel rewards points that do have expiration dates are AAdvantage, Southwest Rapid Rewards, and MileagePlus.
For more general points, there are some business cards with points that do expire. Some Citi Bank, Wells Fargo, and US Bank business credit cards may expire. Speak with your credit card's customer service department to find out if your rewards expire, and when.
What happens to business rewards earned if you close your business?
There are typically two types of rewards points programs offered by business credit cards: points programs that are operated by the card company itself, and third-party points programs, such as travel and hotel rewards programs.
Credit-card-specific programs are inherently tied to the credit card itself. Therefore, if you close the card, you'll lose the access to your points.
Usually, credit card loyalty programs offer points exchange programs. That means if you transfer your points to, for example, AirMiles, you can ensure you don't lose your rewards. If you are expecting to terminate a business credit card in the future, speak with a customer service representative for advice on how best to manage your remaining points.
If your business credit card uses an associated travel rewards program, such as points for travel or hotel bookings, these points are generally not lost if and when you terminate your card. A third party usually operates travel and hotel rewards, so they hold the points under a separate account from the credit card. Essentially, if you close down the card, you should still have access to the points program. Clarify these rules before closing the card to ensure you save your points.
---
LendEDU has partnered with CardRatings for our coverage of credit card products. LendEDU and CardRatings may receive a commission from card issuers.