In uncertain economic times, owning gold investments can provide some security. In fact, gold has a long history of being used as a hedge against inflation.
While investors can purchase gold outright, using an IRA can result in valuable tax benefits. Maybe you're already considering that route but aren't sure what IRA-eligible gold means or if it's a good investment. In that case, keep reading for everything you need to know about gold products that can be kept in a retirement account.
What is IRA-eligible gold?
What does IRA-eligible gold mean? Quite simply, it is gold that meets IRS standards to be held in a self-directed IRA—also known as an individual retirement account or arrangement.
Here's what the IRS generally requires for gold to be eligible for investment in an IRA:
Purity
Other Requirements
Coins
99.5%
Most collectible coins are excluded

Proof coins must be encapsulated, in mint condition, and include a certificate of authenticity

Non-proof coins must be in brilliant, uncirculated condition
Bars and rounds
99.5%
Must be produced by an accredited/certified source or a national government mint and meet fineness requirements

Small bullion bars must be manufactured to exact weight specifications
Among the approved coins for IRAs are two popular options provided by the U.S. Mint:
American Eagle gold coins
American Gold Buffalo
While American Eagle coins don't meet the purity requirement listed above, the IRS has provided an exception that makes them IRA-eligible.
Be aware that some coins may meet IRS purity standards but be ineligible for an IRA because they are considered collectible. These include a number of popular bullion coins, such as United Kingdom Sovereign coins, French 20 Franc gold coins, and U.S. Liberty coins.
If the requirements sound confusing, don't worry. Many companies that sell IRA-eligible gold make it easy to find qualifying products. For instance, here's how American Hartford Gold designates its IRA-eligible products.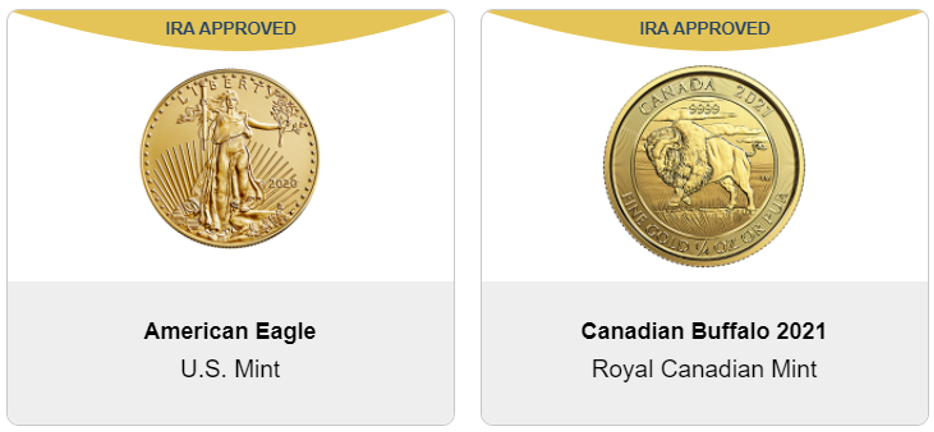 As you can see, IRA-approved gold is clearly marked. Many companies will also allow you to search and filter their inventory to show only IRA-eligible gold.
Is purchasing IRA-approved gold different than non-IRA-approved gold?
If you are buying gold to invest in an IRA, the process for purchasing precious metals is different. You'll need to take the following steps:
Open a self-directed IRA.
Fund the IRA and select IRA-eligible gold products for investment.
Have the gold stored in an approved depository.
Companies such as Oxford Gold Group and American Hartford Gold can assist with the process of setting up an IRA and arranging for the storage of your gold. The IRS does not allow IRA account holders to store their own gold. Doing so could jeopardize the tax benefits that come with a gold IRA.
Here's a closer look at how buying IRA-approved and non-IRA-approved gold compares:
IRA-Approved Gold
Non-IRA-Approved Gold
Purchase requirements
Many companies have a minimum investment requirement to open an account
None
Storage
IRS-approved depository
Home safe, bank deposit box, or other secure location of your choice
Shipping fee
Often covered by account fees
Postage plus insurance costs
Costs
IRA setup fee

Annual IRA maintenance fee

Storage fees
No required ongoing fees
Of course, you can purchase IRA-approved gold outside of an IRA and store it in your home or another location. In that case, the purchase would occur in the same manner as non-IRA-approved gold.
Do certain IRA-eligible gold coins or bars perform better than others?
If you buy gold bars or rounds, their value will closely follow the "spot price" of gold, which reflects the current market value of one ounce.
The value of gold bars and rounds is generally the same regardless of the manufacturer, although some people may prefer to purchase from specific mints.
However, coins may have an added value because of their desirability as collectibles. For instance, here's a look at how some gold coins compare to the spot price of gold as of February 23rd, 2022.
| | |
| --- | --- |
| Item | Price |
| Monex Spot Gold | $1,908.00 |
| Gold American Eagle | $1,931.10 |
| Gold American Buffalo | $1,932.20 |
| Gold Canadian Maple Leaf | $1,922.70 |
| Gold Vienna Philharmonics | $1,923.50 |
As you can see, the value of all of these coins tracks closely with the spot price of gold, although they are worth slightly more. Other gold bullion prices may be similar.
In terms of the return on investment, it may not make much difference whether you purchase gold bars or specific coins. But for purposes of liquidating your gold for cash, coins may be easier to sell than small bullion bars.
What to consider when purchasing IRA-eligible gold
While you don't need an IRA to invest in gold, opening one will provide some substantial tax benefits. Money deposited into a traditional IRA is deductible, up to allowable annual limits, while cash in a Roth IRA grows tax-free and can be withdrawn tax-free during retirement.
That said, a gold IRA may not be right for everyone. Consider the following:
Contribution limits: The IRS limits 2022 contributions to IRAs to $6,000 per year for workers younger than age 50 and $7,000 for older workers.If you want to buy more gold than that each year, you'll have to do it outside an IRA.
Fees: Opening a gold IRA is more expensive than opening a traditional IRA or purchasing gold outside an IRA. Gold IRAs have annual fees for storage and account maintenance. There may be an initial set-up fee as well.
Minimum investment requirements: Some gold IRAs require a minimum initial deposit of $25,000 or more. Unless you have an existing IRA balance to roll over, it may be difficult to meet these minimums.
Early withdrawal penalty: The government doesn't want you spending your retirement money before retirement, so they impose a 10% tax penalty on withdrawals taken before age 59 ½. There are some exceptions, but if you think you could want to liquidate your gold before retirement, an IRA might not be the best option for you.
If you do decide to open a gold IRA, the next step is to find the right company for your account. While some, such as Oxford Gold Group, are good all-around choices, others may be a better fit for you, depending on your situation. For instance, Patriot Gold Group may be a good option for those with large balances, and Lear Capital is known for providing price notifications.
Of course, you want to be sure to select a company that offers the type of gold that appeals to you—whether that's coins, bars, or a combination of the two.