Motorcycle Loans: Best Rates & Lenders
If you're buying a motorcycle, you'll want to know your options for motorcycle financing. This guide will help you figure out how to finance a motorcycle by giving you the pros and cons of different motorcycle loan options and some tips for how to find the best motorcycle loan rates.
If you've spent years dreaming of donning a leather jacket, buying a bike, and taking to the open road, you likely know that fulfilling that dream is going to be costly.
If you're a beginner, Go Rollick estimates that you can probably find a bike that's perfect for a new rider without having to pay out more than $5,000 to $10,000. But if you have your heart set on a hog that will make everyone turn, then you could spend upwards of $40,000 or more.
Many people are turning to motorcycle financing in order to help them complete their purchase. But with all the options available, you might be wondering how to find the best motorcycle loans. Let's dive in.
On this page:
All companies seen in the table below are LendEDU
partners
who provide compensation to LendEDU. This compensation impacts where products appear within the table below.
Advertisement
Find a Loan for Motorcycle Financing
Motorcycle loans from $5,000 to $100,000 – Rate Beat Program
Fixed rate loans from 4.99% APR
Funds available as soon as the same day

One Application – Up to 4 Loan Offers in Minutes
Receive online certificate or check within 24 hours
Use your check to buy the motorcycle you want or use it to refinance your current loan
Loans between $1,000 and $50,000 – Get a decision in seconds
Rates starting at 7.99% APR
Checking your rate won't affect your credit score
Best motorcycle loans
There are a number of online lenders that offer motorcycle financing and make applying for motorcycle loans easy.
Online loans can often be a better option when financing a motorcycle than the financing options offered by manufacturers or dealers because they offer more choice around interest rates and term lengths.
The application for online lenders usually take just a few minutes to fill out online and you can often get approved and funded within just a couple of business days. Here are our top picks:
---
LightStream
LightStream offers motorcycle loans and personal loans that are easy to apply for and have relatively low interest rates.
It offers longer terms higher borrowing limits than competitors. It's a good choice if you have good credit or want to repay your motorcycle loan over a longer period for a lower monthly payment.**
Loan info
---
FreedomPlus

FreedomPlus allows you to apply for a loan in minutes, get qualified the same day, and get your money within 48 hours. It has a relatively low minimum credit score, which makes its loans accessible to more people.
Loan info
---
Best Egg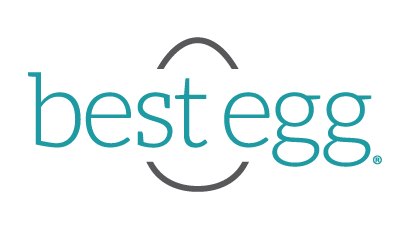 Best Egg is an online lender that offers fixed-rate personal loans. It caters to high-income borrowers with excellent credit. You can get your loan quickly, sometimes within the day.
Loan info
---
Upstart


Upstart is an online peer-to-peer lender that takes into account factors other than just your credit score when underwriting a loan. It also looks at your occupation and education.
It has a lower minimum credit score relative to other lenders, but higher interest rates and fees. If approved, you could receive funds within a day or two.
Loan info
---
Prosper


Prosper is a peer-to-peer lender that facilitates loans for borrowers with good credit. It offers a quick application process, so might be a good fit if you need cash fast.
Loan info
---
Where to find motorcycle financing
When it comes to figuring out how to finance a motorcycle—you're in luck! There are a number of different sources of motorcycle financing these days from online motorcycle loans to dealership financing.
Here's what you need to know to get the best motorcycle loan rates:
Online motorcycle loans
In recent years, more motorcycle lovers have been turning to online personal loans to fund their purchase. They're quick, easy to apply for, and you don't have to visit a bank.
While some online lenders specifically offer motorcycle financing, others offer low interest unsecured personal loans that can be used to finance a motorcycle, moped, or scooter, and they have competitive terms to a secured motorcycle loan.
Each of the motorcycle lenders in the previous section offers online motorcycle loans.
Convenient because you can apply online and get funding quickly without visiting a bank.
Can be used if you buy a used motorcycle privately from another owner, which could save you money.
You might qualify for better rates or more flexible terms than with dealership or manufacturer financing.
Often won't require that you use your bike as security on your loan.
If you have bad credit, it might be harder to get a low interest rate on your loan.
You can't take care of all the paperwork at the dealership.
You might have to pay more for a non-secured versus than a secured loan.
Manufacturer financing
Manufacturers know buyers sometimes struggle with figuring out how to finance a motorcycle. For that reason, many offer financing on motorcycles if you buy them directly from their dealerships.
For example, Harley-Davidson has their own financing arm via Eaglemark Savings Bank. Another motorcycle manufacturer that offers financing is BMW.
You can often also finance accessories and protection plans via a manufacturer's loan.
They often offer financing deals at different times of the year, including 0% interest for a limited period of time.
They can charge high interest rates if you have bad credit.
The 0% interest deals are often on a limited selection of models.
These loans might have shorter repayment terms of 1 to 2 years which will mean higher monthly payments.
They often require minimum down payments.
Dealership financing
Dealerships often have a number of different loan options available. Some include in-house motorcycle financing while others are arrangements with external auto loan lenders who give them a commission.
Here's what you need to know about dealership financing.
The dealership helps you with finding a lender and doing the paperwork.
They can sometimes offer low interest rates or low starting interest rates on a loan.
You might be able to get approved for dealership financing if you're not approved for manufacturer financing.
The dealership typically gets a commission on selling you the loan, so that may make your loan more expensive compared with going directly to the lender.
Sometimes dealerships add fees that increase your costs over the life of the loan.
These loans might be used to pressure you to buy immediately rather than shopping around.
How to get the best motorcycle loan rates
If you're in the market for a motorcycle loan, you'll want to do what you can to make yourself more attractive to a lender before you apply for one.
Because bikes can be expensive, small differences in the interest rate they offer you can make a huge difference in how much you'll pay in interest over the life of your loan.
Here are a few things your lender will look at when you apply. If you take steps to improve them, you can get the best motorcycle loan rates.
---
* Your loan terms, including APR, may differ based on loan purpose, amount, term length, and your credit profile. Rate is quoted with AutoPay discount. AutoPay discount is only available prior to loan funding. Rates without AutoPay are 0.50% higher. If your application is approved, your credit profile will determine whether your loan will be unsecured or secured. Subject to credit approval. Conditions and limitations apply. Advertised rates and terms are subject to change without notice. Payment example: Monthly payments for a $10,000 loan at 7.24% APR with a term of 3 years would result in 36 monthly payments of $309.87. LightStream disclosures here.
** After receiving your loan from us, if you are not completely satisfied with your experience, please contact us. We will email you a questionnaire so we can improve our services. When we receive your completed questionnaire, we will send you $100. Our guarantee expires 30 days after you receive your loan. We reserve the right to change or discontinue our guarantee at any time. Limited to one $100 payment per funded loan. LightStream and SunTrust teammates do not qualify for the Loan Experience Guarantee.
Author: Amanda Reaume
Amanda Reaume writes about personal finance, credit, and student loans. Her work has appeared on sites like Forbes, Yahoo! Finance, Time, and FoxBusiness and she is the author of the book Money is Everything: Personal Finance for the Brave New Economy.
Your Guide to Financial Freedom

Money tips, advice, and news once a week

Join the LendEDU newsletter!

Thanks for submitting!

Please Enter a valid email
Personal Loans Information