Key Points:
Good Sam RV insurance specializes in policies that cater to the needs of the RV lifestyle.
It's a multi-carrier agency that works with the top insurance companies to find you the best rate.
Protections that most competitors charge extra for come standard in Good Sam RV insurance policies.
---
What we like:
Policyholders can reduce their premiums by 53% with the storage option
| | |
| --- | --- |
| J.D. Power Overall Satisfaction Ranking | 2 out of 5 stars |
| A.M. Best Rating | A- |
| Customer Service | Call 1-888-514-1116 |
| Discounts Available | Yes |
See how Good Sam Insurance stacks up against top-rated RV insurance
Outdoor vacations never went out of style. In fact, more than 40 million Americans partake in some form of recreational vehicle camping, and since 1980, 60% more households own an RV, according to industry statistics. With the great pleasure of enjoying the outdoors comes great responsibility. And by responsibility, we mean RV insurance.
Just like auto insurance, RV insurance is required. Maintaining an RV insurance policy protects you from accidents, theft, and breakdowns. Many companies offer RV insurance, and Good Sam is one of them.
In this Good Sam review, we'll cover the pros, cons, eligibility requirements, and quote process to carry a Good Sam RV insurance policy.
In this review:
Good Sam RV Insurance: At a glance
| | |
| --- | --- |
| | Good Sam RV Insurance |
| J.D. Power Score | 2 out of 5 stars |
| A.M. Best Rating | A- |
| Discounts Available | Multi-Vehicle, Paid-in-Full, Multi-Policy, Paperless, Safe Driver, Anti-Theft, Homeowner |
| Coverage Options | Full-Timers, Full Replacement Cost, Mexico Insurance, Medical Payments, Diminishing Deductible, UMBI Stacked |
| Visit Lender | Visit Rates |
The Good Sam Insurance Agency, known for its flagship Good Sam Club for RVs, offers an umbrella of services to RVers, including roadside assistance, extended warranties, loans, and insurance. Its insurance products support a variety of recreational vehicles, including motorhomes, travel trailers, and 5th wheels.
Whether you live in an RV full-time or only take it out a few times a year, Good Sam Insurance Agency has a plan to fit your needs. It claims to save policyholders an average of $321 a year with its specialty RV coverage. It will work with other insurance carriers (including Progressive, National Interstate, Foremost, and Safeco) to find the best rate.
A standard policy for RV owners includes comprehensive, collision, injury liability, property damage liability, and personal injury protection. Additionally, all Good Sam RV insurance policies come with these features:
$3,000 personal effects coverage: Automatic coverage for the contents of your vehicle—electronics, appliances, clothing, etc.—up to $3,000.
Permanent attachments: Covers equipment physically attached to your RV like awnings, antennas, and satellite dishes.
Optional full replacement cost: Get your RV replaced with a comparable new RV if it's totaled or stolen in the first five model years. If it's after the first five model years, you will receive the full original purchase price toward the purchase of a replacement RV.
Emergency expense allowance: If you get stranded more than 100 miles from home due to a covered accident, this will cover the cost of food and lodging up to $500.
Storage option: You can suspend collision and liability coverage if your RV is in storage for more than 30 days.
Combined policy: If you insure your RV and automobile on the same policy, you will receive a discount and only have to pay for one deductible should they be in the same accident.
No charge for new parts: If your RV is undergoing collision repairs, you won't have to pay a depreciated value on parts subject to wear and tear (tires, brakes, etc.).
Theft reward: Get up to $500 for information that leads to a conviction when your RV is stolen.
All policies can be customized. Some features can be added without a premium increase, or you can pay extra for coverage like a diminishing deductible or Mexico insurance.
Pros and cons of Good Sam RV Insurance
There are some perks and drawbacks to getting Good Sam RV insurance. Here are a few to consider.
You can suspend parts of your coverage while your RV is in storage, which potentially could reduce your premium by half.
Most minor claims are paid within 48 hours—according to its website.
Good Sam's base policy includes benefits that cost extra from other insurers.
Cons
Roadside assistance isn't offered in the core policy, nor is it available as an add-on. You need to buy an entirely separate Good SamRoadside Assistance plan to receive coverage.
Its website isn't user friendly and errors out when customizing a quote.
If you want an online quote, you're forced to accept solicitations from Good Sam's "trusted partners."

Free Quote
Roamly's Proprietary Line of RV Insurance Modernizes Coverage
Get support from its team of licensed agents
Available in AL, AZ, CA, CO, GA, ID, IL, IN, MN, MO, OH, OK, OR, TN, TX, UT, and WI
Get a quote in just 60 seconds
Who's eligible to get Good Sam RV Insurance coverage?
Good Sam covers a variety of recreational vehicles including 5th wheels, travel trailers, Airstreams, Class A, Class B, and Class C motorhomes. Most consumers are eligible for Good Sam motorhome insurance, although insurance costs fluctuate based on your driving record, the insurance requirements of the state you live in, and your age.
To obtain coverage, you must have a valid driver's license, Social Security number, and be at least 18 years old. You do not need to be a member of the Good Sam RV Club to get Good Sam RV insurance.
How to get a Good Sam RV Insurance quote
Get a Good Sam RV insurance quote online or by calling their toll-free number and talking to an insurance agent. If you're ready to apply, you'll need to have some basic information handy.
The information you'll need includes:
Personal info: name, phone number, birth date, residential address, gender, marital status, email address, Social Security number.
Driver information: driver's license number, any violations in the past three years, convictions of insurance fraud, any RV safety courses, and desired coverage effective date.
RV specs: a storage location, manufacturer, model, year, gas type, length, number of slides, body style, safety and security features, years owned, and if it's rented out, among other basic ownership questions.
Once you complete the process, you'll receive a 12-month quote that can be paid in full for a discount, or you can choose the monthly installment option. You can review your coverage and make any adjustments before purchasing. There's an online chat representative available if you have questions, or you can call their customer service department for help.
Note that making too many adjustments might cause errors in the online quote tool.
Where to find alternatives to Good Sam motorhome insurance
Insurance coverage is one of the major costs associated with RV ownership. You want to be sure you're covered by the right company if something goes wrong—especially if you live in your RV full-time. If you do, make sure to compare full-time RV insurance providers.
We recommend getting quotes from at least three RV insurance companies to make sure you're getting the best rates and options for your coverage. You can use our guide to the best RV insurance coverage to get started.
---
Want to learn more about Good Sam RV Insurance? Check out its website.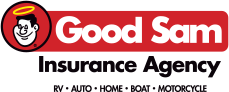 View Rates
Full Replacement Coverage
Yes
Personal Belongings Coverage
Up to $3,000
Multi-Vehicle Discount
Up to 20%