Key Points:
Offers term life insurance
Completely online/mobile application
Available in 47 states (CA, NY, and MT excluded)
No medical exam required for qualified customers
---
What we like:
Quick and easy online application
Type of Life Insurance

Term life insurance

Monthly Premiums

As low as

$13.12

per month

Term Lengths

10, 15, or 20 years

Coverage

$100,000

to

$5 million
See how Fabric compares to other life insurance providers.
Life insurance is an important type of insurance coverage, especially for those who are the primary income earners for their household. Should the worst happen, the insurance can help provide your family with the money they need to maintain their lifestyle as they grieve.
Fabric is an online startup insurer that offers life insurance (policies are issued by Vantis Life Insurance Company) and related services, such as a free will template. The application is entirely online and qualified applicants won't require a medical exam, making it easy for almost anyone to apply.
If you feel that your family needs the protection of life insurance for you or your partner, then Fabric might be the right option to choose.
In this review:
What does Fabric offer?
Fabric offers a few different services that are worth considering.
Term life insurance
Fabric offers term life insurance policies that cover you for a set term and provide a flat payout if you pass away during that time. You can apply for a policy directly through Fabric's app or website.
Fabric offers multiple terms. You can apply for coverage for 10, 15, or 20 years. You can also customize the amount of coverage you apply for, ranging from a minimum of $100,000 to a maximum of $5 million.
Fabric Wills
A will is a legal document that presents your final wishes about how your property should be distributed if you die. Having a will can offer your family guidance and help avoid a lengthy, stressful, and complicated probate process for your assets.
Fabric offers a free online will making program that you can use to design a will. The process only takes five to ten minutes before you have a document that you can then make legally binding (they provide the instructions for this part too).
You can use the will to divide your assets, appoint a guardian for the child, and specify other aspects you want for your final arrangements. If you have a partner, you can use Fabric to create a mirror will so that you and your partner have similar documents.
How much does term life insurance through Fabric cost?
Like any life insurance policy, the cost of coverage will vary with many factors, including:
The term
The amount of coverage
Your age
Your gender
Your medical history
Whether you're a smoker
Whether you engage in risky activities like BASE jumping or high-speed motorsports
Fabric uses these factors to rate applicants into various categories from lowest risk to highest:
Ultra Select
Select Plus
Select
Standard
Standard Tobacco User
Substandard Rate Classes
Any tobacco use puts you in a higher risk category. To qualify for Ultra Select, you must not use tobacco, be healthy, and lead a low-risk lifestyle.
This image shows an example of how pricing changes based on the amount of coverage purchased.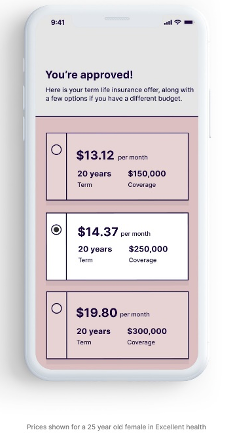 Financial strength & customer ratings
An insurance company is only as good as its ability to pay out its policies. For consumers, one way to factor in a company's ability to pay out its policies is by reviewing its financial strength ratings. If you buy insurance from a financially weak company, you might file a claim only to find that the company can't pay you what you're owed.
Policies offered by Fabric are issued by Vantis Life, so we looked at Vantis Life's financial strength when reviewing the company.
| | | | | |
| --- | --- | --- | --- | --- |
| | A.M. Best | Fitch | Moody's | Standard & Poor's |
| Rating | A+ (Superior) | N/A | Aa3 | A+ |
It's also important to consider how other customers view an insurer. Even if an insurance provider is financially secure, you don't want to work with a company that provides terrible customer service. Below are reviews Fabric has received for all of the services it offers:
| | | |
| --- | --- | --- |
| | Google Customer Reviews | Trustpilot |
| Rating | 4.8/5 | 4.8/5 |
Eligibility requirements for Fabric
Fabric has a few basic eligibility requirements in order to submit an application. The policies are available in almost every state. The only excluded states are:
California
Montana
New York
There is also an age requirement. The policies offered by Fabric are available to applicants aged 21 to 60. Applicants must be US citizens or permanent residents.
If an application is submitted, underwriting requirements will be followed to determine if an offer for coverage can be made. ew and sign the application documents to submit them for review.
Once the application is submitted, it will automatically go through the algorithmic underwriting process. This process includes reviewing information provided on the application, as well as external data that you authorize Fabric to collect from third-party vendors like the Medical Information Bureau, DMV, pharmacy benefit managers, consumer reporting agencies, and publicly available sources.
For some applicants, Fabric can make an offer for coverage right away. In other cases, the application will go to our underwriting team for additional review before a final decision can be made. The underwriting team may request follow-up questions, medical records, and in some cases, a health exam.
How to apply for a policy
Applying for a policy through Fabric is relatively quick and easy. All you have to do is follow these steps.
Visit the Fabric website or download the Fabric app
Click Apply Now
Answer some basic questions about yourself
Select the amount of coverage that you want
Tell Fabric where you live
Tell Fabric your age
Answer some health questions
Answer some questions about your work
Provide some personal identifying information
If approved, you'll be shown your rates and the option to decrease your coverage amount or change the term length before paying
You can also get an estimated quote before you fill out a complete application to get a sense of what you'll have to pay for coverage.
Pros and cons of Fabric
No medical exam for some customers (an exam is required for applications over $1 million in coverage)
Easy online application
Additional services, such as a will maker
No sales calls with agents who try to upsell you
Offers can be amended for coverage amounts and term lengths
Share your policy details with your beneficiary
Cons
Does not offer whole life insurance
Not available in California, Montana, or New York
Only available to people 60 and under
Where to find Fabric alternatives
Fabric is just one of the ways to apply for life insurance. Whenever you're shopping for an insurance policy, it's in your best interest to compare multiple providers so you can find the best deal. Fabric is a good choice if you want a quick online application and want to see if you can be approved without taking a medical exam, but you should also look at alternatives.
To do just that, check out our picks for the best life insurance companies. If you're specifically looking for term life insurance, we also have a list of the best term life insurance providers.
---
Ready to apply for a policy? Check out Fabric's website.

View Rates
Monthly Premium
As low as $13.12
Coverage
$100,000 to $5 million
Term Lengths
10, 15, or 20 years
---
Fabric offers term life insurance policies (Form ICC16-VLT, ICC16-VLT19, and CMP 0501 with state variations where applicable) issued by Vantis Life Insurance Company (Vantis Life), Windsor, CT (all states except NY), and by Vantis Life Insurance Company of New York, Brewster, NY (NY only). Coverage may not be available in all states. Issuance of coverage for term life insurance is subject to underwriting review and approval. Please see a copy of the policy for the full terms, conditions and exclusions. Policy obligations are the sole responsibility of Vantis Life.