Can Parent PLUS Loans Be Refinanced In Your Kid's Name?
January 9, 2017

Posted by:

Jeff Gitlen

Category:

Student Loans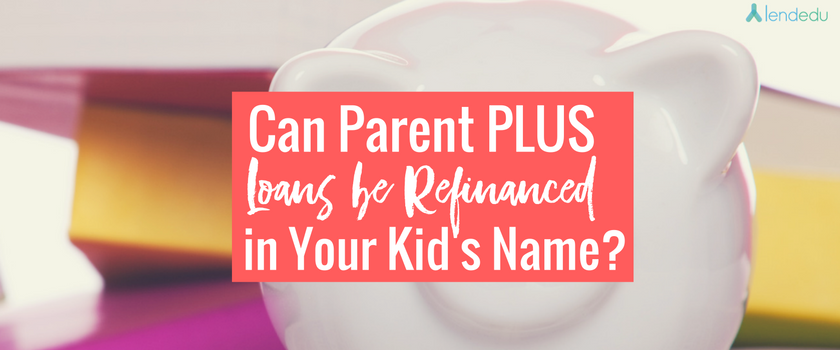 Finding the funds to send your kids to school can be a challenge, especially since the money you and your spouse make every year counts against your child's eligibility for federal financial aid. A Parent PLUS loan is a federal student loan option that allows parents to assume the debt required for their child to complete their education. You and your spouse will have to have good credit to qualify, but if your high income disqualifies your son or daughter from being able to take on the debt themselves, it may be your only option.
PLUS loans have a higher interest rate than loans that the student would take out in their own names. The interest rates are set by the Department of Education and are set for the lifetime of the loan. If you've taken out a Parent PLUS loan and are now paying a high interest rate, you may be able to refinance the loan for better terms.
There are situations where it's possible to refinance a Parent PLUS loan out of your name and into your son or daughter's name. This isn't something that every family will be able to do, but luckily there are other possible avenues for saving money and paying off a PLUS loan faster.
Student Refinancing
It's a common myth that PLUS loans cannot be refinanced into your student's name, but that is not necessarily the case! PLUS loans are treated separately from the other loans that a student is able to qualify for after filling out the federal financial aid request paperwork. Students will not be able to consolidate a PLUS loan into their other loans after graduation. Your kid is not required to make any payments at all on the student loan. There is no way that you can refinance through the Department of Education and transfer the balance of a PLUS loan from your name to your child's.
However, students who have graduated and had a chance to build credit can still assume the debt by using a private loan to cover the balance of the federal loan. As long as they can qualify for a private loan from another institution, they can give you the money to pay off the balance of the PLUS loan, and begin making regular payments to the new loan account.
Use caution when considering whether or not you should refinance a parent PLUS loan into your child's name. If your child is the statistical average in this country, they have other loans that they will already find challenging to pay back. Unless your son or daughter has a highly specialized degree or a high level of flexibility to move around the country, they may have difficulty finding a job that pays them enough to stand on their own two financial feet. If your purpose in borrowing the money was to help him or her get a good start in their adult life, you don't want to pass it to them before they are able to manage it.
Although many of your local financial institutions might offer programs like this, you could apply for a private loan online for an even faster solution. Online loan applications also give you the ability to shop around for the best rates possible without having to make a ton of phone calls or drive all over town. Refinancing your parent PLUS debt into your child's name is a great way to pass along debt that your son or daughter is now able to pay for on their own.
Forgiveness and Income-Contingent Repayment
Some parent who work in public service can qualify to have Parent PLUS loans forgiven, for example, a teacher at a public high school. Although the majority of student loan borrowers are not eligible for forgiveness, it's worth researching whether or not you qualify.
PLUS loans are given through the federal government, so they offer a range of payment options for the flexibility required of the unique needs of borrowers. An income-contingent repayment plan will cap the payment at a certain percentage of the money you make. This option allows you to pay more when you have more income, and less when financial hardship happens.
Parent Refinancing for PLUS loans
If your child is not quite ready to make their own payments or qualify for a private loan, you could still decide to be a co-signer to the private loan and refinance the loan together. Although you will still be responsible for the debt owed, qualifying for a lower interest rate can save a significant amount of money. Paying off a private loan is a good way to build credit history as well, which makes this a financial arrangement that continues to benefit your children.
Becoming a co-signer to a private loan in your child's name has it's benefits, but they are more expensive than you may think. If you were to refinance the Parent PLUS loan by yourself, you are likely to qualify for an even lower interest rate that if you become a co-signer. If saving money is the most important part of refinancing your PLUS loan, then refinancing it in your name is perhaps the best option.
With any change from a federal loan to private loan, borrowers lose some of the protections in place on these loans. For a lower interest rate and with proper planning, this may still be the best choice for your family.
©2017