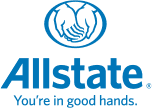 on Allstate's secure website
What we like:
Available in all 50 states
| | |
| --- | --- |
| J.D. Power Rating | 822 |
| A.M. Best Rating | A+ |
| Contact Number | 1-877-810-2920 |
| Discounts | New policy, multi-policy, claim-free |
See how Allstate stacks up against our top rated homeowners insurance companies
Allstate Insurance has been providing homeowners insurance and other types of policies since 1931, and it has demonstrated good financial strength for decades.
Allstate offers home, renters, auto, condo, life, boat, motorcycle, ATV, business, and life insurance, so it can be a one-stop-shop for your coverage needs. This Allstate Insurance review will help you decide if it's the right home insurance company for you.
In this review:
How Much Does Allstate Insurance Cost?
Generally, Allstate offers fair and average rates. But when you buy Allstate home insurance, your premium will be based on your unique situation, such as the cost of your home, how much insurance coverage you choose, the size of your deductible, and your claims history, and whether you live in high-risk areas prone to flooding, fires, or high crime rates.
If you live in Illinois, for instance, you could expect a $100,000 home to cost anywhere from $600 to $1,200 per year to insure with Allstate. However, with so many variables and personal options involved, you would be better off to contact an Allstate agent or visiting their website to get a definitive quote.
Allstate Discounts
For homeowners, there are several ways to get discounts on Allstate insurance.
Multi-policy discount: You can save up to 25% if you bundle your auto insurance and home insurance together.
Automatic payments: You can save as much as 5% if you set up automatic payments.
Claim-free discount: If you're making the jump to Allstate and you don't have a recent home claim, you can save as much as 20%.
Protective device discount: This rewards you for installing theft and fire protection devices.
55 and retired: If you're more than 55 years old and are retired, you'll be given a discount.
Allstate Coverage Details
Your Allstate homeowners insurance policy will help you repair structural damages or replace your home and personal property in case of covered situations such as theft, falling trees, fires, and certain water damage. You'll also be covered for any other structures on your property, like detached garages or sheds, although you should review your coverage terms with your agent when you sign-up.
Whether your policy covers the full replacement cost of your property or the property's actual cash value (ACV) will depend on the policy that you choose. If you're insuring a new home, the ACV and replacement cost of your home may be similar. If you're insuring a very old home, the ACV could be far lower than the cost to rebuild the home, so you may want to opt for higher coverage limits.
A standard Allstate homeowners policy also includes liability coverage, which can help cover the cost if you accidentally damage someone else's property or if a visitor is injured at your home. If you're injured in your own home, though, it won't cover that—that's what medical insurance is for.
If you're not satisfied with your level of coverage, you can purchase additional coverage options to supplement your standard home insurance. Some additional policies you might want to consider include an earthquake policy or a flood policy. If you have expensive items, like jewelry or fine art, these may be subject to item-specific coverage limits, but you can get extended coverage for those items for an additional cost.
What Are the Requirements to Get Insured?
Allstate Insurance is available throughout the United States. To get insurance through Allstate, you'll have to make monthly payments on time—otherwise, your policy will lapse.
If you want the best insurance rates, it's best to have a solid credit history, few (if any) recent claims with past insurance companies, and a home in a low-risk area.
Downsides to Allstate Home Insurance
There aren't any specific disadvantages to doing business with Allstate. They offer standard coverage, along with popular add-on policies. And since they offer other types of insurance policies as well, you can bundle all your policies and save.
There are sometimes policy limitations—like coverage exclusions for wildfires or flooding and the resulting mold—but these limitations are common across insurance providers and will vary from one region to the next. If you live in an area where large-scale disasters are common, such as parts of Florida, Texas, and California, you may need to purchase supplemental flood insurance, fire insurance, or other types of coverage as well.
Generally, though, if you're insured with Allstate, you're in good hands; just remember that you should always shop around and gather insurance quotes from other companies to find the best rate.
Allstate Insurance Availability
Allstate home insurance is available in every state, but there may be towns or certain areas that aren't open to coverage at this point, depending upon its risk factor. That could include heavy crime areas, flood plains, or coastal areas frequently impacted by hurricanes.
But if you struggle to get coverage from Allstate in your town, there's a good chance you'll struggle to get coverage from other major insurers as well. Insurance companies mitigate their risk by not offering coverage in certain high-risk areas. So if your region has been affected by major perils in recent years, such as repeated hurricanes or wildfires, you may need to seek coverage from a non-standard insurance company.
Allstate Customer Service
Although Allstate does have a customer satisfaction rating of A+ from the Better Business Bureau (BBB), some of the customer comments about how insurance claims are handled are less than favorable. But given the high volume of business Allstate does, it is still a small number of bad reviews.
If you need to file a claim, Allstate's customer service department is open 24 hours a day, seven days a week. They can be reached at 1-877-810-2920.
Bottom Line: Is Allstate Home Insurance Coverage Right for You?
Allstate Insurance is just one of the options available for homeowners. You'll want to do some comparison shopping by contacting the company and a few others for quotes. If you want to compare other companies, you can check out our guide to the best homeowners insurance.
But if you decide to do business with Allstate, you are committing to a business that has been around for a long time and has considerable assets to back up its policies.