Lacking legitimate competition, the hotel industry has gone unrivaled for decades.
Revolutionizing the business would be like reinventing the wheel; the hotel is a simple, yet practical concept that has worked since the Roman Empire.
Leave it to the technology of the 21st century to finally develop an idea that can challenge the hotel monopoly. And according to new LendEDU data, that challenger, Airbnb, is becoming preferable to hotels for many guests looking to plan their next trip.
LendEDU's newest data gauges the opinions and preferences of millennials when comparing Airbnb to hotels. Millennials, the largest living generation, are the most frequent users of Airbnb and are 23 percent more likely to travel than their older counterparts. When you factor in that millennials are estimated to spend $1.4 trillion each year by 2020 then it is easy to see this generation is the most coveted and lucrative demographic for any company, especially for hospitality services like hotels and Airbnb.
So, How Do Millennials Think Airbnb Stacks Up to the Traditional Hotel?
We asked 1,849 millennials the following question: "When planning for a trip or vacation, how does Airbnb compare to staying at a hotel?"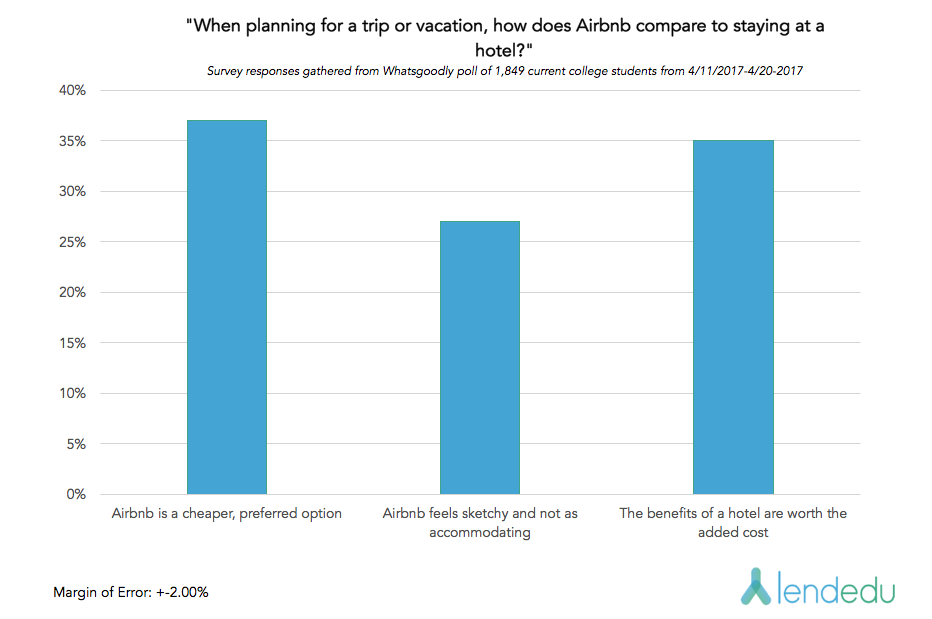 37 percent of millennials declared their allegiance with Airbnb, answering it is "a cheaper, preferred option." Another 27 percent said "Airbnb feels sketchy and not as accommodating."
Meanwhile, 35 percent of the respondents agreed that "the benefits of a hotel are worth the added cost."
So what do these numbers mean for Airbnb and hotels? Nearly 40 percent claiming they prefer Airbnb to hotels is extremely good news for the online marketplace and hospitality service. It is interesting that a slightly greater number of millennials answered they preferred Airbnb than did the number of respondents who said hotels are worth the added cost.
If they are to continue cutting into the hotel marketplace, Airbnb must universally improve their operation so that visitors feel comfortable and accommodated in every single Airbnb dwelling. This way, they could offer visitors the luxuries of a hotel, but at a fraction of the cost.
For example, in regards to this question one respondent said "It (Airbnb) really depends, each trip can be different." Another stated "It's been a generally good experience." The key word there being "generally."
If Airbnb can make every experience with their platform a pleasurable one, they can convert more of the 27 percent who thought Airbnb was "sketchy and not as accommodating" into consumers who join the 37 percent that say Airbnb is the "cheaper, preferred option."
That being said, a large reason why hotels have been so successful is that they are typically a consistent, known commodity. Airbnb would skyrocket in popularity if they can ensure that customers are not playing Russian roulette with their travel accommodations.
How Many Millennials Have Stayed at an Airbnb?
Another 2,204 millennials were polled on the following question: "Have you stayed at an Airbnb?"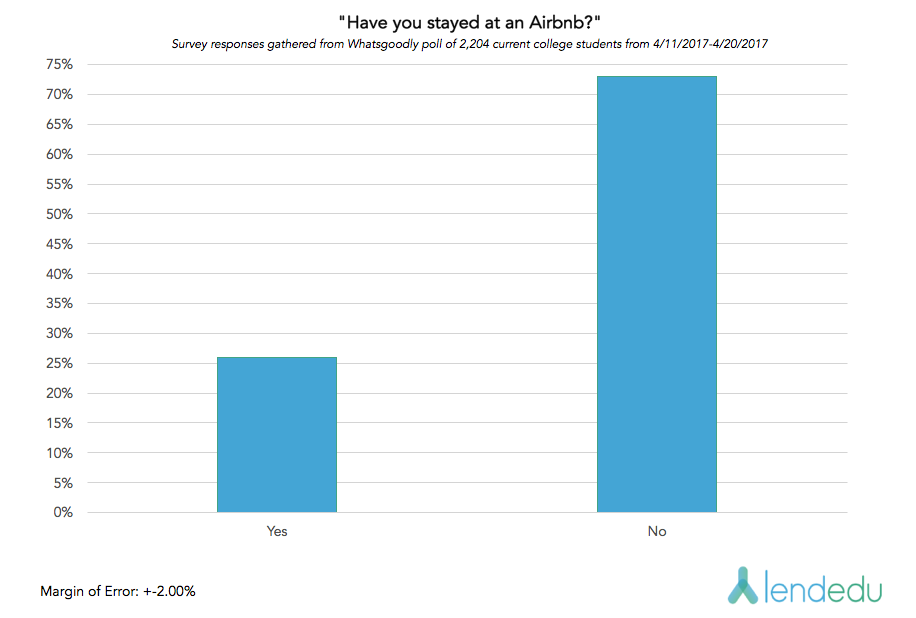 Just over a quarter of respondents, 26 percent, stated that they have stayed at an Airbnb before. Meanwhile, 73 percent of millennials have never stayed at one of the hospitality service's dwellings.
These numbers are certainly not the eye-popping statistics that Airbnb executives dream of. However, that is still more than a quarter of people that gave their business to Airbnb and the host, instead of a hotel.
Before the advent of Airbnb, hotels went virtually unchallenged when vying for the dollars of visitors and tourists planning their next getaway. Now, they are facing a competitor that has swallowed up 26 percent of their potential customers. And, if these numbers were to hold true for a larger contingent of consumers than that is a whole lot of money not going to the hotel industry any longer.
As mentioned above, if Airbnb can improve their consistency in delivering quality homes than there is no reason why that 26 percent should not increase to near 50 percent in a year or two.
In summation, hotels still remain the favorite choice for those seeking travel accommodations, but for the first time ever their industry faces a serious and ever-increasing threat from Airbnb.
Methodology
LendEDU has gathered this data from polling company Whatsgoodly. In total, 1,849 current college students were polled from April 11th, 2017 to April 20th, 2017 for the first question. For the second question, 2,204 current college students were polled from April 11th, 2017 to April 20th, 2017. The National Center for Education Statistics estimates that there are 20.5 million current college students in the United States. We estimate that our sample is representative of the population of college students with a margin of error of +-2.00% for each question. Respondents were asked to answer each of the following questions truthfully: "When planning for a trip or vacation, how does Airbnb compare to staying at a hotel?" and "Have you stayed at an Airbnb?"
See more of LendEDU's Research