Key Points:
RVInsurance.com is a rate-shopping marketplace that offers quotes on RV, car, and home insurance policies.
The site is owned by National General, though shoppers can get rate quotes from a variety of insurance carriers from across the country.
Shoppers can get quotes online or via the phone with one of RVInsurance.com's sales professionals.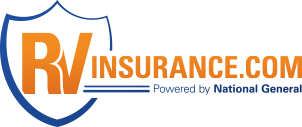 What we like:
Streamlines the shopping process
| | |
| --- | --- |
| Insurance Products | RV, auto, and home |
| RV Classes Covered | A, B, C, Airstreams, travel trailers, fifth-wheel, and campers |
| Customer Service | Phone |
| Parent Company | National General |
See how RVInsurance.com compares to other providers.
Shopping around is critical if you want the best rate on your RV insurance. But getting quotes from several carriers? That can be difficult and time-consuming.
RVinsurance.com can help streamline this rate-shopping process, allowing RV owners to get quotes from several RV insurance companies simultaneously.
In this review:
RVInsurance.com: At a glance
Backed by National General, RVInsurance.com is a comparison-shopping marketplace that offers quotes from various RV, home, and car insurance carriers.
Consumers can input their ZIP codes and the types of insurance for which they're looking, and get instant quotes from a number of insurers. These insurers include Nationwide, Safeco, National General, and Foremost.
When it comes to RV insurance policies, you can use the site to shop coverage for Class A, Class B, and Class C motorhomes, Airstreams, campers, and fifth wheel and travel trailers.
There are a number of coverages available, including options for personal effects, vacation liability, and emergency expenses. There are also reduced coverages available for when your recreational vehicle is in storage.
Pros and cons of RVInsurance.com
RVinsurance.com can make the rate-shopping process easier, but it's not without faults. Here's a quick look at the pros and cons of using the marketplace:
It allows you to get multiple rate quotes at once with just one form.
Getting several rate quotes can help you save money more easily.
You can get personalized policy-shopping help from licensed RV insurance sales professionals.
You can also get quotes for car and home insurance.
Cons
RVInsurance.com is not an actual insurance provider, so negotiating terms and coverages directly isn't possible.
Only a limited number of carriers are included. You may be able to get lower quotes elsewhere.
It is not available for RVers in every state. Those located in Massachusetts, Alaska, Hawaii, and Washington, D.C. are ineligible.
Eligibility requirements for RVInsurance.com
To apply for quotes on RVInsurance.com, you'll need to know your RV's class, make, model, age, and gas type. You will also need to know if the vehicle is outfitted with an anti-theft device.
Drivers will also need a valid license and be located in a participating state (MA, AL, HI, and DC are excluded).
How to get a quote through RVInsurance.com
With RVInsurance.com, you can get a quote either online or via the phone. If you want personalized help and guidance, you can call 866-646-1755 and speak to an RV insurance sales professional who can walk you through the process.
If you prefer the online option, you'll simply fill out the quote form provided on the website. You'll need details about your vehicle and any drivers on hand, and you will also need to select any discounts for which you plan to qualify (paperless billing, paid-in-full premiums, etc.).
Plan to have these documents ready as you apply:
Your driver's license
Details about your RV's make, model, age, and mileage
Records of past accidents and insurance claims
Once you file your application, you'll get quotes from up to five different carriers. You can then choose your preferred carrier and proceed with finalizing your policy through the insurer directly.
Where to find alternatives to RVInsurance.com
RVInsurance.com isn't your only option if you're on the hunt for an affordable, quality RV policy. You can also contact a variety of RV insurers directly and solicit quotes on an individual basis.
If this is a route you're considering, use our guide to the best RV insurance coverage to get started. Planning on staying in your RV full time? Check out our full-time RV insurance guide, too.
However you go about it, make sure you compare various options before choosing your RV insurance policy. Shopping around is critical if you want the best RV coverage and lowest cost.