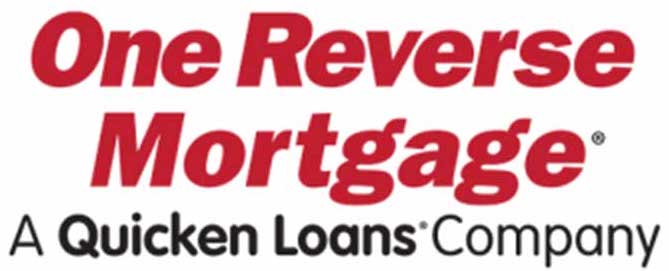 What we like:
FHA and non-FHA options, affiliated with Quicken Loans
| | |
| --- | --- |
| Loan Types | Fixed-rate HECMs, adjustable-rate HECMs, HECMs for purchase, Home Equity Loan Optimizer (HELO) |
| Minimum Age | 62 |
| Maximum Loan Amount | $4 million |
| Loan Forms | Lump-sum, monthly disbursements, line of credit, combo |
See how One Reverse Mortgage stacks up against top reverse mortgage options
---
A reverse mortgage is a loan that allows people 62 and older to borrow against their home equity, receiving the funds in a lump sum or as a monthly payment or line of credit to supplement their income.
One Reverse Mortgage, a Quicken Loans company, is one of many lenders that offers these types of home loans and other lending products for older adults. 
This One Reverse Mortgage review will cover the lender's loan options, eligibility requirements, and more to help you determine whether it's right for you.
In this review:
One Reverse Mortgage: by the numbers
| | | |
| --- | --- | --- |
| | Minimum age | Maximum loan amount |
| Fixed-rate HECM | 62 | Not disclosed |
| Adjustable-rate HECM | 62 | Not disclosed |
| HECM for purchase | 62 | Not disclosed |
| Home Equity Loan Optimizer (HELO) | Not disclosed | $4 million |
Which types of loans does One Reverse Mortgage offer?
One Reverse Mortgage offers three types of Home Equity Conversion Mortgages (HECMs)—a.k.a. "reverse mortgages"—as well as a modified home equity loan program.
HECMs are loans insured by the U.S. Federal Housing Administration that allow homeowners age 62 and older to convert home equity into cash. You can receive the cash upfront, monthly, or as a line of credit.
Instead of requiring monthly payments, the loan balance is paid off when you or your heirs sell the home.
One Reverse Mortgage offers these types of reverse mortgages:
The three HECM loans are backed by the FHA and require mortgage insurance. The HELO program is a private program of One Reverse Mortgage for homeowners who don't qualify for FHA loans.
>> Read more: FHA Loan Requirements: How to Get Help Buying Your First Home
Fixed-rate HECM
A fixed-rate Home Equity Conversion Mortgage offers a consistent interest rate for the full loan term. You'll receive funds from a fixed-rate HECM as a lump sum, making them ideal for paying off large expenses, investing, or stowing away for retirement living expenses.
Adjustable-rate HECM
These HECM loans come with a variable interest rate that can change over time with the market rate. They're more flexible than fixed-rate HECMs, offering a lump-sum payment, a line of credit, monthly disbursements, or a combination of all three.
Adjustable-rate HECMs do not require an initial withdrawal after closing, and you can pull from the funds as needed.
HECM for purchase
For home buyers, a HECM for purchase can help. These allow you to use your current home equity to buy a new home without dealing with monthly mortgage payments.
Down payments on HECM purchase loans depend on the age of the youngest borrower. Older borrowers will pay less upfront than younger borrowers.
Home Equity Loan Optimizer (HELO)
As an alternative to the various FHA HECM loan options, One Reverse Mortgage's HELO is a modified home equity loan designed for homeowners who don't qualify for an FHA loan.
HELOs offer up to $4 million in funds and require no mortgage insurance premium. There are also no restrictions on property types or home values, and you can take your funds in full as soon as you close on the loan.
You can also use the HELO to consolidate other debts.
Pros & cons of One Reverse Mortgage
Offers reverse mortgage options for homeowners and buyers.

Offers alternatives to FHA HECMs for those who don't qualify due to higher property values or other factors.

Affiliated with Quicken Loans, one of the highest-rated lenders in the country.
Information regarding its loan programs is sparse and requires calling a loan specialist.

Most loan programs require a mortgage insurance premium, origination fees, and other closing costs.

All loan programs require a credit check, which could affect your score.

It's not licensed in all 50 states.
Eligibility & application requirements
All HECM loans require counseling with a counselor approved by the U.S. Department of Housing and Urban Development (HUD), and borrowers must be at least 62 years old with no delinquent federal debt. The property you mortgage must be your primary residence.
Additionally, your property must be a single-family house or multi-unit home with no more than four units. HUD-approved condo projects are also eligible.
Finally, you'll need to pass a financial assessment, which ensures you have the funds necessary to cover your home's maintenance, taxes, and insurance costs while you live on the property.
How to apply for a One Reverse Mortgage loan
One Reverse Mortgage does not have an online application, so you'll need to call a loan specialist or fill out the lender's "Free Info Kit" form to be contacted directly by a licensed specialist.
After you've gotten in touch, you'll go through these steps:
Take part in an educational session to learn about your loan options and see whether you qualify.
Attend HUD-approved counseling (if you're applying for an HECM). These usually last around an hour and can be done over the phone.
Submit your application, and undergo a financial assessment.
Get your home appraised with an FHA appraiser (for an HECM).
Sign your closing papers.
Finally, you'll receive your proceeds however you elected (lump sum payout, monthly payments, line of credit, or combination).
Other info you'll need to apply
Your application will require a number of documents and financial statements, so have these on hand as you contact a One Reverse Mortgage specialist.
You'll need:
Your Social Security card and driver's license.
A copy of your Social Security award letter.
Copies of your two most recent bank and savings account statements.
Recent statements for any assets (pension plans, 401(k)s, investment accounts, etc.).
Recent statements for your mortgage loan (if you have one).
A copy of your home insurance policy.
Your most recent property tax bill.
You will also need to submit your HUD counseling certificate once your session is complete.
One Reverse Mortgage alternatives
Before applying with a reverse mortgage company, shop around to compare lenders. Rates and terms vary greatly, so compare quotes to find the best deal. You should also factor in customer reviews, as service matters, too.
To get started on your search, check out our list of the best reverse mortgage lenders on the market, and gather quotes from at least three before choosing a lender.
How we rated One Reverse Mortgage
One Reverse Mortgage scored a 4.84 / 5.00. LendEDU ranks reverse mortgage lenders based on the weighted average of 10 data points, including:
BBB Rating (5%)
Trustpilot Rating (5%)
States Available (5%)
Fund Time (30%)
Loan Amounts (30%)
Number of Branches (5%)
Number of State Licenses (5%)
Number of Regulatory Actions (5%)
Number of Mortgage Loan Originators (5%)
Year Founded (5%)