Key Points
Better charges no unnecessary fees and no commissions to keep closing costs down.
Loan estimates can be obtained instantly online by providing some simple information.
You can apply for a mortgage 24/7 and visit the online portal any time to track your progress through the loan process.
Better isn't available in all 50 states and doesn't offer all loan types. For example, you can't get a home equity loan, a home equity line of credit, a VA loan, or a USDA loan from Better.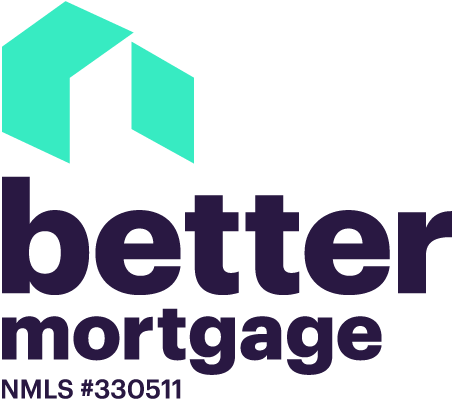 What we like:
No lender fees
| | |
| --- | --- |
| Minimum Credit Score | 620 |
| Minimum Down Payment | 3% |
| Term Length Range (Years) | 15, 20, or 30 years |
| Other Loan Types | Conventional and jumbo adjustable-rate mortgages, FHA loans, refinance loans |
See how Better stacks up against top mortgage options
---
Better works differently than other mortgage companies by aiming to simplify the mortgage application process. It also has eliminated commissions and unnecessary fees, so it will be easier to understand how much you'll pay, and getting a loan is more affordable.
Better offers a wide array of different loan types, including FHA loans that make it easier for low-income borrowers and borrowers with imperfect credit to qualify.
This Better mortgage review will cover the key features of Better mortgage loans, so you can decide if borrowing with Better is right for you.
In this review:
Better Mortgage: By the Numbers
| | | | |
| --- | --- | --- | --- |
| | Conventional | FHA | Refinance |
| Min. down payment | 5% | 3.5% | Not disclosed |
| Loan amounts | $3 million | Up to state maximum | Not disclosed |
| Ajdustable rate options | 5/1, 7/1, 10/1 | 5/1, 7/1, or 10/1 | Not disclosed |
| Loan terms | 15, 20, 30 | 15, 20, or 30 years | Not disclosed |
| Fees | None | No lender fees from Better. Standard FHA fees apply | Closing cost fees of $1,500 – $3,500 |
| Min. credit score | 620 | 580 | 620 |
The Pros & Cons of a Better.com Mortgage
Pros
Better has promised to eliminate unnecessary fees and it has succeeded. You won't pay lender fees or mortgage origination fees, which can save you thousands on closing costs.
Better offers a streamlined mortgage application process, and you can complete most steps online. The website is always accessible, and you can even upload financial documents, making it convenient and easy to apply and track the progress of your mortgage loan approval.
You can obtain a loan estimate within a matter of minutes by entering your information online. This makes it very simple and easy to shop for a mortgage loan and compare rates between Better and other mortgage lenders.
Cons
Better isn't available in all 50 states (such as New York), so some home buyers won't be eligible.
Better doesn't offer some loan types, such as VA loans, USDA loans, home equity loans, and home equity lines of credit.
Applying for a Mortgage from Better.com
Better provides fixed- and adjustable-rate mortgages for borrowers looking for conventional or jumbo loans.
You can also get an FHA loan from Better. Because FHA loans are insured by the government, it's possible to qualify with a lower credit score, a higher debt-to-income ratio, and a lower down payment.
Better also indicates it will work with buyers who have income from non-traditional sources, and it will provide assistance to borrowers in finding income-based discounts or homeownership assistance programs in their individual states.
Applying for a loan with Better is very simple. The steps involved include:
Providing basic information about the property
Undergoing a soft credit check, which doesn't affect your score
Receiving details about home loans you could be eligible for, including rates and terms for different mortgage types
Talking with a dedicated loan officer who will provide additional support throughout the application process
Submitting financial documents and information as requested
Obtaining an official loan estimate and locking in your interest rate
After you have locked in your rate, you can typically close on your loan in just three to six weeks, which is a far shorter time period than it takes many lenders to get to closing.
What You Need to Apply
Some of the documents you may need to apply for a Better mortgage include:
Tax returns
Pay stubs
Bank statements
Your lender will also check your credit report, too.
What States Does Better Mortgage Serve?
Currently, Better issues mortgages in the following states. But it plans to expand into more states in the near future.
Alaska
Alabama
Arkansas
Arizona
California
Colorado
Connecticut
Washington DC
Delaware
Florida
Georgia
Iowa
Idaho
Indiana
Illinois
Kansas
Kentucky
Louisiana
Maryland
Maine
Michigan
Mississippi
Montana
Nebraska
North Carolina
North Dakota
New Jersey
New Mexico
Ohio
Oklahoma
Oregon
Pennsylvania
Rhode Island
South Carolina
South Dakota
Tennessee
Texas
Utah
Washington
Wisconsin
West Virginia
Wyoming
Not Satisfied?
If you're not sure Better is the perfect mortgage provider for you, check out some of our other resources. It's always a good idea to get pre-approval quotes from several lenders in order to make sure you're getting the mortgage that best fits your needs.
Other Resources:
How We Rate Mortgages
At LendEDU, we've developed a proprietary rating system that takes into account the weighted average of 12 data points including:
The Better Business Bureau rating of the lender
The lender's TrustPilot rating
The number of states where the lender issues home loans
The lender's total number of licenses and registrations
The number of regulatory actions
The number of mortgage loan originators
The customer support options that the lender provides
The Zillow rating assigned to the lender
Any other rewards and benefits associated with the mortgage
You can read more about our methodology here.