Some offers mentioned on this page may be outdated. To confirm offers and credit card details, check the issuer's website.
---
Wyndham Rewards Credit Card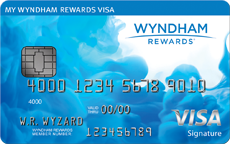 on Barclay's secure website
Wyndham Rewards Credit Card
What we like:
People who appreciate an easy sign-up bonus
Intro Offer

15,000

bonus points after your first purchase

Rewards Rate

3

point per $1 spent on eligible purchases for participating hotel stays



2

points per $1 spent on eligible gas, utility, and grocery store purchases

Regular APR

17.49%

–

27.24%

Annual Fee

$0
See how this card stacks up to our top rated hotel credit cards
Barclaycard has become one of the leaders in the financial industry as a multinational credit card provider. They also offer payment services for businesses. Barclaycard offers a hotel rewards credit card in the United States known as the Wyndham Rewards Visa Card. Check it out and see how it measures up.
Benefits & Rewards
The biggest perk offered with this card is the rewards points program. You can earn a point for every dollar that you spend with your card. You can earn double points when you buy gas, shop at grocery stores, and use your card to pay for utility bills. Three points are awarded per dollar spent on participating hotel stays.
The Visa card offers an introductory offer of 15,000 bonus points after making one first purchase.
The card offers protection against fraudulent activity and is equipped with chip technology, allowing you to feel safer with each swipe. This is especially important when traveling, because you can really just never be too safe.
Rates & Fees
Rates
Min APR:

16.24%

Max APR:

25.99%

Balance Transfer:

16.24%

–

25.99%

Cash Advance:

26.24%
Fees
Annual:

$0

Late Payment:

$37

Balance Transfer:

$5 or 3%

Foreign Transaction: None
The Wyndham Rewards Visa Card has no annual fee. There are balance transfer fees of either 3% of the balance transfer or $5, whichever rate is greater. Cash advances are also assessed a fee of 5% of the advance or $10, whichever is greater. The good news is that there are no foreign transaction fees, which is great for travelers. Penalty fees may apply, however, with late or returned payments. Avoid this fee of up to $37 by making your payment on time every month.
The APR for purchases with the Wyndham Rewards Visa Card is between 17.49% to 27.24%. Your own rate will depend a lot on the market rates and your own creditworthiness. For balance transfers, the rate is the same as it is for purchases, with the exception of a 0% introductory APR for the first six billing cycles as long as the transfer is made within the first 45 days of opening your account. Cash advances tend to have rates that are a bit higher than regular purchases. With this card, your rate for cash advances is 26.24%.
Not satisfied? Check out some of the best Barclays credit cards that we have reviewed.