Some offers mentioned on this page may be outdated. To confirm offers and credit card details, check the issuer's website.
---
The information for this card is outdated. For more accurate information, visit the issuer's website.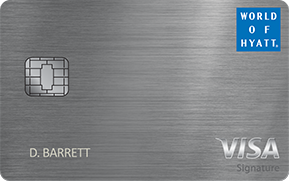 on Chase's secure website
What we like:
The World of Hyatt Credit Card includes generous rewards on Hyatt stays and you can earn up to two free nights annually on your account anniversary.
Intro Offer

25,000

bonus points after spending

$3,000

on purchases in the first

three months

of account opening, and an additional

25,000

points after spending

$6,000

total within the first

six months

of opening the account

Rewards Rates

9

points for every $1 spent on Hyatt including restaurants and spas,

2

points per $1 spent for local transit and commuting expenses, and

2

points for every $1 spent dining out



2

bonus points for each $1 spent on fitness club and gym memberships and

1

bonus point per $1 spent on everything else

Regular APR

18.24%

to

25.24%

Annual Fee

$95
See how this card stacks up to our top rated hotel credit cards
Card Details
Pros
The introductory bonus is attractive, as is the rewards rate.
You're automatically granted Hyatt elite status. This status comes with extra bonus points on eligible purchases as well as free premium Internet and water daily at qualifying Hyatt hotels and resorts.
Cardholders get an automatic certificate every anniversary for one free night at a Hyatt hotel, and if you spend at least $15,000, you get a second free night.
There are no foreign transaction fees, making it a goodcard for frequent international travel.
Cons
It's only going to have maximum value for loyal Hyatt customers.
The annual fee is

$95

The APR is high, with no introductory APR offers currently.
It's not a good card for balance transfers because there isn't a 0% APR introductory period.
Recommended Credit Score
Applicants should have good to excellent credit for the best chances of approval for the World of Hyatt Credit Card. According to the card company, if you're approved, you'll receive a credit limit of at least $5,000.
Is the World of Hyatt Credit Card the Right Card for You?
The World of Hyatt Credit Card from Chase is a good card option primarily for two groups of people: people who are already loyal to Hyatt or people who have plans to stay in a Hyatt hotel at least once a year. It's not an extremely flexible card otherwise, but it does have some appealing perks for Hyatt fans.
In this review:
Hyatt Credit Card Benefits
The World of Hyatt card has great benefits, but they are tailored to a specific audience. With a $95 annual fee, if you aren't going to take full advantage of the benefits you may want to look elsewhere for a credit card.
Sign-Up Bonus
The sign-up bonus with this card is one of the most generous perks. New cardholders can earn 25,000 bonus points after spending $3,000 on purchases within three months of opening an account. You'll also have the opportunity to earn an additional 25,000 points after spending $6,000 in total purchase within six months of opening an account.
To put that into context, free nights at Hyatt start at 5,000 points. According to Chase, 50,000 bonus points could be enough for ten free nights at hotels designated as "Category 1."
When you search for Hyatt hotels, you can specify the category you'd like to see, from one to eight.
Rewards Rate
The rewards rate and earnings system can be a bit complex with theWorld of Hyatt Card. You can earn:
Four

bonus points for every $1 spent with Hyatt, including at eligible restaurants and Exhale spas as well as

five

base points per eligible $1 spent as a World of Hyatt member. This gives you a total of

nine

points on Hyatt purchases.

Two

points for every $1 spent on local transportation including taxis, mass transit, tolls, and ride-sharing.

Two

points per $1 spent at eligible restaurants, coffee shops, and cafes.

Two

points per $1 spent on airline tickets when purchased directly from the airline.

Two

points per $1 spent on gym memberships and fitness clubs.

One

point per $1 spent on all other purchases.
Award nights are priced by hotel category. The higher the category a property falls into, the more you'll need to redeem for a free night.
To redeem points for a category one standard room, you would need 5,000 points for a free night.
To redeem points for a suite at a category one property, you would need 10,000 points for a free night.
At a level eight property, you'd need to redeem 40,000 points for a standard room.
If you don't have enough points for the stay you're eyeing, you can do the Points + Cash option that allows you to combine your points and cash and receive a discount. To use this program, you must pay half the standard rate and half the full points for the standard room.
Other ways to redeem World of Hyatt points include:
Dining, spa or meeting credits at Hyatt properties—although this redemption option typically provides significantly less value than redeeming for free nights
Transferring to airline partners. There is a 2.5 to 1 transfer ratio for airline transfers and you have to transfer at least 5,000 miles.
Rental cars. You can redeem 6,000 World of Hyatt points for a one-day car rental with Avis, although again the redemption value is significantly lower than if you used your points for a hotel stay.
Free Nights
Cardholders with the World of Hyatt card receive one free night every year as an anniversary reward at a category 1-4 Hyatt property. You can also earn an extra free night at a category 1-4 property by spending $15,000 during the anniversary year. Because of this additional free night, your two free night credits can pay for the annual fee and then some.
Travel Benefits
Some of the travel benefits included with the World of Hyatt card include the following:
Automatic elite status. With this card, you automatically get Hyatt's Discoverist status, which means you receive a 10% bonus on eligible purchases. Other perks that come with this elite status include expedited check-in, late checkout and room upgrades, when available. You also get a faster path to the next elite status tier.
No foreign transaction fee.
Up to $5,000 in travel insurance for pre-paid, non-refundable travel expenses
Trip delay reimbursement if your carrier is delayed more than 12 hours or a delay requires an overnight stay
Travel accident insurance
Lost luggage reimbursement up to $3,000 per passenger
Baggage delay insurance for baggage delays over six hours
Auto rental collision damage waiver
Downsides of the World of Hyatt Card
The primary downside of the World of Hyatt card is the fact that it isn't flexible. Unless you plan to stay in Hyatt properties or you already do frequently, this card won't work well for you. This is true in part because if you're not redeeming points for stays at a Hyatt property, points have significantly diminished values through partner transfer rates. While Hyatt is a large hotel chain, that doesn't always mean there's going to be a property in your location, which limits you as well.
The rewards categories can also be complex and there are a lot of varying categories to keep up with if you want to maximize your earning potential.
Finally, other downsides include an annual fee that's not waived for the first year and a high APR with no introductory APR periods.
How It Compares to Similar Cards
While the World of Hyatt Card has appealing perks for loyal Hyatt customers, other travel cards might be better in terms of flexibility and partner transfer rates.
World of Hyatt vs. Marriott Bonvoy Boundless Credit Card
The information for these cards is outdated. For more accurate information, visit the issuer's website.
The Marriott Bonvoy Boundless Credit Card was, until recently, the Marriott Rewards Premier Plus Card. This card also has a $95 annual feel like the World of Hyatt Card. However, what sets this card apart is the current offer to earn 75,000 bonus points after spending $3,000 in three months from account opening.
The Marriot Bonvoy provides a lot of flexibility in redemption because it includes Marriott Rewards, Ritz-Carlton Rewards, and SPG rewards. You have many more options for where you'll stay when you're redeeming points with this card. You also earn six times the points on all spending at participating Marriott Bonvoy hotels and double points for every $1 spent on all other purchases.
The Bonvoy card includes a free night award every year after your account anniversary for a one-night stay at a property with a redemption level up to 35,000 points.
Bottom Line
The World of Hyatt card is a good option for Hyatt loyalists. Otherwise, consider looking elsewhere for a hotel card, such as the Marriott Bonvoy which offers more flexibility and a more generous introductory bonus offer.
>> Read More: Best Chase credit cards