Some offers mentioned on this page may be outdated. To confirm offers and credit card details, check the issuer's website.
---
Wells Fargo Platinum Credit Card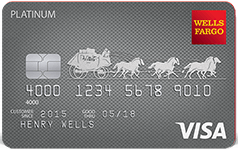 on Wells Fargo's secure website
Wells Fargo Platinum Credit Card
What we like:
Pay 0% APR for 18 months
Intro Offer

None

Rewards Rate

None

Regular APR

Intro

0%

APR for

18 months



Standard variable APR of

13.74%

–

27.24%

after that

Annual Fee

$0
See how this card stacks up to our top rated credit cards
Card Details

Pros
Long

0%

intro APR period, so you can use it to pay off high-interest loans or credit card debt you hold on other cards
Up to $600 in cell phone protection
Travel accident insurance, auto rental collision damage waiver, roadside dispatch, travel emergency assistance, and zero liability protection for unauthorized transactions
No annual fee
My Money Map tool to manage your budgets

Cons
No rewards
Balance transfer fee of

3%

for the first 4 months and

5%

afterward

3%

foreign transaction fee

Up to $37

for late fees
Recommended Credit Score
Good
The Wells Fargo Platinum Visa Card: Is it a Good Balance Transfer Card?

The Wells Fargo Platinum credit card might be a good choice if you're trying to pay down high-interest debt, but because there are few perks and rewards it's not good for much else.
In this review:
Wells Fargo Platinum Credit Card Benefits

The Wells Fargo Platinum Visa card is a simple credit card with very few major benefits. It's designed specifically for those with fair to good FICO credit scores who want to use their card to help them pay off high-interest debt.
0% Intro APR
The card offers a 0% introductory interest rate for 18 months. You can transfer your balance from another card or personal loan onto this card and pay it off faster without the interest. This intro APR also applies to purchases, so you could use a new card to finance a large purchase you're planning to make in the next couple months.
After the introductory period is over, you will have to pay the regular variable APR, which is between 13.74% and 27.24%. How much you will pay depends on your credit score. But even if you qualify for a lower APR, credit card debt isn't cheap. So, you should only transfer money onto the card that you think you can pay off before the introductory period is over.
Cell Phone Insurance
While the Wells Fargo Platinum Card offers few benefits, it does offer a cell phone protection plan. If you damage or need to repair your cell phone, you are eligible for up to $600 towards the expense after paying a $25 deductible. This does not cover lost cell phones and it only applies if you pay your cell phone bills using your Wells Fargo Platinum Visa Card.
>> Read More: Credit cards that offer cell phone protection
This isn't as comprehensive a plan as AppleCare+, which covers you for theft and loss and provides you with technical support as well via chat or phone. However, AppleCare+ starts from $5.99 per month or $129 if you pay it in a lump sum. The Wells Fargo Platinum Card's coverage is free.
Downsides of the Wells Fargo Platinum Credit Card

The most obvious downside of the Wells Fargo Credit Card is that there are no rewards or welcome bonus. Depending on how much you spend on your credit card, you could be missing out on considerable annual perks and rewards. Another downside is that while the card has a 0% intro rate to encourage you to transfer your high-interest balances onto the card, you will have to pay a balance transfer fee. While this is common among balance transfer cards, there are a few that allow you to temporarily transfer balances with no fee at all, such as the Chase Slate card.
If you transfer your balance in the first four months, you'll pay an introductory balance transfer fee of 3%. Balances transferred after four months will be subject to a fee of 5% of the amount transferred.
Wells Fargo Platinum Credit Card Limit

Wondering how much of your credit card debt you might be able to transfer to a Wells Fargo Platinum Credit Card? The credit limit you'll qualify for will depend on your personal credit rating and income. Once you qualify, you can transfer a balance to your card almost equivalent to that limit—as the balance transfer fee will need to be charged to your card as well. However, we don't recommend maxing out your credit limit, since maintaining a higher credit utilization ratio can damage your credit score.
How it Compares to Similar Cards
Although the Wells Fargo Platinum Credit Card is a solid choice for those looking simply to avoid high-interest rates on existing debt, other balance transfer credit cards may offer better rewards or longer intro APR terms.

Wells Fargo Platinum Visa vs Citi Simplicity

The Citi Simplicity card offers a 0% intro APR period for a long 21 months on balance transfers and 12 months on purchases. Like the Wells Fargo Platinum, you'll need to transfer your balance onto the card within four months of opening your account. However, the Citi Simplicity card has a flat rate of 5% for balance transfers and a slightly higher minimum APR of 16.99% to 26.99%. It also has no annual fee.
Wells Fargo Platinum Visa vs Discover it

The Discover it card is another attractive option. Discover offers an introductory 0% interest rate that lasts for 14 months from the date of account opening, and it charges a flat 3% intro balance transfer fee and a 5% fee after.
But Where the Discover card really shines is its rewards program: You earn 5% cash back on up to $1,500 in purchases at different places each quarter, including gas stations, grocery stores, or Amazon.com. And all other purchases earn 1% cash back. At the end of your first year, Discover doubles all your cash back. Considering this card has no annual fee, this is a much better option if you're willing to accept a slightly shorter intro APR period.

Bottom Line: Is the Wells Fargo Platinum Credit Card Right for You?
The Wells Fargo Platinum Card is a good option for those who have high-interest debt and are looking to transfer their balances. However, there are better cards out there which offer things like sign-up bonuses, rewards points, longer introductory APRs or no balance transfer fee. For that reason, this might not be the best card for you.