Vital Card Review: Get Cash Back for Life
The Vital Card is an innovative credit card that allows you to earn cash back for life and high rewards rates for referring friends and other good financial habits. However, those perks won't be available for all.

Some offers mentioned on this page may be outdated. To confirm offers and credit card details, check the issuer's website.
---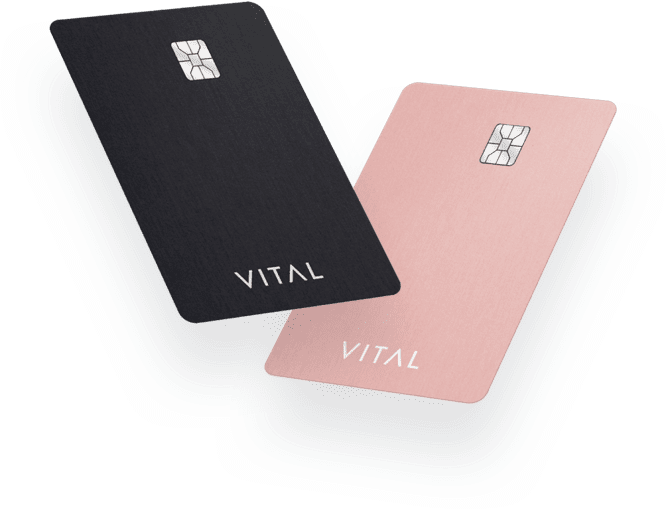 on Vital Card's secure website
What we like:
Earn monthly cash back for life when you refer friends
| | |
| --- | --- |
| Intro Offer | Earn cash back for signing up other users |
| Rewards Rate | 5% cash back, based on your use |
| Regular APR | Not provided |
| Annual Fee | $0 |
See how this card stacks up to our top rated rewards credit cards
Card Details
Pros
You can get paid forever, just for referring other people to the card
Potential to earn up to 5% cash back
Get rewarded for making good decisions and using your card responsibly
First card to offer competitions and rewards for specific activities such as donating to charity
Cons
The card hasn't been launched yet, so there isn't much information available, such as the card's APR
You'll need to compete against other card users to get the best cash back rates
In order to truly take advantage of the best parts of the card, you'll need to get your friends to sign up, and they'll have to sign up additional people
Even if you earn your monthly referral rewards, you'll need to spend $250 on your card per month to get them
You'll need to pay your bill in full each month—but you should already be doing this
Recommended Credit Score
These details haven't been released yet. Vital says that it wants the card to be as accessible as possible and claims that if you can qualify for a basic entry level credit card, you should be able to qualify for Vital. This means you'll likely need at least good credit, with a credit score of 690 or higher.
Vital Credit Card Review: Big Rewards for the Top Cardholders
Vital is a new kind of credit card, based on the concept of network marketing. Vital plans to launch in late 2019, and it's relying on its own cardholders to help market the product.
The company was founded by Chris Bridges and Vincent Bradley, along with a team of entrepreneurs, bankers, lawyers, and techies who wanted to launch a community-based credit card.
In this review:
How Does the Vital Card Work?
It works like this: every cardholder you refer (on social media or through a referral link) earns you 4 referral points. Their referrals also earn you 2 points each, and their referrals earn you 1 point (rewards end after the third tier). The more referral points you get, the more cash back you earn every month, for life (as long as those cardholders are actively using their cards, that is). At the end of each month, Vital distributes the cash rewards pool based on every cardholder's score.
In addition, you'll earn 1%, 2%, or 5% cash back for your purchases, with the highest rates going to the cardholders with the most points.
Finally, Vital rewards healthy financial habits, such as paying your balance off in full and donating to charity. Taking these steps earns you activity points, which increases your overall Vital score and help you qualify for bigger rewards.
Benefits of the Vital Card
If you like the concept of earning a side stream of income for life, Vital is worth at least checking out. Currently, no other card allows you to earn residual income from referring new cardholders.
Additionally, the potential rewards aren't bad. If you can qualify for the 5% cash back rate, you'll be doing better than with most other cards, since most rewards credit cards only offer such high rewards rates for purchases in specific categories.
Finally, since the card is set up to help you make good spending decisions, simply following the monthly tasks the card rewards you by helping you improve your credit score in addition to earning bonuses.
Downsides of the Vital Card
Although the Vital credit card offers some pretty high potential rewards, there are quite a few hoops to jump through to get.
First, you have to essentially become a salesperson for Vital to earn a meaningful amount of monthly cash. The company is quick to point out that it's not a pyramid scheme or multi-level marketing company because it doesn't require its affiliates to purchase any inventory to earn money. But the fact still stands that to see good rewards, you'll have to convince your friends to sign up.
Second, you'll only qualify for higher rewards rates if you can beat the rest of the competition. And when it comes to your monthly budgets, that's not something you want to play with. And if you don't spend at least $250 in a month, you won't earn that months rewards. You'll always earn at least 1% cash back on your purchases, though, which is an average rewards rate on a no annual fee credit card.
Finally, there's a lot that's still unknown. The card is still in pre-launch stage, so there isn't much information available about how it will operate or what its rates will be. In the meantime, it doesn't hurt to join the waiting list on vitalcard.com to get early access.
How It Compares to Similar Cards
There aren't any other cards that have the same network marketing concept as Vital, but there are plenty of cash back cards to compare it to.
For cards with no annual fee, their cash rewards rates tend to fall between 1% and 3% cash back on most purchases, with some categories, such as dining out, gas, or groceries netting a slightly higher cash back rate depending on the card.
Since most people with the Vital card will only qualify for 1% cash back on their monthly spending, it isn't the best option out there.
Bottom Line: Is the Vital Card Right for You?
Vital is a fascinating concept, but so far that's all it is. Once the card launches in late 2019, it will be worth checking out; as with any credit card, however, make sure you understand how the card will fit into your total financial picture.


Jeanette Perez is a bestselling author and intelligence analyst who lives in the mountains of western Montana with 11 goats, two dogs, and way too many computers. She is passionate about helping college students and grads get their student loans paid off through smart money management.
Best Credit Cards by Type