Some offers mentioned on this page may be outdated. To confirm offers and credit card details, check the issuer's website.
---
Victoria's Secret Angel Credit Card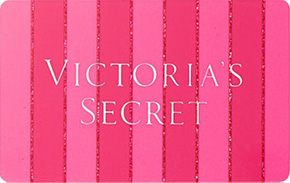 on Victoria's Secret's secure website
Victoria's Secret Angel Credit Card
What we like:
Get free shipping on every order over $50
Intro Offer
Get $25 off your first purchase, plus "The Little Book of Offers" for more discounts
Rewards Rate
3x points on bra purchases at VS and Pink stores

1x points on all other VS purchases
Regular APR
27.24%
Annual Fee
$0
See how this card stacks up to our top rated rewards credit cards
Card Details
Pros
New card members receive $15 off first purchase with the credit card
Little Book of Exclusive Perks offered to new card members for discounts and savings
Free birthday gift
Rewards for all shopping at Victoria's Secret stores and online at victoriassecret.com
Free standard shipping on purchases
Insider access to exclusive events
Triple point days offer even more rewards to card members
Tiered status for card members to earn more rewards more quickly
No annual fee
Cons
No intro APR or balance transfer options, and the regular APR is high
Points in any tier expire 12 months after they are earned
The card cannot be used for purchases outside of Victoria's Secret brands, including Bath & Body Works
Recommended Credit Score
Fair/Good
The Victoria Secret Credit Card: A Good Card for a Small Number of People
The Victoria's Secret Angel Card is designed specifically for those who are avid shoppers of the brand. The store credit card offers several ways to earn rewards on purchases at Victoria's Secret and PINK stores in the U.S. both online and in store. The tiered rewards program gives the most bang for the buck to shoppers who spend at least $250 per year at Victoria's Secret stores. However, the card doesn't offer many benefits to shoppers who are only casual Victoria's Secret shoppers, and it comes with fairly high interest rates.
In this review:
Victoria's Secret Credit Card Benefits
One of the best things about the Victoria's Secret Angel credit card is the benefits it offers to card members. There are a handful of fun perks including a welcome bonus and exclusive invitations to shopping events, as well as various ways to earn rewards quickly. Here are a few of the most valuable benefits you receive as a cardholder.
Welcome Bonus
As a thank you gift for signing up, new card members receive a $25 discount on their first purchase made with the credit card. The card also comes with a "Little Book of Offers" which includes up to $65 in savings.

Angel Rewards

Cardmembers earn 1 one point for every $1 spent at Victoria's Secret stores and PINK stores in the U.S., as well as online purchases. They'll also get 3 points per $1 spent on bras.
Triple-Point Days

All card members also have access to triple-point days. Each calendar year, you can select up to three days, depending on your card tier, where you earn triple points on all purchases made with your Victorias Secret credit card. Cardmembers in the Angel Tier have access to one triple point day; Angel VIP card members have two triple point days; and Forever Angel tiered card members have three triple point days.
To earn triple points on the day you select, you have to call Victoria's Secret at 1-844-392-6435 within 90 days after the purchase is made. You'll need to provide the date to earn your triple points.

Angel Tiers
Victoria's Secret Angel credit card members have access to different tiers with their account that offer more perks and rewards over time. The tiers include:
Angel Tier: Cardholders who earn less than 500 points per calendar year
Angel VIP: Cardholders who earn between 500 and 999 points per calendar year
Angel Forever: Cardholders who earn more than 1,000 points per calendar year
The Angel and Angel VIP tiers earn a $10 reward for every 250 points earned, while Angel Forever card members earn a $15 reward. All tiers have access to triple points days, but Angel VIP customers select two days to earn triple points, and Angel Forever shoppers select up to three. Both Angel VIP and Angel Forever card members receive access to exclusive events, but only Angel Forever customers get a bonus surprise gift each year.
The reward tiers are automatic as soon as you earn enough rewards to move to the next tier. However, you have to maintain your level of rewards each calendar year to sustain your tier and the rewards that come with it.

Birthday Gifts

All card members, regardless of tier, receive a birthday gift simply for being an Angel customer with an active credit card. The birthday gift is often a discount or a reward certificate to take off a certain dollar amount on your next purchase. Cardmembers have to sign up for the Victoria's Secret Angel credit card at least two months before their birthday month to be eligible for the current-year birthday reward.

Free Shipping on Orders of $50+

Cardmembers also receive free shipping on online orders greater than $50. The offer applies to standard shipping online, and customers cannot use the benefit on prior purchases. Use the code JUST4ANGELS or ACSHIP50 at checkout to redeem the free shipping offer.
Downsides of the Victoria's Secret Angel Credit Card

Although the Victoria's Secret Angel card offers some valuable rewards, especially to those who are loyal to the brand, downsides exist.
First, the card can only be used at Victoria's Secret brands, including PINK stores in the U.S. and Bath & Body Works. Rewards are not earned on Bath & Body Works purchases, however. Additionally, the welcome bonus of $25 off your purchase isn't all that high compared to other cash back rewards credit cards.
Cardmembers also have a high variable APR, which means that carrying a balance over from one month to the next can be costly. This is fairly standard for retail or store credit cards, but if the rewards don't help offset interest charges, it may be best to look for a card with a lower APR.
How it Compares to Similar Cards
Compared to other brand-specific retail credit cards, the Victoria's Secret card stacks up pretty well. This has a lot to do with its generous rewards not only for purchases in-store and online, but also the access to triple point days for card members. Adding in the birthday reward, welcome bonus, and the invitations to exclusive shopping events, the Angel credit card is a strong option for those who appreciate the Victoria's Secret brand and shop at the store often.
However, if you don't plan to spend a significant amount at Victoria's Secret or PINK stores in the U.S., other cash back credit cards may offer far better perks and flexibility on retail purchases.

Frequently Asked Questions

Where Can I Use My Victoria's Secret Credit Card?

Cardmembers can use their Victoria's Secret Angel Credit Card both in-store and online at all U.S. Victoria's Secret locations, including PINK stores. The credit card can also be used to make purchases in-store at Bath & Body Works, but not online. It's important to note that credit card purchases at Bath & Body Works do not earn rewards, nor can your rewards be redeemed at the store.
Where is My Victoria's Secret Credit Card Login?

You can visit vsangelcard.com to register as a new card member, apply for a new Victoria's Secret credit card, and to manage your account online. This is where you log-in to see your rewards status, tier status, and make payments as needed.
How Do I Contact Victoria Secret Credit Card Customer Service?

The VS Angel Card is offered through Comenity Bank. If you need help with your card or have questions for Victoria's Secret about your Angel credit card, you can get in touch with customer service by phone at 1-800-695-9478 or by sending a secure message through the online help system.

Bottom Line: Is the Victoria's Secret Credit Card Right for You?
The Victoria's Secret Angel credit card may be a great choice for those who spend a significant amount on the brand each year. The tier options for earning rewards benefits the biggest spenders the most, but all card members receive rewards simply for shopping with the credit card. However, the high variable APR and limited use of the card outside of Victoria's Secret make it a less valuable choice for those who aren't loyal fans of the brand.