U.S. Bank FlexPerks Travel Rewards Visa Signature Card Review
The U.S. Bank FlexPerks Travel Rewards Visa Signature card offers many opportunities to earn bonus rewards, which can be redeemed with more than 150 different airlines as well as for hotel stays, car rentals, and more.

Some offers mentioned on this page may be outdated. To confirm offers and credit card details, check the issuer's website.
---
U.S. Bank FlexPerks Travel Rewards Visa Signature Card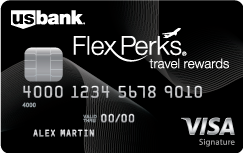 on US Banks's secure website
U.S. Bank FlexPerks Travel Rewards Visa Signature Card
What we like:
Great card for generous charitable donations
Intro Offer
Earn 25,000 FlexPoints if you spend $2,000 on qualifying purchases in the first four months
Rewards Rate
2% on airfare, gas, groceries, cellular providers, charities

1% on all other purchases
Regular APR
16.24% – 26.24%

Annual Fee
$49
See how this card stacks up to our top rated travel credit cards
Card Summary
Pros
$49 annual fee is below average compared to similar rewards credit cards
FlexPoints are worth up to 1.5 cents each
Earn 2x FlexPoints in several bonus categories
$25 in-flight reimbursements for baggage fees and amenities, including flight food and drink
No foreign transaction fees
Mobile payment support
Cons
Average signup bonus
No 0% APR introductory offer for purchases or balance transfers
Less flexible travel rewards than some competitor cards
Recommended Credit Score
Is the FlexPerks Visa a Good Travel Card?
The U.S. Bank FlexPerks Travel Rewards Visa Signature is a good travel card if you're looking for one with a low annual fee that allows you to earn bonus rewards for different kinds of spending. But if you're hoping to maximize your redemption options, competitor cards may offer more flexibility.
In this review:
U.S. Bank FlexPerks Visa Benefits
The FlexPerks travel rewards card has some significant benefits for cardmembers, including a signup bonus that's easy to earn and a rewards program that provides lots of opportunities for bonus rewards. Here are some of the key benefits:
Signup Bonus
New cardholders who spend $2,000 on eligible purchases within the first four months of opening their account can earn 25,000 bonus FlexPoints. These FlexPoints can be redeemed for $375 worth of airfare, hotel stays, car rentals, or other travel expenses.
Although this bonus is relatively easy to earn, it's not as generous as some competitor offers that provide cardmembers with as many as 50,000 or 60,000 bonus rewards or miles.
>> Read More: Best credit card sign-up bonus offers
FlexPoints Rewards
The number of FlexPoints you can earn with this card varies by category. Cardmembers earn one FlexPoint per $1 in eligible net purchases but can earn additional FlexPoints on:
Airline, gas stations, or grocery store purchases — whichever category you spend the most on each monthly billing cycle
Spending with select cellular services provider merchants
Qualifying donations with any merchant that classifies itself as a charitable and social service organization
FlexPoints can be redeemed instantly by using your mobile device to claim rewards. You can also redeem FlexPoints with hundreds of different airline partners, thousands of hotels, car rental companies, or cruise lines. It's even possible to use your points to buy gift cards to retail stores, obtain cash back or statement credit, get tickets to live events, or buy travel merchandise — although FlexPoints are worth the most when redeemed for an award travel ticket.
Downsides of the U.S. Bank FlexPerks Visa Signature
Although the FlexPerks credit card undoubtedly offers advantages to cardholders who travel frequently, there are also some downsides to the card that must be considered, including:
Earning Double FlexPoints Isn't as Easy as it Seems
Although you can earn accelerated FlexPoints in certain bonus categories, there are lots of terms and conditions in the FlexPerks cardmember agreement.
For example, to earn double FlexPoints for car rentals, you have to make a minimum purchase of at least $250. To earn double FlexPoints for lodging purchases, you must make a minimum purchase of at least $500.
To earn any accelerated FlexPoints, you also must shop directly with the airline, car rental company, or hotel. This makes it harder to get the best price since you can't book through third-party comparison sites.
No Introductory APR for Purchases or Balance Transfers
Your FlexPerks travel rewards account doesn't offer a 0% introductory APR for either purchases or balance transfers, unlike some competitor cards. This means if you carry a balance on the card, you can expect to pay interest charges starting from your first billing cycle.
How it Compares to Similar Cards
If you're willing to pay a higher annual fee, you can get more flexibility and benefits from other travel credit cards than you will with the FlexPerks.
Bottom Line
Although the U.S. Bank FlexPerks Travel Rewards Visa Signature card is a reasonably good option for frequent travelers, opportunities to earn bonus FlexPoints aren't as generous as they appear at first glance. Your options to redeem rewards aren't as flexible as with some competitor cards, either, so you'll want to carefully consider whether this is the right credit card for you.
To compare additional options, you can check out our picks for the best credit cards.

Christy Rakoczy is an experienced personal finance and legal writer who has been writing full time since 2008. She earned her JD at UCLA and graduated from the University of Rochester with a degree in media and communications. Her work has been featured on CNN Money, MSN Money, Yahoo Finance, USA Today, and more.
Best Credit Cards by Type