US Bank FlexPerks Travel Rewards Visa Signature Credit Card Review
US Bank FlexPerks Travel Rewards Visa Signature Credit Card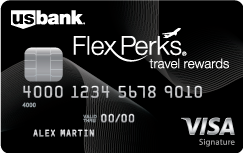 on US Banks's secure website
US Bank FlexPerks Travel Rewards Visa Signature Credit Card
Intro Offer
Earn 25,000 FlexPoints if you spend $2,000 on qualifying purchases in the first four months
Rewards Rate
2% on airfare, gas, groceries, cellular providers, charities

1% on all other purchases
Regular APR
14.24% – 24.24%

Annual Fee
$49
See how this card stacks up to our top rated travel credit cards
When it comes to getting a credit card that will offer you everything that you need it to offer, there are a lot of things that you will want to consider. US Bank is just one of the many banks across America that offer credit cards for consumers and businesses.
Their parent company, US Bancorp is actually one of the largest financial services companies in the nation. That means that you can trust their name, but how do their cards measure up? Let's take a closer look at the US Bank FlexPerks Travel Rewards Visa Signature Card.
Benefits and Rewards
First, we will look into the benefits and rewards offered by the US Bank FlexPerks Travel Rewards Visa Signature Card. To start with, you will enjoy that this card offers flexpoints for every dollar that you spend. For each eligible purchase, you will get one FlexPoint. You will also get double the FlexPoints when you use your card in a particular category of your choosing, such as grocery stores, gas stations, and airline companies. You will even get triple points when you make a charitable donation.
Along with earning these FlexPoints, you will also be able to get an additional 20,000 FlexPoints if you spend just $2000 with your card on qualifying purchases within the first four months of being a cardholder. So, what exactly are the points for? That's a great question! Your FlexPoints can be used toward travel and much more. You can use 20,000 FlexPoints to get a ticket valued up to $400. You can also redeem for gift cards, credits on your statement, and other merchandise.
The FlexPoints aren't the only benefit that you will get as a cardholder. You will also take advantage of all of the perks that come along with a Visa Signature card. For instance, you can use their 24/7 concierge service, their luxury hotel collection perks, access to fine dining, travel packages, sports events, and other entertainment.
They also secure your card with chip technology and an antifraud guarantee. That means that you can swipe with confidence.
Rates and Fees
Rates
Min APR: 14.24%
Max APR: 24.24%
Balance Transfer: 14.24% – 24.24%
Cash Advance: 24.24%
Fees
Annual: $49
Late Payment: $37
Balance Transfer: $5 or 3%
Foreign Transaction: None
Now that we have covered the good benefits of being a US Bank FlexPerks Travel Rewards Visa Signature cardholder, we need to consider the rates and fees associated with the account. First, you will want to take a look at the annual fee. This particular card carries no annual fee for the first year, but once you are out of that period it will be $49 per year.
Interest rates are also an important factor to consider. With this card, you are looking at a variable rate between 14.24% and 24.24% on basic purchases and balance transfers. You will pay 24.24% on all cash advances. This rate will be charged if you do not pay off your entire balance at the end of your billing cycle each month. The minimum finance charge will be $2.
Aside from the annual fee and interest rate, there are other fees that you will want to be aware of. For instance, you will be charged a 3% or $5 minimum fee on all balance transfers and check cash advances. For cash advances at an ATM or in branch, you will pay 4% or $10, and for a cash equivalent advance it is 4% or $20. These are all fees to be aware of, so that there are no surprises on your bills. With this being a travel rewards card, it is a good thing that it doesn't charge foreign transaction fees. That makes the US Bank FlexPerks Travel Rewards Visa Signature Card look pretty enticing to people that travel abroad, as many companies charge these foreign transaction fees.
Finally, look at the penalty fees. Penalty fees will be charged to your account in the event a late or returned payment from your bank. Typically, late payments will charge fees up to $37, while the cap on a returned payment is $35. They don't, however, have any over the limit fees.
Final Thoughts
So, just how does the US Bank FlexPerks Travel Rewards Visa Signature Card measure up in comparison to other popular travel credit cards? It seems that it is an ideal card for those that love to travel. There are plenty of perks, allowing you to travel for free and redeem your points for what you want. If you love options, this may be a great card for you. Best of all, the first year annual fee is waived!
3.95
US Bank FlexPerks Travel Rewards Visa Signature Credit Card
Author: Andrew Rombach
Andrew writes engaging and informative content for readers looking to find information about topics such as student loans, credit cards, personal loans, and small business financing. Andrew's work has been featured in Market Watch, Bankrate, The Penny Hoarder, and the Lacrosse Tribune.
Best Credit Cards by Type