Flying can be an exciting experience for novice travelers, but for more seasoned flyers, taking to the air is a dreaded process.
The more you fly, the more problems you encounter. Fly enough times and you are guaranteed to have a few cancelled flights, a few delayed flights, and a few problems that even the airline staff cannot explain.
Usually, issues that arise with flying, like a five hour delay, will just leave us emotionally and physically drained. Gift shop bodegas and fast-food restaurants can only keep you entertained for so long before you attempt to uncomfortably sleep in one of those black departure lounge chairs.
However, air travel problems have reached a new altitude.
In the last couple of weeks, United Airlines has become infamous for an event that occurred on one of their planes. A middle-aged male, David Dao, was brutally dragged off United Airlines Flight 3411 after four seats were needed for the airline staff. The flight had been overbooked, and passengers were being offered $800 vouchers to get off the plane. Three flyers agreed to remove themselves from the plane, Dao was not as agreeable.
After much arguing, Dao was picked up from his seat and dragged down the aisle by security officers from the Chicago Department of Aviation. Amongst other injuries, Dao suffered a concussion, broken teeth, and a broken nose.
Of course, this is 2017, and there were multiple smartphones that captured the event on video as it unfolded. The incident proceeded to go viral on social media and dominated news headlines for multiple days. According to some estimates, United temporarily lost over $1 billion in stock value because of the event.
There is no doubt that the incident has left United severely damaged. LendEDU sought to quantify just how big of an impact the events that unfolded on United Airlines Flight 3411 would have on customers and the company.
According to new data, almost half of flyers from the millennial generation have decided to stop flying United.
42% of Millennials Claim They are Done with United
LendEDU posed the following question to 2,365 millennials: "With all of the recent controversies, are you going to stop flying United?"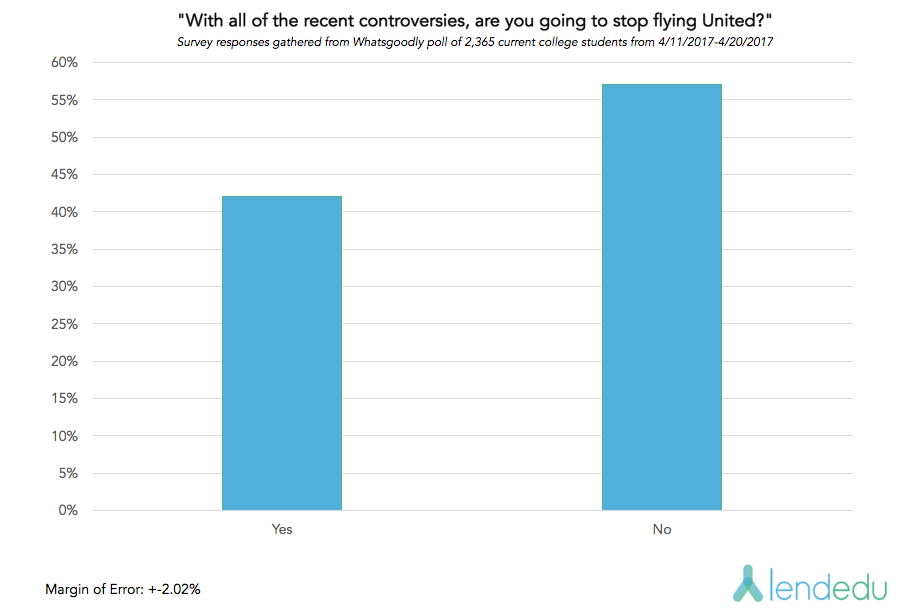 42 percent of respondents answered with "yes," while 57 percent responded "no."
This data represents just how poorly the incident involving David Dao played out in the eyes of consumers. Yes, the respondents only came from a single demographic, but millennials have surpassed the baby boomers as the largest living generation.
Of course, respondents that answered "yes" may still ultimately fly United based out of necessity. However, if customers can comfortably plan a flight itinerary then there is nearly a 50 percent chance they will not book with United because of the recent events.
Now, United's initial problem of overbooking a flight and needing to make room for staff has evolved into a customer acquisition problem. The airline has become so villainized from this altercation that people will no longer even consider flying with them.
Perhaps, the David Dao controversy will eventually be forgotten over time, but currently, it looks as if the event will significantly impact United's business.
Methodology
LendEDU has gathered this data under license from polling company Whatsgoodly. In total, 2,365 current college students were polled from April 11th, 2017 to April, 20th, 2017. The National Center for Education Statistics estimates that there are 20.5 million current college students in the United States. We estimate that our sample is representative of the population of college students with a margin of error of +-2.02%. Respondents were asked to answer the following question truthfully: "With all of the recent controversies, are you going to stop flying United?"
Author: Mike Brown
In his role at LendEDU, Mike uses data, usually from surveys and publicly-available resources, to identify emerging personal finance trends and tell unique stories. Mike's work, featured in major outlets like The Wall Street Journal and The Washington Post, provides consumers with a personal finance measuring stick and can help them make informed finance decisions.