Uber Visa Card Review: Earn Up to 4% Back on Purchases
The Uber credit card is great for those who dine out regularly, regardless of whether you're actually a frequent Uber user. The card offers bonus points for dining — including food purchased from UberEATs — as well as extra rewards for hotels, airfare, and online purchases.

Some offers mentioned on this page may be outdated. To confirm offers and credit card details, check the issuer's website.
---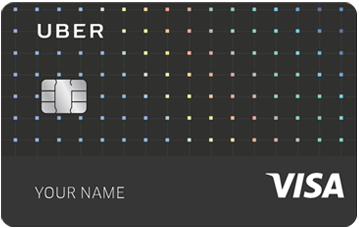 on Uber's secure website
Sign-Up Bonus
$100 back after spending $500 on purchases in the first 90 days
Rewards Rate
4% back on dining

3% back on hotel and airfare

2% back for online purchases

1% back on all other purchases
Regular APR
17.99% – 28.74%
Annual Fee
$0
See how this card stacks up to our top rated rewards credit cards
Card Summary
Pros
Earn an unlimited 4% cash back on dining, including restaurants, takeout, bars, and UberEATS — one of the most generous dining rewards offers.
The card is great for travelers as you get 3% back on airfare and hotels, including vacation home rentals.
Uber Visa covers your phone; receive up to $600 in reimbursement for damage or theft of your phone if you pay your phone bill with your Uber credit card.
Earn an unlimited 2% cash back on online purchases, including Uber, online shopping, and video or music streaming services.
If you spend at least $5,000 annually on your Uber credit card, you get a $50 statement credit for online subscription services.
Cons
You don't get any statement credits just for using Uber, which some competitor credit cards offer.
You can't redeem your points for Uber cash until you have at least 500 points.
There's no 0% promotional APR on either balance transfers or purchases, so interest costs can be high if you can't fully pay off your card each month.
The signup bonus of $100 isn't as generous as some competitor cards offer.
Recommended Credit Score
Good to excellent
Uber Credit Card: Is it the Best Credit Card for Rideshare Fanatics?
Barclays' Uber Visa Credit Card is a great option if you enjoy travel, online shopping, and dining out. It's not necessarily the best option for those who Uber everywhere, though.
The Uber Visa provides a strong 2% back on Uber rides. And some cards, such as the Platinum Card from American Express, even offer statement credits specifically for Uber use. You can read more about how these cards compare later in the review.
In this review:
Uber Card Benefits
While there may be better rideshare cards out there, the Uber Visa card still provides some pretty big advantages for the right kind of cardholder, including great rewards for certain categories of purchases.
Signup Bonus
The Uber Visa Card makes it easy to earn a signup bonus. You need to spend just $500 in the first 90 days of being a cardmember to become eligible. The bonus is a small one, though: you get only $100.
Uber Card Rewards
The Uber card provides 4% back on all dining purchases, including takeout, bars, and UberEATS purchases. All hotel and airfare purchases net you 3% back, including bookings with vacation home rentals. Whenever you shop online, you get 2% back — and that includes paying for Uber rides and streaming services, such as Netflix, Hulu, or Spotify. Finally, all other purchases earn you 1% back.
Although Uber describes its rewards as getting cash back, you actually get points. You can redeem points for cash back, or you can opt for Uber cash or for gift cards.
If you want to redeem points for Uber cash, you'll need to add your card to your Uber app, then open your Uber app menu and click on the points balance to specify how many points you'd like to redeem. In most cases, the Uber cash is available instantly after redemption, but it could take as long as 24-hours for the credit to show up.
When redeeming points for Uber cash, you need at least 500 points (worth $5). When redeeming for anything else, you'll need 2,500 points (worth $25).
Travel perks
The Uber Visa card not only provides a generous 3% back on hotel and airfare purchases, but travelers also benefit from the fact this card has no foreign transaction fees. Cardholders can also receive invitations to exclusive events held periodically throughout the United States.
Shopping Perks
Online shoppers, especially, will love the perks of the Uber card, including the 2% back on all online purchases as well as the $50 statement credit for online subscription services — if you've spent at least $5,000 on your card over the course of the year.
Phone Insurance
If you're into tech and have an expensive mobile phone, your Uber Visa protects you. As long as you pay your cell phone bill with your Uber credit card, you're covered for up to $600 for mobile phone damage or theft.
Downsides of the Uber Visa Card
Unfortunately, the Uber Visa card does have some downsides to consider:
You can't use your rewards for Uber credits until you've earned at least 500 points.
You only get 2% back for Uber while some competitor cards offer three points per dollar spent on Uber rides.
There's no 0% intro APR which means purchases and balance transfers can quickly lead to costly interest charges if not paid in full.
There's a 3% balance transfer fee
The variable APR for a cash advance is 27.24%
How it Compares to Similar Cards
The Uber credit card offers some of the most generous rewards for dining of any rewards credit card — especially those cards without an annual fee. But, ironically, it's benefits for dedicated ride-sharers are only OK.
If you're looking for a statement credit for Uber or to maximize your rewards for Uber spending, you may want to consider competitor cards. Many of these competing cards charge annual fees, which the Uber Visa doesn't, but they also come with a wide array of other generous perks that the Uber card doesn't offer.
Ultimately, it will come down to how much you spend to decide which is best for you.
Uber Visa Card vs. the Platinum Card from American Express
One of the few cards to directly offer a statement credit for Uber purchases is the Platinum Card from American Express. The Platinum Card provides $15 in Uber credits per month for U.S. rides as well as a $20 credit in December, so you can earn up to $200 per year in annual statement credits for using Uber.
The Amex card also offers ample other perks, including five Membership Rewards points per $1 for flights and hotels booked through Amex, access to airline lounges, a $200 airline fee credit; a credit for Global Entry or TSA precheck and more. But the American Express card also has a high $550 annual fee, while the Uber Visa has no annual fee at all.
If you're going to fully take advantage of the perks the Platinum Card offers, it could be a better choice. But, if you just want a free card that provides bonus rewards for dining out and online shopping along with Uber rides, the Uber Visa is a better bet.
Uber Credit Card Login & How to Apply
To apply for your Uber Visa, you'll need to download and open the Uber app. Tap "MENU" in the app's upper left corner, then select the option for "Payment."
Within the Payment menu, you'll see a list of Payment Offers. Select "View all Offers" and you'll see an option to Apply for the Uber Visa Card. Click details to learn more about the card and to submit your application. The Uber card's website provides links to the Uber app for both iOS and Android if you are not already an Uber customer.
If you have other questions about your Uber Visa account, check out the card's FAQs.
LendEDU's Experience With the Uber Visa Card
Personal experience by Grant Wing, Business Analyst at LendEDU
I received the Uber credit card as soon as it was released, and I can confidently say it's been my favorite credit card ever since. The rewards are extremely comprehensive for a no-annual-fee card, and its 4% cash back at restaurants and bars is one of the highest available, even among high-fee cards.

Barclaycard even adds a $50 statement credit for online subscription services after spending $5,000 in a year, which I've applied towards my Spotify Premium subscription. The card's 3% cash back for hotel and airfare is also competitive, but I don't take advantage of this rate frequently.
I've found the 2% cash back on online purchases is relatively niche, but it can be nice to have, and the 1% cash back on all other purchases is pretty standard. The options for redeeming points are limited to select gift cards, in addition to statement credits and cash deposits.

All in all, this is my go-to card for restaurant and bar purchases, which accounts for a large share of my monthly expenses. In my case, I've racked up more than $550 over the past 2 years in cash back from the card's ongoing rewards, excluding the $100 cash back intro bonus I got when I signed up.

In other words, my effective cash back rate was 3.56% over the duration. Not bad for a no-fee card.

Bottom Line: The Uber Credit Card is a Low-Cost Card with Good Rewards
As a free card with a pretty good rewards program, the Uber Visa is a worthy card to consider. It's an especially good choice if you dine out frequently or shop online often and want to take advantage of the bonus points for online and restaurant purchases as well as the credit for online subscription services.
>> Read More: Popular store credit cards

Christy Rakoczy is an experienced personal finance and legal writer who has been writing full time since 2008. She earned her JD at UCLA and graduated from the University of Rochester with a degree in media and communications. Her work has been featured on CNN Money, MSN Money, Yahoo Finance, USA Today, and more.
Best Credit Cards by Type