Top 10 Colleges With the Best Student Resources
October 28, 2015

Posted by:

Jeff Gitlen

Category:

Top Colleges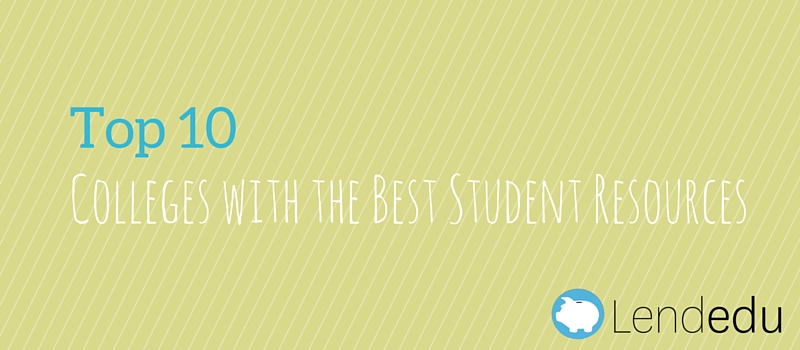 Many students feel empowered when they finally depart from home and embark on their first great adventure as college freshman. They feel so independent that asking anyone for help becomes utterly unacceptable. That's a big mistake, since many colleges offer valuable information and resources in order to help their students throughout their education. We made a list of 10 colleges that offer the best student resources in the nation!
1. Boston College – Boston, Massachusetts
Boston College has a very well organized academic advising center that's ready to answer your questions at all times. They offer assistance with choosing your major, dropping classes, organizing your AP credits, and much more.
2. Columbia College – Columbia, Missouri
From career advising to financial aid and peer advising – Columbia College has it covered. They take tremendous care of their students and are always willing to help. They also offer help with studying abroad and pre-professional issues.
3. New York University – New York, New York
NYU organizes many events to help both freshmen and upperclassmen. You will often see different banners upon walking in the building - Welcome Week, Welcome Back Week, Commuter Appreciation Day, etc. They aim to enhance the educational experience to all their students, not just freshmen.
4. Northern Illinois University – DeKalb, Illinois
From Career Services to Health Services all the way to Campus Child Care – Northern Illinois University is there for its students. There's even an Off-Campus and Non-Traditional student services for helping out students with their private lives.
5. University of Texas at Austin – Austin, Texas
UT Austin focuses on clarity and ease of access to information concerning their students. You can always access anything you need and customize your curriculum in order for it to suit your needs. They also organize large number community-strengthening events.
---
---
6. Indiana University Bloomington – Bloomington, Indiana
Indiana University is well known for its creativity, innovation and freedom it offers in choosing a career path to each and every student. Office of the Provost oversees all 16 schools that fall under Bloomington campus and provides leadership in faculty promotion, tenure and recognition.
7. Kentucky State College – Frankfort, Kentucky
Kentucky State is proud to be of assistance to all of its students, and has an astonishing number of advisors and special offices. From career preparation to disability resource centers – Kentucky State truly does think of everything.
8. Worcester Polytechnic Institute – Worcester, Massachusetts
As a true polytechnic institute, Worcester prides in supplying its students with many resources in high tech form. You can do pretty much everything via your computer screen in Worcester, from career advising to customizing your curriculum.
9. Massachusetts Institute of Technology – Cambridge, Massachusetts
World famous MIT is one of the world's premiere technology institutes. Besides providing stellar education to its students, it also employs excellent advisors. Academic development, personal support and careers, jobs and internships – everything is covered by the institute's professional staff.
10. Ohio State University – Columbus, Ohio
Entire resource center is available at OSU, where student can come and seek aid in just about anything. The university not only takes care of students' personal and professional problems – it also features a Resource Room where students can print posters or make whatever it is they desire.