Top 10 College Locker Rooms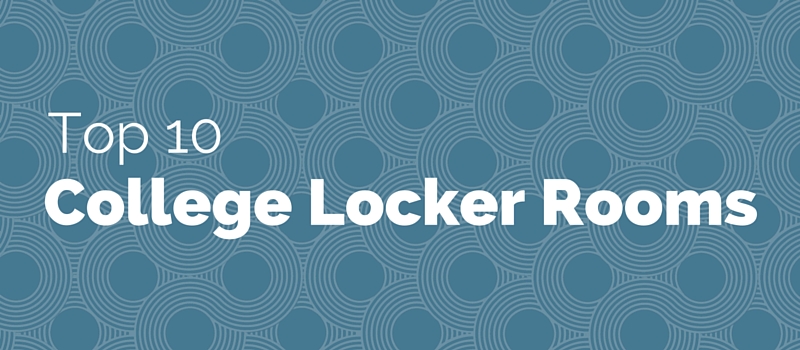 What happens when creativity, colors and a little art hit the college lockers? Many colleges decorate their locker rooms in all kinds of ways to spice up the place. The locker rooms are now spacious, clean and well styled to give the players a good place to relax before and after the game or the gym. Here are the top 10 college locker rooms:
Texas A&M University - College Station, Texas
The Texas A&M locker room was renovated recently and is now one of the most admired facility for college football players. The advanced technology in the meeting rooms, medical room, locker rooms and the washrooms provide players with all the luxury they'd need. For example, each player's locker has a ventilation system and an LED screen on it that contains all the stats and details on them!
University of Cincinnati - Cincinnati, Ohio
The huge sports facility has spacious meeting rooms, medical rooms and locker rooms for the players and coaches. This expensive sports facility is called 'The Varsity Village' and the project cost around more than $100 million. But this palace is not only for football players, this sophisticated facility is open to all of the Cincinnati University's sports team.
Oklahoma State University - Stillwater, Oklahoma
The orange themed basketball training facility cost around $5 million. Along with a lounge where the players can relax and watch the TV, the facility also contains hydrotherapy pools, meeting rooms, auditorium, spacious dressing and shower rooms and a kitchen.
Louisiana State University - Baton Rouge, Louisiana
Carpeted neatly, this locker area provides am organized and relaxing atmosphere for the players before and after practice and the big game. The facility also provides private dressing and shower rooms as well as charging stations for coaches and players.
Ohio State University - Columbus, Ohio
The renovation of this university's athletic center named 'Woody Hayes' cost more than $2 million dollars. The center now includes hydrotherapy pool, barber shop and a beautiful waterfall. The lockers are lined above leather seats for the players and the lounge area includes multiple TV's.
Auburn University - Historic District, Alabama
The elegant blue and orange carpet that covers the floor gives a sophisticated look to the Auburn University's locker room. Each locker comes with a nameplate for its owner that describes his name and player number. The wall of the locker room displays large pictures of the previous games and a trophy wall.
Texas Christian University - Fort Worth, Texas
This sports complex includes a spacious medicine room, a well equipped workout area and an elegant carpeted locker room. The locker room was expanded and renovated and new custom made lockers were made.
University of Tennessee - Nashville, Tennessee
The university's Anderson Training Center includes a locker room, dressing and shower rooms for the players and coaches. Other amenities include a medical center, meeting room and even a spacious dining hall. A football field and a hall of fame is also built in this training center.
University of Nebraska Lincoln, Lincoln, Nebraska
The Hendrick Training Complex is a luxurious training facility for the Nebraska University's athletic teams. The center provides great services such as pool tables, plasma wall, shower and dressing rooms with music system, whirlpools, meeting room, kitchen, cold tub and an elegant locker room.
University of Georgia - Athens, Georgia
The Sanford Stadium of this university is one of the best and largest football stadiums in the nation. Along with this, the new athletic facility for the university's football team is now known for its luxurious and beautiful style. An indoor football field, auditorium, meeting rooms and player lounge with charging station are some of the services provided in this training center.
Well there you have it! the top 10 college locker rooms! Be sure to comment if your school made the list! If not, tell us why they should have!
Author: Jeff Gitlen
Jeff Gitlen writes about a wide range of finance topics including everything from student loans to credit cards to small business financing. Jeff's work has been featured on a number of sites including Bloomberg, CNBC, Forbes, Market Watch, and more.