Top 10 Most Affordable Colleges  
May 13, 2015

Posted by:

Jeff Gitlen

Category:

Top Colleges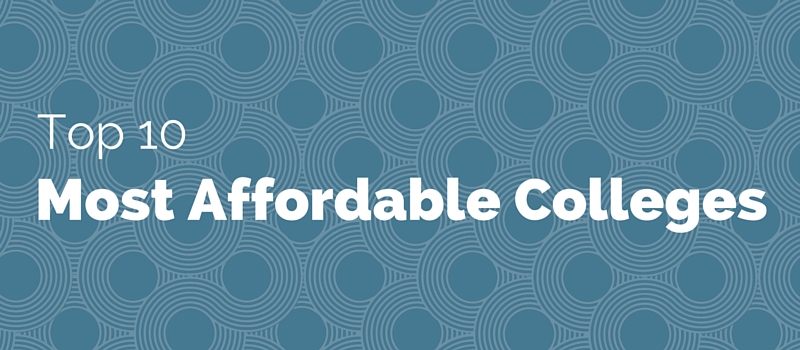 West Chester University - West Chester, Pennsylvania
Founded in 1880, this university was ranked as one of the best universities in the North of US. West Chester University is a public university who's goal is to provide high quality education to their students but also making sure that the cost remains appropriately affordable for their students for their entire journey at the university. Their amazingly affordable net price is around $19,400, which includes room and board!
Westminster College - Fulton, Missouri
The Westminster College of Fulton was established in 1851 and their mission is to provide financial aids and scholarships to their students to help establish a better future for them. This college provides housing facility for students and is known as one of the most diverse small liberal arts colleges in the nation.
Georgia Institute of Technology - Atlanta, Georgia
It is one of America's largest public research universities and was established in 1885. This institute also has satellite campuses in many other countries and cities. This institute provides more than $100 million to their undergraduate students every year as a financial aid.
University of Virginia - Charlottesville, Virginia
Established in 1819, The University of Virginia is a public university and provides various degree programs to choose from. Being a public university, the University of Virginia receives state funding to help subsidize costs for in-state students, however utilizes a large endowment to make admission affordable for out-of-state students as well. The university especially provides financial aid to students in need.
College of New Jersey - New Jersey
The university was established in 1855. It is divided into 7 colleges and offers more than 50 different degree programs. Along with this, the university provides fantastic housing facilities and a great campus life. The college provides excellent education in low cost which has an average net price for $18,400
Arizona State University - Tempe, Arizona
Established in 1885, this university holds a top rank in research universities in the Phoenix metropolitan area. The university has the title of the 'Most affordable university in Arizona'. The university did research regarding the average salary of the students and the expenses and then set the cost for its tuition based on these statistics to ensure that no student would be caught struggling with debt after graduation.
Rutgers University - New Brunswick, New Jersey
This university is the 8th oldest university of America and was established in 1766. It provides great services in sports and is a fantastic place for athletes. Rutgers University has three campuses around New Jersey and has more than 170 academic programs. This university provides a convenient cost that is affordable for the students. The net price is as low as $16,000.
Ball State University - Muncie, Indiana
Established in 1918, the university provides 180 undergraduate and 103 masters degree programs and many more programs in minor studies, bachelor's and doctoral degrees. This university is made of 7 different colleges. Ball state university performed analysis and proceeded with lowering the total cost for student's tuition and is known as Indiana's most affordable university.
University of Vermont - Burlington, Vermont
The university was established in 1791 and is one of the oldest universities of America. University of Vermont has more than 100 academic departments and its students are known for being active in charity and voluntary programs. The university has a reputation for having total low costs for its tuition, the net price is around $15,700.
Queens College - Flushing, New York
The university was established in 1937. The university is large and provides a great campus life. The students of the Queens College are active in community services and various organizations. It is one of the colleges of the City University of New York. The university provides an active campus life and financial aids to students in need. Along with this, its net price that is $7,000, is amazingly low.