Some offers mentioned on this page may be outdated. To confirm offers and credit card details, check the issuer's website.
---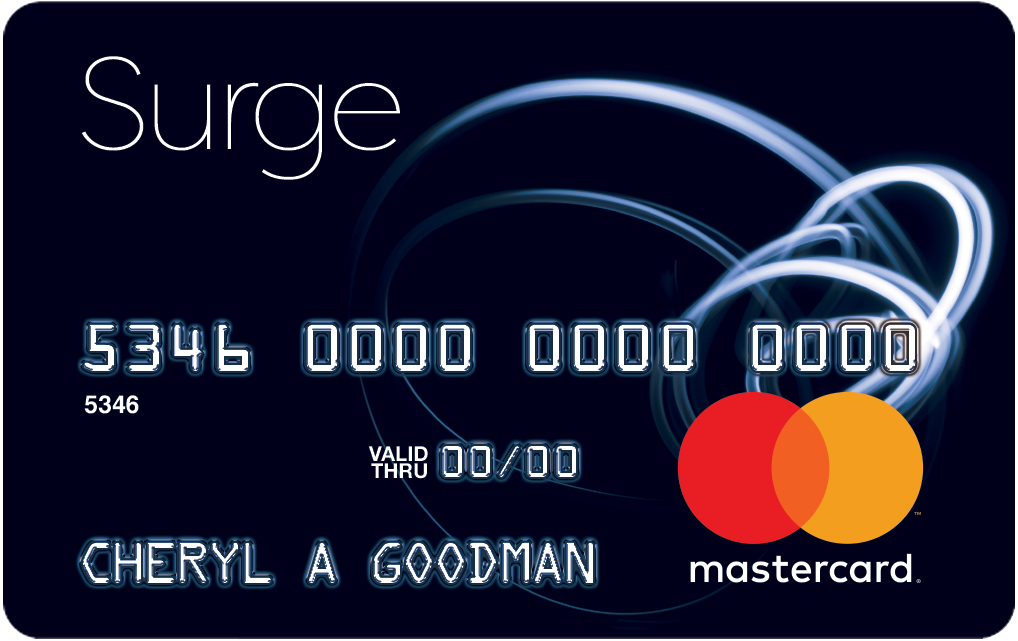 on Continental Finance's secure website
What we like:
Those who enjoy a simple application process
| | |
| --- | --- |
| Intro Offer | None |
| Rewards Rate | None |
| Regular APR | 29.99% |
| Annual Fee | $125 for first year, $96 after |
See how this card stacks up to our top rated secured credit cards
f you have been on the lookout for a new credit card, but have less than perfect credit, you may be in luck. There are quite a few cards out there designed for all credit types. Before you apply for card after card and get denied over and over, make sure you look for cards that are tailored to people who don't have the best credit.
Surge is a company that offers credit cards for those exact people trying to get their credit back on the right track. Check out the Surge MasterCard and see if it may be a good fit for you.
Security Deposit and Credit Line
First we will take a closer look at the benefits and rewards that come with being a Surge MasterCard cardholder.
One of the best perks is that this card is available for just about all credit types, and they offer monthly reports to the three major credit bureaus.
This is a great way for people with a less than ideal credit history to boost their credit score. This is only true, however, if you make your payments on time. Just as it can positively impact your score, it can also negatively impact it if you don't use caution with spending and make timely payments. When applying online, the process is pretty quick and they offer online results of the application.
While all applications are reviewed to see if you can get approval for an unsecured card, people that don't have the best credit may still be approved with a refundable security deposit. The deposits range from $50, $150, or $500, depending on your creditworthiness. All cards come with an initial credit line of $500, but you can request a credit limit increase once you make on time payments for at least six months.
Rates and Fees
Rates
Min APR: 29.99%
Max APR: 29.99%
Balance Transfer: N/A
Cash Advance: 29.99%
Fees
Annual: $96
Late Payment: $38
Balance Transfer: N/A
Foreign Transaction: 3%
Now that you know a bit more about how this card works with the security deposits and credit lines, it is time to cover the rates and fees. Since this card is tailored for people who do not have the best credit, it does tend to have some higher rates and fees than other cards out there. First and foremost, be aware of the annual fee for this card, which is $125 for the first year, and afterwards, it goes down to $96.
There is also a monthly maintenance fee for being a cardholder, which is $120 annually, and is billed at $10 each month. The good news is that this fee is waived for the first year. Other fees include their additional card fee of $30. There are also some transaction fees to be aware of, although they are not billed for the first 12 months. Cash advance fees are 5% or $5, and foreign transaction fees are a flat 3% of the amount of the transaction. There is also a fee of up to $38 billed with each late or returned payment.
Up next on our list of details to cover with the Surge MasterCard is the interest rate. The current APR for this card is 29.99%, and varies based on prime rates. This is the APR for both purchases and cash advances. While it may seem a bit high, you have to keep in mind that this is a card designed for people without good credit. Since the risk is higher, the interest rates are higher.
However, you can prevent yourself from paying interest on your account by simply making your payment by the close of your billing cycle each month, or before the end of the 25-day grace period (There is an exception to this though, as cash advances are charged interest from the date of the transaction.)
The Bottom Line
When it comes down to it, the Surge MasterCard is purely an option for someone who can't find approval elsewhere. While you will have to put down a security deposit if you don't meet their credit requirements, you can still be approved for the card.
It has higher rates and fees. If you have better credit, then you should be able to find a better deal elsewhere. It may be worth shopping around before you commit to such a high interest rate. However, some of the fees are waived during the first year.

Jeff Gitlen is a graduate of the Alfred Lerner College of Business and Economics at the University of Delaware. He has spent the last 5 years researching and writing about personal finance topics, including student loans, credit cards, insurance, and more. His work has been featured on major news publications, some of which include Bloomberg, CNBC, Forbes, and Market Watch.
Best Credit Cards by Type