Spirit Airlines World Mastercard Review
The Spirit Airlines World Mastercard is a travel card that gives you the chance to rack up miles you can redeem for flights. This card is a good option for families who want to fly affordably for vacations.

Some offers mentioned on this page may be outdated. To confirm offers and credit card details, check the issuer's website.
---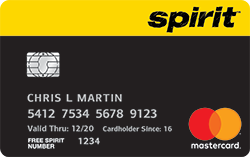 on Bank of America's secure website
What we like:
People who enjoy flights that are cheaper
Intro Offer
15,000 bonus miles after your first purchase + 15,000 bonus miles after making at least $500 in purchases in the first 90 days of account opening

0% intro APR
Rewards Rate
2 miles per $1 spent on everyday purchases
Regular APR
17.24% – 25.24%
Annual Fee
$59 (waived for first year)
See how this card stacks up to our top rated airline credit cards
Card Details

Pros
The sign-up bonus is easy to qualify for
You can cash in on flight redemptions starting at only 2,500 miles
There are no blackout dates on award tickets
You'll get 5,000 anniversary bonus miles if you spend at least $10,000 annually
Annual fee is waived for the first year
Cons
There isn't an intro APR for balance transfers
Spirit Airlines imposes a lot of travel fees
Only good for traveling with Spirit Airlines
If you don't use your Spirit Airlines credit card regularly, some of your points will expire
Recommended Credit Score
Good
Is the Bank of America Spirit Credit Card a Good Airline Credit Card?
Let's acknowledge what some of you are thinking: not everyone likes to fly Spirit, and it might not even be possible if you don't live near a Spirit hub.
But the Bank of America Spirit card is a decent option for those who are trying to pay down debt or build up their credit because you don't need an excellent credit score to get it. And if you frequently travel with the budget airlines, this travel credit card may be worth considering.
In this review:
Benefits of the Spirit Credit Card
The Spirit Airlines Mastercard has a number of perks that may make it worth adding to your wallet.

Sign-Up Bonus
You'll get 15,000 bonus miles out of the gate when you make your first purchase with your Spirit card—as long as that purchase is made within the first 90 days after account opening. Then, if you spend at least $500 in that 90-day window, you'll get an extra 15,000 bonus miles. That's potentially enough to book 12 one-way, off-peak flights—if you can find the best deals.
Also, if you spend a minimum of $10,000 on your card annually, you'll earn another 5,000 bonus miles on each card anniversary.
Spirit Airlines Rewards
You'll earn two Free Spirit miles per $1 spent, which is an average rate compared to other travel credit cards in this price range. You can also earn additional Spirit Miles for shopping with Spirit's rewards partners, including special offers for Avis and Hertz car rentals and staying at Choice Hotels. You can also earn five miles per $1 spent at certain restaurants.
You can redeem your miles for flights, starting at 5,000 miles for a roundtrip ticket.
Travel Perks
If you carry the Spirit Airlines credit card, you'll automatically receive Spirit preferred boarding and priority check-in. There aren't any other travel benefits: It's a no-frills card, made for basic, affordable travel.

Downsides of the Spirit Credit Card
This card doesn't offer Spirit travel insurance, waived foreign transaction fees, or free luggage checking, as many other travel cards do—it's really only good for Spirit loyalists.
Spirit Airlines Fees
Spirit Airlines saddles its customers with numerous charges to offer its seemingly cheap flights.
You'll need to book in advance to save money. If you book a flight six days or fewer before leaving, Spirit adds on another $100.
You'll pay $75 more if you book an award flight between seven and 20 days before leaving.
Even if you book 180 days before leaving, you'll still pay an extra $15.
Fees and taxes for redeemed flights start at $12 per round trip off-peak flight.
Spirit Miles Expire
You'll have to use your card regularly to avoid miles expiration. Although you only have to use it every three months, you might want to shoot for monthly. That will ensure you'll be covered if you forget one month or you return something that you previously purchased.

How it Compares to Similar Cards
While the Spirit credit card is cheaper to carry than some other travel cards, it doesn't have nearly the same perks or flexibility.
Bottom Line: Is the Spirit Airlines Card Worth It?
While it does have a low introductory annual fee, the Spirit Airlines Mastercard is best only for those who seek out budget airlines or who like to fly with Spirit. It is easy to get the sign-up bonus if you don't have much money to spend, but the points are generally harder to redeem.

Shannon Serpette is a mother of two and an award-winning journalist and freelancer who lives in Illinois. She obtained a bachelor's degree in English from Illinois Wesleyan University before beginning her 20-year career in newspapers. When she's not spending time with her children, she is often pursuing her favorite hobbies—running, metal detecting, kayaking, and reading about personal finance.
Best Credit Cards by Type