Sixup Student Loans Review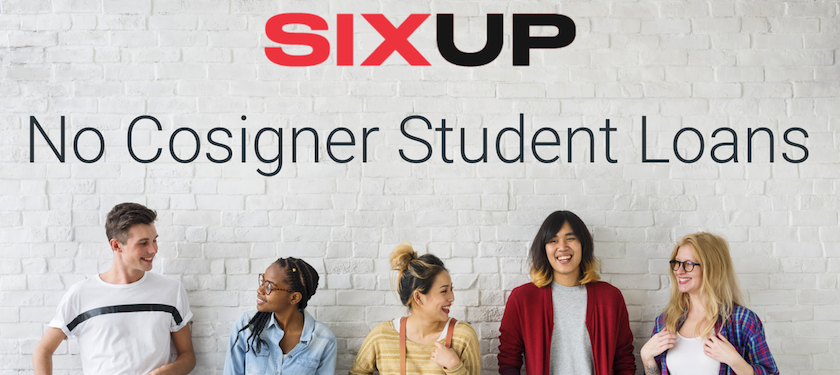 What we like:
Unique Acceptance Process
This Sixup Student Loans Review will look at a new kind of student loan company that touts itself as the underdog that invests in underdogs. It offers college loans to low-income students who have little or no credit history. Sixup was founded specifically to help students who usually do not have access to college financing have the financial capacity to upgrade to and graduate from four-year degree granting colleges.
Sixup is based in San Francisco and was started in 2015. Many of the people involved in starting Sixup were from low-income families themselves and first-generation college students. Attending college was a struggle for them because they had to work several jobs to pay for school after maxing out their federal student loans. They didn't want other students to have to struggle the way they did and so they founded Sixup in order to help lift the next generation of low-income, first-generation college students up. The company doesn't just provide student loans, but they also help students transfer to better schools, succeed while at college, and find career opportunities after they graduate.
The Model
Other Partners

Variable Rates

6.55% - 9.93%

2.751% - 11.03%

Fixed Rates

6.89% - 9.89%

3.63% - 12.99%

Term Lengths

10 years

0 - 15 years

Compare Rates from Other Top Lenders
Sixup touts itself as a company that offers responsible and affordable student loans. Their model is different from traditional education financing programs, such as College Ave Student Loans, because they don't require you to have a credit score in order to apply for a loan and they also don't require a co-signer. Instead, they look at an applicant's academic performance and financial need. They want to give money to students who are higher achievers, have a strong academic record, and are likely Pell Grant recipients. They focus on lending to those who don't otherwise have the ability to access funding.
Sixup also helps their borrowers find the right college to attend, and not just the cheapest one, they reward academic performance. If you do well in school one academic year, you can likely get a lower interest rate on your loan the next year. Sixup provides various support to their borrowers in order to help them stay focussed and succeed while in school.
The Process
The process of applying for a Sixup loan is fairly easy. You have to fill out an online application that takes about 10 minutes and at that point you are told whether you've been pre-approved for a loan. After that, you submit a final application which takes about 20 minutes to complete.
Once you're approved for a loan, you have 90 days in order to decide on the final amount you want to borrow. Sixup encourages students to get a summer job or apply for scholarships in order to reduce their loan amount so that they don't take on more debt than they need to. Once you decide on the final amount you want to borrow, the loan is finalized and they disperse the amount directly to your college.
The Cost
Sixup charges anywhere from 6.55% to 9.89% interest on their fixed or variable rate loans and provides loans in amounts between $2,500 in $15,000. They offer only one term length of 10 years with repayment beginning six months after graduation.
Potential Drawbacks
While Sixup is a great financing option for low income students, there are a number of potential drawbacks. One of the cons is they only offer loans up to $15,000, which might be less than students need, and might mean that they will have to look for the best private student loans for their remaining needs.
Sixup also targets a very limited market with their loans and so a lot of potential applicants will not be eligible.
In addition to having limited criteria for the type of student they lend to, Sixup only provide loans to US residents of the following states who are attending a four-year colleges: Arkansas, California, Colorado, Connecticut, District of Columbia, Florida, Georgia, Massachusetts, Nebraska, New Hampshire, New Jersey, New Mexico, North Carolina, Oregon, Texas, Virginia, West Virginia, and Wisconsin. While those students can use their loan at any U.S. college, that limits how many students they can help.
Bottom Line
By focusing on low-income, first generation college students, Sixup provides an invaluable service to those who are least likely to attend college and often have difficulties accessing financing. For student loans without a co-signer, their interest rates are relatively low - though potentially higher than federal student loans.
While their current geographic reach is limited, SIxup will be expanding their loan programs nationwide soon and that will allow them to provide loans to more students.
4
Author: Jeff Gitlen
Jeff Gitlen writes about a wide range of finance topics including everything from student loans to credit cards to small business financing. Jeff's work has been featured on a number of sites including Bloomberg, CNBC, Forbes, Market Watch, and more.