SBA Disaster Loans & FEMA Assistance
When natural disasters negatively impact a business, many owners turn to FEMA and the SBA in an effort to access disaster relief funds and repair disaster-related damages. There are certain qualification requirements you must meet in order to be eligible.

It seems like there's a new natural disaster, or threat of disaster, being covered every month. Since the 1970s, the number of natural disasters has quadrupled. And, as natural disasters increase, so to does the price tag associated with rebuilding.
Last year, Hurricane Harvey, often cited as one of the worst storms in U.S. history, left individuals and businesses grappling with $125 billion in damages, almost half of the $306.2 billion needed to cover the cumulative cost of all-weather events in 2017.
In a climate where many small business owners struggle to meet the challenge of everyday operational expenses, the cost of weather-related damages can quickly spell disaster.
Fortunately, the Small Business Association (SBA) works closely with the Federal Emergency Management Agency (FEMA) to offer low-interest disaster loans to business owners (with rates as low as 3.13%), nonprofit organizations (rates as low as 2.50%), and homeowners (rates as low 1.50%) as they work to recover from disaster.
On this page:
How to Register for Assistance with FEMA
The first process in seeking assistance is to register for a small business loan through FEMA by visiting DisasterAssistance.gov, downloading the FEMA app, or contacting the agency at 800.621.3362 (TTY: 800.462.7585).
At the time of registration, applicants will be asked to provide the following information: social security number, address affected, current address, phone number, information, household income, routing and account number (for direct transfer of funds), and a description of the damages or losses.
After the application is complete, a FEMA inspector will contact the applicant to schedule an inspection to verify the losses and review relevant documents (ownership, residence, etc.). Once completed, FEMA will review the claim and send a letter or email regarding the decision.
While the FEMA application represents the first step in the process, it is not the only one, and FEMA recommends that all applicants immediately submit an SBA disaster loan application, which can unlock other income-based FEMA grants under the Other Needs Assistance Program. Additionally, since SBA disaster loans are long term (up to 30 years) and available at extremely low interest rates, an SBA disaster loan can provide further financial assistance.
SBA Disaster Loan Program
Despite what many think, the SBA Disaster Loan Program is not exclusively for business owners looking for small business loans, and during times of crisis, homeowners and non-profits can also apply for and receive financial aid through this organization.
SBA disaster loan amounts and eligibility are impacted as follows:
Homeowners who are approved can borrow up to $200,000 to assist with the cost of home repairs and replacements (primary residence only), and up to $40,000 to replace personal property (such as automobiles) that sustained disaster damage.
Businesses of all sizes may qualify for up to $2 million to be used towards physical damages.
Small businesses and most private non-profits may be eligible for the Economic Injury Disaster Loan (EIDL), a working capital loan to assist with the economic impact of the disaster.
Applying for an SBA Disaster Loan
To apply for an SBA low-interest loan, disaster survivors can visit the Disaster Loan Assistance page and begin the three-step process outlined below:
Step 1: Apply for the loan online, by mail, or by visiting a disaster center.
Step 2: The SBA application review process begins. At this time, the SBA will review the applicant's credit, estimate the disaster-related physical loss, review any other insurance or recovery assistance available, and finally work with the applicant to reach a loan determination, typically within four weeks.
Step 3: Finally, the SBA will send out the loan closing documents and provide an initial disbursement of $25,000. At this time, the applicant will also be assigned a case manager who will assist them in meeting all loan conditions and schedule additional disbursements.​
Once you decide to submit an SBA application, it is imperative that you complete all loan applications within the deadline set by the SBA. Keep in mind that loan application deadlines are disaster-specific and will be determined by the SBA and FEMA once a disaster has been recognized. As such, it's important to check any FEMA news releases or contact FEMA or the SBA as soon as possible.
Please note that applying for an SBA disaster loan does not mean you are required to accept the funds should you be approved. Applicants can turn down the funds should they no longer need them or choose to seek financing elsewhere.
Current Disaster Declarations
FEMA and SBA assistance are location-dependent, and to meet basic SBA eligibility requirements, you must live in an SBA-declared disaster area. To determine if your location has been designated as a disaster area, you can visit the list of Current Declared Disasters which allows you to filter your search by state and county.
SBA Income Test
Loan eligibility is determined by the SBA's Office of Disaster Assistance (ODA) and is based on a few primary factors: the applicant's disaster-related losses, their credit, and their ability to repay. To determine eligibility during the registration process, FEMA uses an SBA-created income test table (see below), which establishes the minimum income levels required to be eligible for a loan.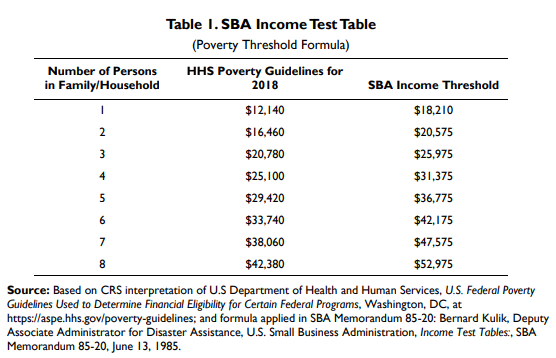 Bottom Line
Natural disasters have brought and continue to bring havoc to the lives of citizens across the United States. While these events bring with them a slew of emotional, mental, and physical trauma, many survivors can turn to FEMA and the SBA in an effort to access disaster relief funds and repair disaster-related damages.
If you're currently struggling with the financial aftermath of a natural disaster, it's imperative that you begin the FEMA and SBA application process as soon as possible to increase your access to much-needed funds. Always be conscious of application deadlines and do your best to provide thorough and accurate information through the loan process, using both FEMA and the SBA as constant resources throughout your journey.

Jeff Gitlen is a graduate of the University of Delaware. He writes about a wide range of financial topics including student loans, credit cards, small business financing, and more. His work has been featured on a number of sites including Bloomberg, CNBC, Forbes, Market Watch, and more.