Some offers mentioned on this page may be outdated. To confirm offers and credit card details, check the issuer's website.
---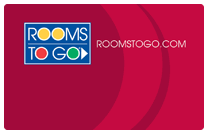 on Rooms to Go's secure website
| | |
| --- | --- |
| Intro Offer | None |
| Rewards Rate | None |
| Regular APR | 29.99% |
| Annual Fee | None |
See how this card stacks up to our top rated credit cards
Card Details
Designed for furniture purchases
No annual fee
Deferred interest payments for 180 days
Generally high APR
APR
29.99% following the initial introductory period
Intro APR
180-day deferment period (0% intro APR), after that 29.99% APR
Pros
Enter your text here…No down payment required
All payments can be deferred for 180 days
Interest-free financing for up to 180 days (if you make minimum payments)
Option to defer interest longer on larger purchases

Cons
No signup bonus
Minimum payment of $75 or 5% (whichever is greater)
Very high APR once interest begins to kick in
Can only be used at Rooms to Go

Rewards Points
No rewards program
Primary benefit is the option to defer payments
Recommended Credit Score
Fair credit score usually required
Basics
If you are looking for new furniture, you may have taken a look at Rooms to Go. This large store specializes in affordable furniture and also offers a credit card for its customers.
In some ways, the Rooms to Go Credit Card functions like a loan, allowing users to finance their furniture purchase with a 0 percent introductory annual percentage rate (APR) for 180 days.
However, after the introductory period expires, the APR shoots up to 29.99%, and interest begins to accrue at a high rate. The primary purpose of a Rooms to Go Credit Card is to delay payment on a furniture purchase—not to earn rewards or get other benefits.
There is no annual fee with a Rooms to Go Credit Card. A fair credit score is typically required, and in most cases, you can be approved for a credit card on the same day that you apply. The card can only be used at Rooms to Go.
Benefits of the Rooms to Go Credit Card
The major advantage of a Rooms to Go Credit Card is that consumers can make a furniture purchase without putting down any cash or making any payments for a full 180 days. Interest-free financing is permitted for up to 180 days as long as cardholders make minimum payments. Moreover, Rooms to Go may allow cardholders to defer interest even longer for larger purchases.
This gives customers the ability to buy the furniture that they need without spending cash that they may not immediately have—or taking money from other places to pay for their furniture. In other words, the Rooms to Go Credit Card helps people finance their furniture purchases.
Downsides of the Rooms to Go Credit Card
There are significant drawbacks to the Rooms to Go Credit Card to consider. One of the biggest disadvantages is the exceptionally high interest rate of 29.99 percent. If you are unable to pay off your balance before this APR kicks in, you'll find yourself paying a significant amount of money in interest.
In addition, the Rooms to Go Credit Card does not offer any discounts or special deals outside of the introductory 0% APR. Beyond the ability to finance your purchase, there is no real advantage to getting a Rooms to Go Credit Card.
Finally, the Rooms to Go Credit Card requires a high minimum payment in order to keep your 0% introductory interest rate. The minimum payment is either $75 or 5% of your account balance, whichever is greater. For example, if your account balance is $2,500, then your minimum monthly payment would be $125 (5% of $2,500). That may be a challenge for some cardholders—and failing to make that monthly payment could send your interest rate from 0% to nearly 30%.
How it Compares to Similar Cards
The Rooms to Go Credit Card has an extremely high annual percentage rate after the introductory period. It should only be used if you are able to pay off your purchase in full within 180 days.
In comparison, other credit cards may offer a better deal. While many furniture store credit cards have similar terms, including high APRs, a non-store credit card will typically offer a longer 0 percent introductory period.
Depending on your credit score, a regular credit card may also have a lower APR once the introductory period is over. But with a longer introductory period—say 18 months instead of 180 days—you'll be more likely to pay off your furniture purchase before the 0 percent interest rate has expired so that you don't need to worry as much about the interest rate.
Just be careful to limit your use of this card, as you will want to be sure to pay off your furniture purchase before the introductory period is over.
Bottom Line
Overall, the Rooms to Go Credit Card is useful in limited situations, such as if you need new furniture and cannot afford to pay for it in full immediately. In that case, a Rooms to Go Credit Card can be helpful in allowing you to finance your furniture for a short period of time while making payments.
However, because the terms of the Rooms to Go Credit Card are fairly harsh and the regular APR is high, anyone who obtains one of these cards should be careful to pay it off as soon as possible. Generally, given its high APR and unfavorable terms, the Rooms to Go Credit Card should be avoided by most consumers.

Jeff Gitlen is a graduate of the Alfred Lerner College of Business and Economics at the University of Delaware. He has spent the last 5 years researching and writing about personal finance topics, including student loans, credit cards, insurance, and more. His work has been featured on major news publications, some of which include Bloomberg, CNBC, Forbes, and Market Watch.
Best Credit Cards by Type