SunTrust Student Loans Review for Borrowers
September 11, 2015

Posted by:

Jeff Gitlen

Category:

Student Loans

Updated: 4/6/2018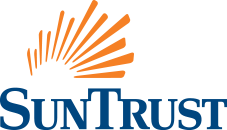 What we like:
SunTrust Cost Calculator
The average cost of college continues to rise over the last few years. Because of this drastic increase, students are having a harder time coming up with the money to pay for their education. Though federal loans and grants are typically a better option, many students must turn to the private student loans to pay for what's left. SunTrust student loans are excellent choices for students.
SunTrust Banks, Inc. is one of the nation's most successful and popular financial holdings companies. SunTrust Student Loans offers a broad range of services to their customers including everyday banking services, retirement options, and student loan options.
What Does SunTrust Offer?
SunTrust offers a few different private student loan options for those attending either an undergraduate or graduate program. SunTrust has recently expanded access to funding, so now, even more families can pay for college with a Custom Choice Loan®.
One SunTrust student loan option is the Custom Choice Loan. This student loan has competitive interest rates and several repayment options. In addition, the Custom Choice Loan has no origination, application, or prepayment fees and even offers a graduation reward.1
Custom Choice Loan interest rates are highly dependent on the borrower's and, if applicable, cosigner's credit histories, the amount of money requested, and the repayment term and repayment option. Variable interest rates range from 3.001% to 10.050% APR2 while fixed rates range from 4.751% to 11.500% APR2. Also, the student loan can be repaid over 7, 10, or 15 years3 and through a variety of repayment options including immediate repayment, interest-only repayment, a partial interest repayment, or full deferment.4 The minimum amount to borrow with a SunTrust Custom Choice Loan is $1,0017 while the maximum is $65,0007 a year.
---
Variable Rates
3.001% - 10.050%2
Fixed Rates
4.751% - 11.500%2
Terms
7, 10, or 15 years3
A SunTrust private student loan can help qualified students pay for many of the expenses associated with college including tuition, books, housing, and much more.
SunTrust has some helpful tools on their website, as well. These include a cost calculator to help students and their parents plan their finances, a scholarship-finding tool, and a collection of information regarding student loans and paying for college. In addition, SunTrust offers phone and email support between 9:00 – 8:00 ET and an informative FAQ section for those with questions.
Does SunTrust Refinance Student Debt?
SunTrust does not offer a student loan refinance product after graduation. As with most loans, however, you can refinance SunTrust undergraduate and graduate loans with other lenders. These lenders replace old federal and private student loans with a new private one.
Because refinanced student loans usually have a lower interest rate, they can save you thousands of dollars over the lifetime. Also, borrowers have the option to refinance and consolidate to a longer term but will likely add to the total loan cost of the loan. This is a great option for those who are having trouble making their payments and desire to pay less each month. Keep in mind, however, that paying your loans over a longer amount of time usually means that you will pay more interest over the lifetime of your loan.
Here at LendEDU, student loan refinance products for borrowers have competitive rates. Though this is typically reserved for highly qualified candidates, many applicants find themselves capable of lowering their rates.
SunTrust offers an In-School Refinance Option that gives students the option to refinance existing private student loans into a new private student loan.6 This option combines existing student loans with the funds needed for next semester into one new loan. The application process is easy.
After the student and, if applicable, cosigner, have applied and been approved for a new SunTrust private student loan, the option to refinance existing private student loans will be presented. Private student loans that can be refinanced with this option are private student loans and private consolidation loans that the student application used for, or to refinance loans used for, postsecondary qualified higher education expenses (as defined in section 221(d)(2) of the Internal Revenue Code) not currently in a past due status.
---
Alternatives to SunTrust
Like every purchase you make in life, it is smart to shop around before making a decision, especially when it comes to U.S. student debt. Only after you have looked into your federal student loan and grant options should you look into private student loans. Here at LendEDU, you can even compare private student loans from a variety of lenders with just one application.
Although juggling work and study can be a tiresome experience, rather than take student loans that might make you miserable for a long time, take the chance to work and pay your own way through school. You can work in the days and attend classes in the nights or the other way around. However, you will have to be a dedicated and disciplined individual in order to be successful. Once you know what you want, stay focused and stick to the program. At the end of your degree program, you won't have to make any payments for student loans because you did not borrow any money to attend school. Instead, you proudly paid your tuition fees out of your own pocket.​
Scholarships are another great option that everyone should consider before they touch student loans. Scholarships are given mainly on the merit you've achieved academically or athletically throughout high school. Usually if you are an outstanding student, colleges and outside organizations will consider you favorably for their scholarship. In addition, the government and some organizations that want to encourage a particular line of study might give scholarships to encourage interest in that particular area. Therefore, students that do well in certain subjects are encouraged to accept these types of scholarships.​
Specific scholarships cover almost everything you can think of. If you are a dancer, there is a good chance you can pick up a dance scholarship from a supporting company somewhere out there. If you love to cook, you can apply for a culinary scholarship. Minority scholarships are also very popular today. If you are African American, Asian Pacific Islander American, or Native American, you can seek out the Gates Millennium Scholars Program and see if they have any ways to help fund your education.
To find suitable funding to meet your other specific needs, you can do a search and find out what the different funding organizations are looking for. Start by targeting organizations that are showing interest in funding education. The next step is for you to either apply for these scholarships or send out emails and inquire about existing scholarships available. Chances are there is something waiting around the corner that can reward you for being unique.​
4