Some offers mentioned on this page may be outdated. To confirm offers and credit card details, check the issuer's website.
---
Restoration Hardware Credit Card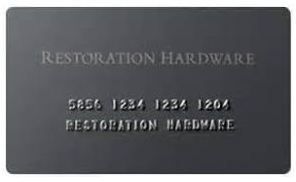 on Restoration Hardware's secure website
Restoration Hardware Credit Card
| | |
| --- | --- |
| Intro Offer | Special intro financing |
| Rewards Rate | None |
| Regular APR | 26.99% |
| Annual Fee | None |
See how this card stacks up to our top rated credit cards
Card Details
You can apply online for a credit limit as high as $30,000.
Accounts are financed by Comenity Bank.
This card allows you low-interest financing options if you are an RH Member, which requires a $100 membership fee.
Those who aren't RH Members still have decent financing options.
With the non-member standard financing plan, the card offers a no-interest deal for 9 months with U.S. outlet in-store purchases.

APR
The APR is 26.49% if you don't pay off the full balance in the allotted time.
Pros
Although it does cost $100 annually to be part of the RH Members Program, you will receive discounts on products that offset the cost.
Members get 20% off on the RH sale merchandise.
The APR is low for long-term financing if you pay it off during that time period.
Cons
If you're a member of the RH Members program, it automatically renews, along with the fee, unless you cancel it.
You have to pay shipping on your purchases. There is no free shipping, even for large orders.
The interest offer can hurt you if you miss a payment or don't pay off your balance in time.
Since the RH Members Program does have an annual membership fee, it's a waste of money if you get the card and don't make any purchases.
Bonus Rewards
You'll get the discount if you're a paid member, but there are no bonus rewards.
Rewards Points
You won't get any rewards points.
Intro APR
There isn't a regular intro APR, but you can take advantage of the lowered purchase APR, as long as you pay off your purchases in time.
Recommended Credit Score
You'll need to have at least a fair credit score to get this card.
Restoration Hardware Credit Card Benefits
If you opt to pay the fee to become an RH member, you'll be able to finance products at no interest for 12 months, a 0.99% APR for 24 months, a 1.99% APR for 36 months, a 2.99% APR for 48 months, or a 3.99% APR for 60 months.
Even with standard financing options, cardholders have the option of getting a 2.99% APR for 12 months, a 24-month 3.99% APR, a 36-month 4.99% APR, a 48-month 5.99% APR, or a 60-month 6.99% APR.
If your credit is good enough, Restoration Hardware offers generous credit limits, so you can get all the furnishings you need for your home.
Restoration Hardware Credit Card Downsides
While the credit limit can be generous if you have the proper score, that can also backfire if you don't pay on time. You'll be able to make the necessary purchases for your home, but if you don't pay off the balance during the time period or you are late with a payment, you'll be on the hook for all that deferred interest at the regular APR rate.
If you've charged tens of thousands of dollars and find yourself unable to pay that off, you're going to owe a lot of back interest at the 26.49% APR.
How It Compares to Similar Cards
As with many store cards, you can find much lower APRs on bank credit cards instead, especially if you first sign up for them and are given a limited time introductory rate. In addition, you can get other rewards perks from those types of cards, including cash back or travel points.
If you're trying to build up your credit after having a financial setback, you might have better luck applying for this card than you would for a bank credit card, which might require a higher credit score.
Bottom Line
If you want to finance a large dollar amount of furniture, and you're sure you won't be able to pay it off within a few months, this isn't a bad way to go. You can finance the furniture for years, but you have to make sure to stay on top of the payments or else you will get hit with high interest. That could make getting rid of your credit card debt extremely difficult.