Private Student Loans Looking up in 2017
January 5, 2017

Posted by:

Jeff Gitlen

Category:

Student Loans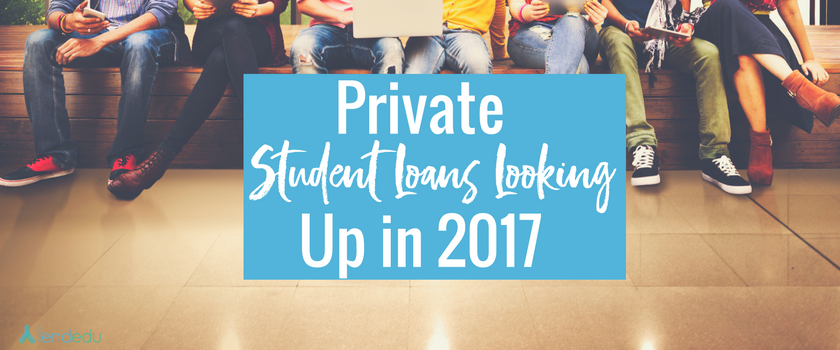 The economic forecast for private student loans is looking up as fewer loans are being written off by the lending servicing companies. According to a new report by data firm MeasureOne, companies who offer private student loans wrote off just 1.9% of this debt in the third quarter of 2016 which is a decrease of .5% from this time last year. This number represents the lowest percentage of loans written off since 2008. It serves to highlight the continued viability of private student loans as fewer college and graduate school loans are going unpaid.
Similarly, missed payments are on the decline. Only 1.9% of accounts were 90 days or more past due in the third quarter of 2016; in 2015, that number was 2.3%. This is a near-record low, with a high of 6.1% in the second quarter of 2009. Student loans that are delinquent between 30 and 89 days also hit a low of 2.7%, down 9% since 2015. In 2011, that number was close to 48%. The relatively low number of private student loans that are delinquent is a good indication of the success of measures designed to lower the number of late payments and unpaid accounts.
The reason for this decrease is likely tied to stricter standards for private student loans. After the recession of 2007 through 2009, companies offering private undergraduate and graduate student loans began to tighten up their requirements. In the third quarter of 2009, private student loan companies were forced to write off 10.1% of student loan balances.
As a result, lenders decided to change their standards for borrowing money for college or graduate school. In most cases, this means that private student loans are not available without a co-signer.
A cosigner is a person (typically a parent or other trust adult) who agrees to sign a loan along with the student. The co-signer is on the hook for the loan payments should the student fail to comply with his or her obligations. Out of the 3 billion dollars in new private student loans in 2016, 93% had a co-signer. 99% of these loans were certified by a university or college. With higher standards for creditworthiness and the necessity of having two borrowers on the loan, fewer student loans are going unpaid.
In contrast, federal student loans (which make up 92.5% of outstanding student loan balances) have higher default and late payment percentages. Most federal student loans are issued without checking the borrower's credit or requiring a co-signer, leaving holders of these loans vulnerable. Although the default rates for federal student loans have decreased over the past several years, they remain high compared to the national unemployment rate.
Across the nation, Americans have more than 1.4 trillion dollars in student loan debt. Most of this debt is in the form of federal student loans, with the remaining 7.5% (or 102 billion dollars) made up in private loans. The trends show that fewer graduates are delinquent on their loans, with an overall decline of between 9% and 15%. At the same time, more student loans are being taken out, with an increase of over 5% in originations for student loans. With fewer loans delinquent or in default, this is incredibly promising news for companies in the business of issuing private student loans.
Based on these numbers and the expectation of loosened regulations under President-Elect Trump's administration have led to higher stock prices for private student loan companies. With a lower likelihood of defaults and delinquency and fewer restrictions on lending practices, companies that issue and service private student loans are expected to see financial growth and profits in the years to come.
For students, this news is also positive, as it ensures that private loans will continue to be available to qualified borrowers and their families. While federal loans are typically offered with lower interest rates and greater protections, there may be a gap between the amount of federal loans and aid available and the tuition and fees for a given university. Private loans can be part of the financing solution, offering a method for students to pay for college or graduate school when they are unable to secure adequate funding otherwise.
Even after graduation, private lenders offer refinancing opportunities to creditworthy graduate borrowers. Student loan refinancing involves the process of applying for a new loan to replace either one loan or multiple loans. This new loan comes at a new, underwritten interest rate and repayment term. Ideally, this interest rate is lower than your previous interest rates.
MeasureOne determined the rate of defaults and late payments based on data available from the six largest student loan companies which represent approximately 65% of all private student loans in the United States. This includes information from Sallie Mae Bank, Citizens Bank, Navient, Wells Fargo and PNC Bank.