Primor Secured Visa Gold Credit Card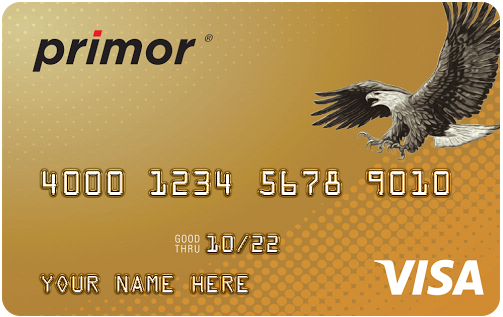 on GreenDot's secure website
Primor Secured Visa Gold Credit Card
Intro Offer
None
Rewards Rate
None
Regular APR
9.99%
Annual Fee
$49 for first card

$29 one-time fee for each additional card
See how this card stacks up to our top rated secured credit cards
There are a few major credit card companies out there, and Visa is one of them. If you are looking for a new credit card for your financial needs, then Visa can definitely help. Visa has been around since the late 1950's, and is a global organization offering services to many different countries.
According to the Nilson Report that tracks data from the credit card industry, Visa processed over 100 billion credit card transactions in the year 2015 on a global level. That says a lot about their trustworthiness. If you have less than perfect credit, you may consider the Primor Secured Visa Gold Card. Let's check it out.
Security Deposit & Credit Line
First, let's look into the benefits of being a Primor Secured Visa Gold Card cardholder and why those looking to build their credit should read further.
Unlike rewards cards that you may see that offer points towards travel, cash back, merchandise and more, the Primor Secured Visa Gold Card does not really have much to offer in the form of rewards. Don't let that fool you though, because it does still have its benefits.
Perhaps one of the biggest benefits of having the Primor Secured Visa Gold Card is the fact that they don't do a credit check, so they will approve just about anyone, no matter their credit history (or lack thereof). With that being said, getting the card isn't the benefit. The benefit comes when you actually use the card and make your payments each month. By doing this, you will be able to show that you are able to make steady payments on a revolving account.
As you make your payments, you can expect to see your FICO credit score start to rise. It will not only boost your credit, but it will also prove to other creditors that you are, in fact, creditworthy. If you have a history of not paying things on time, this may be just what you need to prove that you do have control of your financial future. This is a huge perk, in and of itself. In fact, this is often the biggest benefits of secured credit cards.
Rates and Fees
Rates
Min APR: 9.99%
Max APR: 9.99%
Balance Transfer: N/A
Cash Advance: 18.99%
Fees
Annual: $49
Late Payment: up to $29
Balance Transfer: $5 or 5%
Foreign Transaction: 3%
It is important to also look into the rates and fees that come along with the Primor Secured Visa Gold Card. First, be aware of the required deposit. All secured cards, including this one, will require you to put down a deposit to open the account. The annual fee charged for opening an account and maintaining it will be $49 for the first card, and an additional $29 one-time fee for each additional card added to the account.
You may also be assessed certain fees when you make transactions such as cash advances and foreign transactions. The cash advance fee is either 5% or $5, whichever is higher. The foreign transaction fee will equate to 3% of the total transaction in U.S. dollars. Other fees to be aware of include penalty fees. Expect to see these fees when you have a late payment on your account, or either a returned payment. These fees can range up to $29.
Perhaps one of the best things about the Primor Secured Visa Gold Card is the fact that it has such a low interest rate for a secured card. In fact, the interest rate for Gold cardholders is 9.99%, fixed variable. If you make a cash advance, the rate will be charged higher, at 18.99%. These are incredibly low interest rates for high risk borrowers that need to rely on a secured card.
All interest rates and fees will be added to your bill each month. To avoid being charged interest, you will want to make sure that your payment is made on or before the day that it is due. By doing this, you will be able to use the credit to get what you need without having to pay interest over time. Remember that balances are computed using the average daily balance technique.
Final Thoughts
It seems that the Primor Secured Visa Gold Card is a great choice if you don't really have very good credit. Credit card companies want to see that you have decent credit before they will extend you credit. This is why so many people turn to secured cards these days. This card, while not offering some of the better rewards programs, does offer an extremely low interest rate. This makes it look really appealing to those that are looking for an affordable way to build their credit, while still having the freedom to spend when they need to.
4.10
Primor Secured Visa Gold Credit Card
Author: Jeff Gitlen
Jeff Gitlen writes about a wide range of finance topics including everything from student loans to credit cards to small business financing. Jeff's work has been featured on a number of sites including Bloomberg, CNBC, Forbes, Market Watch, and more.
Best Credit Cards by Type