PGA Tour Cash Rewards World Mastercard Review
This is a solid everyday card that can earn you a seat at PGA Tour events while giving you access to exclusive courses worldwide
PGA Tour BankAmericard Cash Rewards Mastercard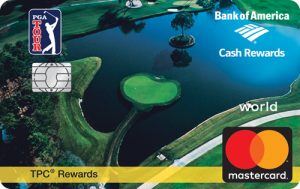 on TPC's secure website
PGA Tour BankAmericard Cash Rewards Mastercard
Intro Offer
$150 cash bonus after spending $500 in first 3 months
Rewards Rate
3% cash back- on category of choosing for up to $2,500 each quarter – gas, online shopping, dining, travel, drug stores, or home improv

2% cash back- on grocery and wolesale clubs up to $2,500 each quarter

1% cash back- on all purchases

Regular APR
16.24% – 26.24%
Annual Fee
$0
See how this card stacks up to our top rated rewards credit cards
Card Summary
Pros
Great card for avid golfers who want to join the Tournament Players Club (TPC) Rewards Program
Discounted greens fees on private TPC golf courses, with the ability to bring three guests
Dedicated lockers, range balls, and cart fees
20 percent discount on regular-priced merchandise in TPC Pro Shops
No annual fee
Excellent benefits for golf players and fans
Two free tickets to a PGA Tour event of your choice if you make $95 worth of transactions in the first 90 days
PGA Tour Player Experience package
Cons
Cash back rewards only apply to the first $2,500 in combined purchases each quarter
PGA Tour Cash Rewards World Mastercard: The Ideal Credit Card for Golf Fanatics?
The PGA Tour Cash Rewards World Mastercard from Bank of America might have a long name, but it's also long on benefits for those who love to play or follow the sport of golf. Considered the official affinity card of the PGA Tour, this card has a number of benefits for cardholders, including both all-around benefits and perks for the serious golfer or fan.
In this review:
Benefits of the PGA Tour Cash Rewards World Mastercard
The PGA Tour credit card comes with a lot of perks aside from the standard cash back rewards, and golf lovers are bound to love them.
PGA Tour Player Experience
One of the biggest rewards is the PGA Tour Player Experience. With the PGA Tour Cash Rewards Mastercard from Bank of America, you can spend the day in the shoes of a PGA Tour player on an exclusive Tournament Players Club golf course.
You'll be given VIP treatment that includes access to the amenities, facilities, and services only offered to PGA Tour pros. Your caddy will also serve as a tour guide, offering stories and memories from past PGA Tour events at that course.
The experience is offered at nine different courses nationwide.
Exclusive Access to TPC Golf Courses
You also get exclusive access to TPC courses; you and three friends can play golf on real PGA courses, and you'll enjoy discounted merchandise along with a dedicated locker, free range balls, and cart fees.
For those who prefer to watch, the card also offers the chance to get two free tickets to a PGA Tour event of your choice—all you have to do is spend $95 on the card in the first 90 days.
Cash Back Rewards
On top of all the golf-related perks outlined above, the PGA Tour credit card also offers decent cash rewards comparable to what you'd get with many other cash back credit cards. With the card, you'll earn 3% cash back at gas stations, 2% cash back at grocery stores, and 1% cash back on all other purchases, up to a maximum of $2,500 in purchases each quarter.
Sign-Up Bonus
For even more rewards, spend $500 and get $150 in cash rewards.
Downsides of the PGA Tour Cash Rewards World Mastercard
The PGA Tour credit card isn't perfect; while it boasts a stacked cash rewards program, it's not as good as it sounds. The cash rewards only apply to the first $2,500 spent each quarter, so if you plan to use your card a lot you might not get cash rewards on all of your purchases regardless of where they're made. We recommend pairing this card with another cash back card, such as the Citi Double Cash credit card, so that you can continue to earn rewards after you've passed the $2,500 limit.
In addition, while the card doesn't have an annual fee, some of the higher-tier rewards — such as the PGA Tour Player Experience — aren't free. You'll get a discounted rate, but it will still cost a few hundred dollars to attend. The same applies to many of the other benefits; instead of getting things for free, you'll pay a reduced rate, although the range balls and cart fees are at no extra cost.
For those looking for free rewards or widespread access worldwide with no hassle, another card might be a better option. But if you're interested in the card specifically for its golf-related perks, this probably isn't a problem.
How It Compares to Similar Cards
The PGA Tour Cash Rewards World Mastercard by Bank of America isn't the only golf card on the market. The American Express Gold Card, for instance, offers comparable benefits, including a free round of golf with every consecutive two-night stay at more than 85 world-class golf resorts worldwide, as well as admission to exclusive golfing VIP events with celebrities and pro athletes.
The Chase Sapphire Preferred card offers access to an exclusive lounge at the PGA Championship, as well as premium viewing at events and entry to more than 350 participating clubs. Other cards have similar or even better rewards.
While the PGA Tour Cash Rewards World Mastercard can hold its own against other PGA-focused cards, it's designed more to appeal to both serious golfers and fans; as a result, some other cards may have better rewards for those looking to participate more than watch.
Bottom Line
If you're a golf fanatic, love to travel to your favorite events, or want to get deep into the PGA experience, this card might not offer everything you're looking for.
>> Read More: Compare the best credit cards
The PGA Tour Cash Rewards World Mastercard is a great all-around card for those who play golf and those who like to attend the events as a spectator, but it's best for those who spend $2,500 or less on their card per quarter, and who only look to attend one to two PGA events per year.
Author: Jeanette Perez
Jeanette Perez is a bestselling author and intelligence analyst who lives in the mountains of western Montana with 11 goats, two dogs, and way too many computers. She is passionate about helping college students and grads get their student loans paid off through smart money management.
Your Guide to Financial Freedom

Money tips, advice, and news once a week

Join the LendEDU newsletter!

Thanks for submitting!

Please Enter a valid email
Best Credit Cards by Type