If you have a child that is in the Junior or Senior year of high school, he or she may be considering attending college to obtain a more advanced education.
While it is certainly exciting to see your child getting ready to this step, figuring out how to pay for it may cause some stress and anxiety, and rightfully so. The costs of college have increased steadily for decades, and don't look to be slowing down anytime soon.
No parents want to see their child struggle financially due to having to pay for college alone, or even worse, have their child not be able to attend because of insufficient funds. Though there is no requirement to pay, or help pay, for their child's higher education, many parents want to contribute as much as possible.
In this guide, we will go over the costs of college, the options for financing it, and what options you have to help as a parent. In addition, we recommend that you have your child check out our Financial Aid, Scholarships, and Student Loans 101 Course so he or she has an idea of the various ways to pay for college.
Step 1 – Figuring Out How Much College Will Cost
The average cost for tuition and room and board at a public four-year university for the 2015-2016 school year was just over $34,000 annually, while a private four-year university averaged out at around $44,000 per year. What's even worse is that these numbers increase by about 5% annually.
But wait—there's more! These figures don't include the costs for technology, transportation, books, and various other expenses such as those for furnishing a dorm or apartment.
According to the College Board, the true costs of college for four-year public and private universities are around $38,500 and $48,000 annually, respectively. The true cost of college is actually much higher than the number colleges report, so be sure to take these extra expenses when helping your child in coming up with a plan for paying for it. The following table gives an idea of the average cost of college and its various expenses.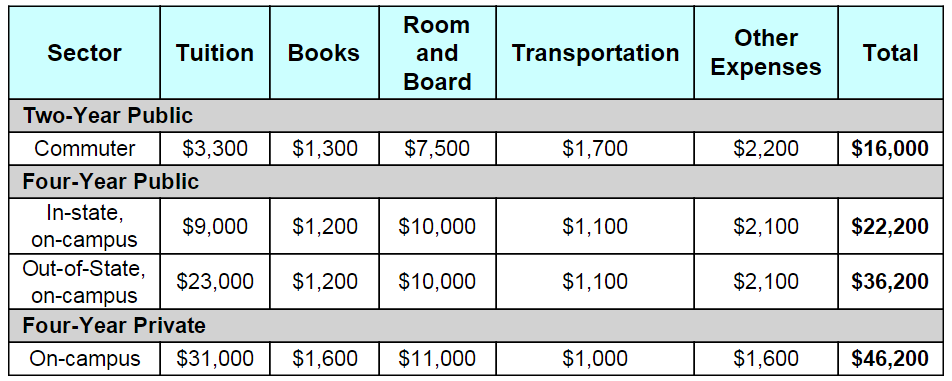 There are tons of great resources out there to help decipher how much college will truly cost you and your child. College Board's Trends in College Pricing breaks down the average costs of college by state, type of school, and other factors. Another great tool is FinAid's College Cost Projector, which accounts for time until enrollment and inflation. Try and use these resources, as well as whatever else you may find, to form a rough estimate of how much college will cost you and your child.
Step 2 – Finding Free Money
Filling out the FAFSA
Before you see these prices and immediately start trying to come up with a plan to pay them, know that there are ways your child can find free money to pay for college.
The first step is to fill out the Free Application for Financial Aid, better known as the FAFSA. This is the form that the Department of Education uses to analyze how much students' parents can contribute to their educations, and therefore how much and what kind of financial aid they're eligible for.
The FAFSA can be submitted electronically and only requires some basic information such as Social Security Number, proof of income, and bank statements. Based on this info, you will receive your Expected Family Contribution, or EFC. Based off of this, schools will decide if your child is eligible for grants or scholarships that require no repayment and/or federal student loans.
Once you and your child find out how much financial aid is available, subtract any grant or scholarship money out from the total cost of college. Don't worry about those student loans just yet; we will cover them later on.
Seeking Scholarships
After seeing if your child is eligible for any free financial aid, the next step is too seek out grants and scholarships from private organizations. There are tons out there from a variety of institutions—such as corporations, local businesses, religious groups, and so on. There are many resources out there to seek out these grants and scholarships.
Here at LendEDU, we have our own scholarships guide with over 100 different topics.
Once you know how much free money your child is eligible for, you will have a better idea of how much additional funding is required to make his or her dream a possibility—whether you are paying for all of it or not.
Step 3 – Deciding How Much Money You Can Contribute
After knowing how much scholarship and grant money is available, you and your child will now have a better idea of how much you will have to cover. The next step is to determine how much you as a parent, or parents, can reasonably afford to contribute to your child's education.
There is no requirement to help pay for your child's education. All parents have different philosophies on if they should contribute, and if they do, how much. Some may think it is important for the child to completely cover the cost of college while others may wish to cover the entire cost so the child isn't financially burdened after graduation. In most cases, parents fall somewhere in the middle of these two extremes.
Looking into Existing Savings Funds
If you have a college savings fund, or have been saving for years, you may already have a decent amount set aside specifically for your child's education. If you are sure that you want to use all of this money, go ahead and subtract it from your total cost of college calculation.
Figuring How Much Addition Money to Contribute
If you do choose to help pay for your child's education, there are certain steps that you can take to determine how much you can contribute. Though determining a number may seem like a daunting task, it simply comes down to budgeting.
Creating a budget is relatively simple. You first track any forms of income you have, such as salaries. After this, you should try to write down any monthly expenses you have. This may include mortgage payments, insurance, food, debts, and more. Once you do this, you should decide how much money you have in savings and if you want to keep it there or add more. If you are willing to spend some of your savings, you can add this to your income. If you would like to increase your savings, add this amount to your expenses.
After you have created your budget, you should have a better idea of how much you can reasonably contribute to your child's education. If you have an extra $500 in income as compared to expenses each month, and you have already accounted for what you want to put into savings, you could put this money towards your child's education without affecting your daily lifestyle.
As with many things in life, changes in financial situations happen. Try to be upfront with your child about how much you think you can contribute and how that could change over time. For the time being, go ahead and subtract the amount you will contribute to the cost of college.
Step 4 – Taking Out Loans
The last step for you and your child to find funding for college is through student loans.
Though these are often portrayed as detrimental and debilitating, they are actually an investment in your child's future. The opportunities that result from obtaining a college degree often outweigh the student debt loan that may result from doing so.
There are two types of student loans: federal and private.
Federal Student Loans
The first student loans you should take out, if necessary, are federal student loans.
These typically have the lowest interest rates, offer protections for the borrower, and do not require any repayment until 6 months after graduation.
Undergraduate Loans
There are two main types of federal student loans for undergraduates: Subsidized and Unsubsidized Stafford Loans.
Subsidized loans are given to those with more financial need. In this case, the government pays the accrued interest while the student is still in school and during periods of deferment, saving a substantial amount of money.
The government does not pay the interest while the student is in school for unsubsidized loans, on the other hand. Students and their parents have the option, however, to pay the accrued interest themselves.
To take out federal student loans, you simply have to fill out the FAFSA, as mentioned above, and accept them through the school's website. If you are offered both an unsubsidized and subsidized loan, always take the subsidized loan first.
The term length (repayment period) on federal student loans is 10 years. Note that there are programs such as federal consolidation and private student loan refinance.
Federal consolidation allows you to combine your loans with a new weighted interest rate, and student loan refinancing with a private lender allows you to combine your loans with a new interest rate based on your credit.
Each year, you will be required to fill out the FAFSA again and will have the option to take out additional loans. Only take out what you truly need, and be sure to make sure all of the loan money is going towards your child's required expenses, such as tuition, room and board, and books.
Parent Loans
After undergraduate loans have been maxed out, parents who would like to support their children further can take out Parent PLUS Loans. These loans are offered to parents of children in college, and are in the parent's name, not the child's.
Any parent can take out a Parent Plus loan, and no credit check is required.
Private Student Loans
If federal student loans aren't enough to cover the costs of your child's education, the next step is to take out private student loans.
Unlike federal student loans offered by the government, banks and lenders offer private student loans. There are variety of these lenders all with different interest rates, types of loans, and benefits. If you are interested in learning more about these lenders are, check out our private student loans page.
These loans are given based on creditworthiness, so typically a student must have a parent or guardian cosign them. Because most high school students have little, if any, credit, the lenders need someone who has a track record of being financially responsible so they feel comfortable giving out thousands of dollars. The cosigner shares the responsibility of repaying the loan if the primary borrower (the student) cannot.
As far as interest rates go, most private lenders offer both variable and fixed rates. Variable rates vary according to the LIBOR, while fixed rates stay the same. Because variable rates have the potential to increase over normal fixed rates, they start off lower. Fixed rates are seen as more safe, but variable rates have the potential to save more.
The better your, or in rare cases, your child's credit score is, the lower the interest rate will be. As previously mentioned, most private interest rates are higher than federal rates. Furthermore, with the lowering of federal rates for the next school year, we think that private lenders won't offer competitive rates any time soon. This is why all federal student loans should be taken out before considering private loans.
Most private lenders allow for full or interest-only payments, or full deferment until after graduation. Interest will accrue, however, while the child is in school either way. We created these calculators to help you estimate the costs of financing.
Private student loans typically have a term length somewhere between 5 and 15 years, and usually you and your child can make the decision on which period to choose. The shorter your repayment period, the lower your interest rate and higher your monthly payment will be, and vice-versa.
There are also parent loans available from private lenders that you can take out if you want to lower the debt load your child will have to take on.
Though taking out loans isn't the ideal case, sometimes it is simply necessary. When scholarships and grants, college savings accounts, and your contribution as a parent aren't enough, the choice is either take out student loans or don't attend school (or attend a cheaper school). If students take their college educations seriously, budget while in school, and have plans for repaying educational debt, taking out student loans should end up being beneficial in the long-run.
Conclusion
As your child is about to leave the house and head off to college, you may be stressed, anxious, excited, or a combination of the three. No matter what you're feeling, coming up with a plan to help your child pay for his or her education doesn't have to be rocket science. No matter what your current income or savings looks like, the steps to finding funding do not change. Also, as mentioned before, make sure to have a long talk with your child about managing money in college and the potential debt he or she may have to deal with after they graduate. If you sit down and come up with a strategy, you can ensure that your child is in the best financial situation when they walk across that stage to get his or her diploma.
Join the LendEDU Newsletter

News, insights, & tips once a week

Thanks for submitting

Please Enter a valid email