Some offers mentioned on this page may be outdated. To confirm offers and credit card details, check the issuer's website.
---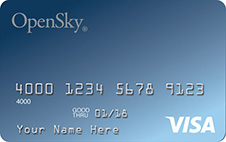 on OpenSky's secure website
What we like:
Cardholders rebuild their credit over time
Intro Offer

None

Rewards Rate

None

Regular APR

19.64%

variable APR on purchases and cash advances

Annual Fee

$35
See how this card stacks up to our top rated secured credit cards
Card Summary
Pros
Set your own credit limit with a refundable deposit between

$200

and

$3,000

No credit check required
Payment history reported to all three major credit bureaus
Opportunity to increase your credit line with no additional deposit
Fraud protection
Auto rental insurance
Dedicated credit education page
Cons
No rewards

$200

minimum security deposit

$35

annual fee (many secured cards have no annual fee)

3%

foreign transaction fees
High APR
Recommended Credit Score
No minimum credit score required
OpenSky Credit Card Review: Is it a Good Secured Card?
The OpenSky Secured credit card offers a few advantages to those looking to rebuild their credit or establish a credit history for the first time. However, an annual fee and absence of a rewards program may make this card an inferior choice compared to competitors like the Discover it Secured card.
In this review:
Benefits of the OpenSky Credit Card
Although you can likely do better with other secured credit cards free of annual fees, the OpenSky Secured Visa card does have a few perks:
No Credit Check
Because no credit check is performed, you won't incur a hard inquiry on your credit report, which can temporarily ding your credit score. You can also qualify for the card even if you have bankruptcies or other serious credit missteps in your credit history. Further, because all OpenSky has to do is verify your identity, the application process is fast and easy.
Choice of Credit Limit
Your credit line limit will be equal to your security deposit. This could be as low as $200 or as high as $3,000, subject to approval. Boosting your available credit with a higher-than-minimum deposit can further improve your credit score by lowering your credit utilization ratio.
Payment History Reported to Credit Bureaus
OpenSky reports your payment history to Equifax, Experian, and TransUnion every month. By making all payments by your due date over the long term, you can establish good credit and perhaps gain access to unsecured credit.
Downsides of the OpenSky Credit Card
Unfortunately, there are also some negative card details to watch out for, including:
A

$35

annual fee. Many other secured cards don't charge an annual fee at all.
No rewards program. You can't earn points or cash back for spending, unlike with some other secured cards.
Foreign transaction fees. You'll pay a

3%

fee on purchases made outside of the U.S.
No 0% intro APR offer on purchases or balance transfers. You'll start paying interest on purchases immediately if you choose to carry a balance.
How it Compares to Similar Cards
Although the OpenSky is unique in that it doesn't require a credit check, a total lack of rewards makes it an inferior choice compared to other cards in its category. For example, the Discover it Secured card offers 2% cash back on up to $1,000 in gas and restaurant purchases per quarter and unlimited 1% cash back on all other purchases.
Here's how the OpenSky Secured Visa stacks up against the Citi Secured credit card.
OpenSky Secured Card vs. Citi Secured Credit Card
Thanks to no annual fee, the Citi Secured credit card may be a better option than the OpenSky card for those looking to build credit. However, the Citi card allows a maximum credit limit of just $2,500 compared with $3,000 for the OpenSky card. Citi also requires you to keep your security deposit in a Collateral Holding Account for a full 18 months unless Citi determines your deposit is able to be returned.
The Citi card doesn't offer a rewards program, and its variable APR of 24.74% is a lot higher than OpenSky's. If you plan to carry a balance — which you should try to avoid with any credit card — you'll need to assess whether the interest rate savings on the OpenSky makes up for the annual fee Citi doesn't charge.
Where Do I Log In?
OpenSky Secured Visa cardholders can log into their account on OpenSky's website. Although consumers have reported issues with the card's customer service, you can reach the department at 1-855-763-6736.
Bottom Line
Although there are downsides to the OpenSky Secured, including a lack of rewards and foreign transaction fees, the card is a fairly standard offering among secured credit cards. However, chances are good you can qualify for a secured card with credit card companies that don't impose annual fees, even if you have bad credit.