Some offers mentioned on this page may be outdated. To confirm offers and credit card details, check the issuer's website.
---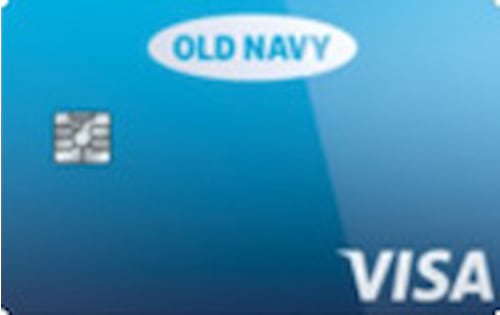 Intro Offer

20% off first purchase

Rewards Rate

5

points per $1 spent on Gap brands in-store and online,

1

point per $1 spent elsewhere

Regular APR

28.24%

Annual Fee

$0
See how this card stacks up to our top rated credit cards
Card Summary
Pros
10% off Welcome Shopping Pass valid for 60 days
Exclusive offers throughout the year
Presale access
Upgrade to Navyist status when you earn 5,000 points within a calendar year (includes quarterly 20% points bonus, free 3-5 business day shipping, free basic alterations, and private toll-free priority line)
Can combine rewards with other discounts and offers
$0 fraud liability
Cons
Rewards are capped at $250 per billing cycle
Can only redeem rewards at Gap Inc. stores (limited to 3 rewards certificates for a single item in-store and 5 certificates for a single item online)
Rewards expire after 2 years of card inactivity
High APR
Recommended Credit Score
Is the Old Navy Credit Card Worth Applying For?
Frequent shoppers at the Gap, Inc. stores — Gap, Old Navy, Banana Republic, and Athleta — can definitely benefit from the Old Navy Visa card, especially if they spend at least $1,000 at these stores annually. Hitting this spending threshold provides many additional benefits and perks for cardmembers.
However, if your credit history isn't very good, you may get stuck with the Old Navy store card rather than the Old Navy Visa. The store card can only be used at Gap Inc. brands, while the Visa can be used anywhere Visa is accepted. You're considered for both cards when you apply, but if you end up with the store card, chances are it will take you longer to earn rewards as a result.
In this review:
Old Navy Rewards
Both the Old Navy store card and Old Navy Visa offer the same rewards on Gap Inc. store purchases. Some of the benefits for cardholders include:
20% off your first purchase made within the first 90 days of account opening

5

x per $1 spent in-store and online at OldNavy, Gap, Banana Republic, and Athleta stores (automatic

$5

reward for every

500

points)
10% off Welcome Shopping Pass valid for 60 days from account opening
Presale access to popular sales and exclusive savings offers
When you qualify for the Old Navy Visa, you also get one point per dollar on purchases anywhere Visa is accepted, as well as fraud protection and other Visa-only offers and promotions.
The Navyist Program
Cardholders who earn 5,000 points during the calendar year can qualify for Navyist status. The Navyist credit card comes with extra perks such as a 20% quarterly rewards points bonus, free shipping on all online orders from any Gap Inc. store, a private toll-free priority phone line, and free basic alterations on clothing purchased from any Banana Republic store.
Downsides of the Old Navy Credit Card
The biggest downside to the Old Navy credit card is that the rewards really only benefit those who frequently shop at Gap Inc. stores, especially because reward points can only be redeemed with those brands, even with the Old Navy Visa.
Other cards, such as cash back or rewards cards, offer you the chance to earn more flexible rewards that can be redeemed in various ways. You could, for example, opt for a cash back card that rewards you with statement credits, gift cards, or other redemption methods.
Although we always recommend against carrying a credit card balance, the Old Navy card's sky-high APR of 27.24% makes it even more imperative for you to pay your statements in full every month.
How it Compares to Similar Cards
The Old Navy credit card comes with some special benefits that many competitors don't offer. For example, you get a 60-day 10% off welcome pass which is more generous than many other store cards. The 5x rewards rate also stands out in the retail card category. And because you can shop at all Gap Inc. stores, you have a bit more flexibility when it comes to redemption, too.
But for those who don't do the bulk of their shopping with Gap Inc. stores, other general rewards cards come — like the Discover it Cash Back — with a lot more freedom and versatility.
Old Navy Credit Card vs. Discover It Cash Back
The Discover it Cash Back card is the best Discover credit card available. It allows you to earn 5% cash back each quarter in rotating spending categories, as well as unlimited 1% cash back on all other purchases. Plus, Discover matches all cash back earned during your first year as a cardholder, which could be a big bonus.
Cash back rewards can be redeemed at any time with Discover, and you get your cash back as a statement credit. Like the Old Navy card, the Discover it Cash Back has no annual fee but does have a lower interest rate, which can save you money in the long run if you have to carry a balance.
Frequently Asked Questions
Here are answers to some of the most frequently asked questions about the Old Navy credit card.
Can I Use My Old Navy Visa Card Anywhere?
You can use your Old Navy Visa card anywhere Visa cards are accepted.
Can I Use My Old Navy Card at Gap?
Your Old Navy card can be used at all Gap Inc. stores, including the Gap, Banana Republic, and Athleta.
How Do I Submit My Old Navy Credit Card Payment?
You can pay your Old Navy credit card at Old Navy stores or can log into your account online at SynchronyCredit.com. You will need to provide your account information to set up an online account if you don't already have one.
Do Old Navy Credit Card Rewards Expire?
Old Navy rewards will expire 24 months after your last purchase if your account goes inactive. If you've already redeemed your points for a rewards certificate, there will be an expiration date listed on the front of the card. (In the past, Old Navy rewards certificates have generally expired one month from when they're issued.)
Bottom Line
If you regularly shop at Old Navy or any of the other Gap Inc. stores, the Old Navy credit card can be a good choice. It comes with some great perks, especially if you spent at least $1,000 annually. If you want additional ways to redeem rewards, though, you may want to consider a more versatile cash back card instead.