NFL Extra Points Credit Card Review: Is it a Good Card for Football Fanatics?
The Barclays NFL Extra Points card is great for football fans. For everyone else, however, it's just a standard rewards card with underwhelming benefits.

Some offers mentioned on this page may be outdated. To confirm offers and credit card details, check the issuer's website.
---
NFL Extra Points Credit Card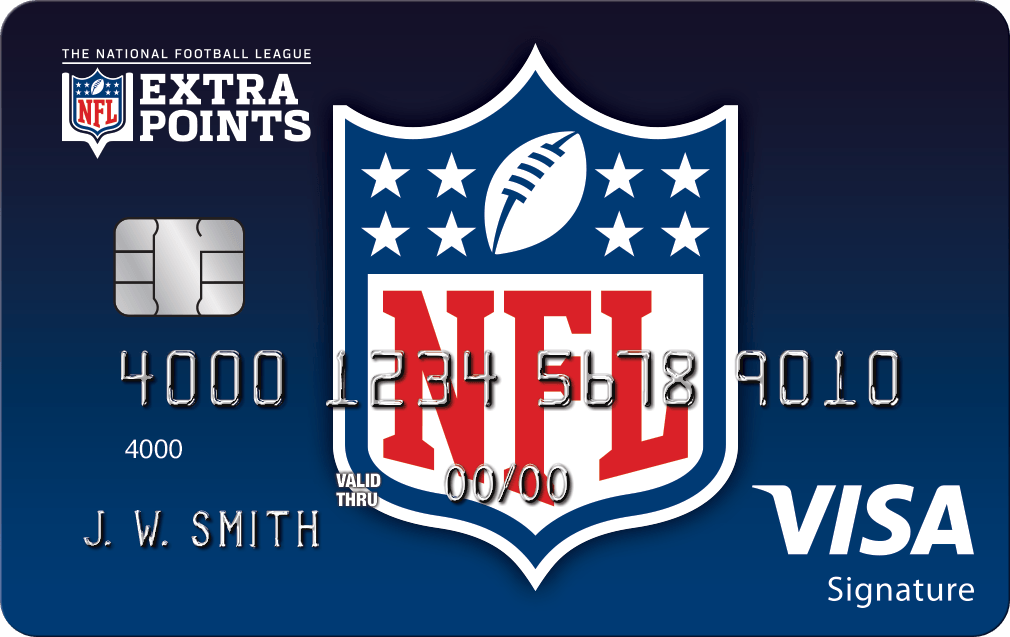 on Barclay's secure website
NFL Extra Points Credit Card
What we like:
For the National Football League enthusiasts
Intro Offer
Earn 10,000 bonus points after $500 in purchases in the first 90 days
Rewards Rate
2x points on NFL and team purchases

1x points for every $1 spent on all other purchases
Regular APR
0% intro APR on all balance transfers for 15 billing cycles

Variable APR of 18.24% – 28.24% after that
Annual Fee
$0
See how this card stacks up to our top rated rewards credit cards
Card Details
Pros
A great way to finance NFL ticket purchases
Save 20% when you buy your team gear at NFLShop.com
Redeem your rewards points for tickets and VIP experiences at NFL events.
Cons
Minimum rewards redemption of 2,500 points
The standard rewards rate is just average.
If you're not a big NFL fan, you probably won't use most of the benefits.
Recommended Credit Score
Good to Excellent
Is the Barclays NFL Credit Card Worth It?
The NFL Extra Points card is offered by Barclays Bank, and it's a rewards card built specifically for fans of the National Football League. However, it's also a solid balance transfer card for those who are trying to pay down their debt and improve their credit score.
Although the Barclays NFL credit card offers some great perks for die-hard football fans, if you're not planning to attend NFL games or shop for gear from your favorite NFL team, this card won't have much to offer. If you're not a big football fan, you may be better off looking for a cash back credit card.
In this review:
NFL Credit Card Benefits
Cardholders will enjoy several perks with this card.
Sign-up Bonus
You'll receive 10,000 bonus points if you spend $500 in purchases within 90 days of account opening. This translates to $100 cash back if you choose to redeem it as a statement credit—a fair bonus for such a low spending amount.
Rewards Rate
Regular purchases earn 1 point per dollar; NFL tickets purchased through any NFL team ticket office, however, earn 2 points. Each point is worth $0.01, so every thousand points you earn is worth another $10 in rewards.
When it comes time to redeem your points, however, you may want to look at the card's other benefits. You can redeem your rewards for VIP-level team experiences, get invites to exclusive NFL events, or get discounts on gear and other items from your favorite team. Your points won't expire as long as your account is in good standing.
20% Discount
All purchases you make at NFLShop.com will come with an automatic 20% discount just for being a cardholder.
NFL Ticket Financing
When you use your NFL card to buy game tickets through the team ticket office, you get a 0% introductory APR on those purchases for six months. After the promotional period, that purchase will revert to the standard purchase rate on your card.
Other Perks
If you transfer a balance to the Barclays NFL card, you'll enjoy a 0% promotional APR for a full 15 months, which gives you time to get those balances paid down. That can help you get out of debt faster, which is always a worthwhile goal.
Downsides of the Barclays NFL Extra Points Card
Every card has its drawbacks, and this card is no different. Its one-point-per-dollar rewards rate is only average, and the number of purchases that reap double rewards will be very small unless you're a huge NFL fan.
Points also can't be transferred to any other rewards program, which leaves your redemption options much more limited than you might find with other rewards cards.
There are also a few fees to consider: a 3% foreign transaction fee and a balance transfer fee of either $5 or 3%, whichever is greater.
How It Compares to Similar Cards
When stacked against other rewards credit cards, the NFL card doesn't have much to offer for most people. The rewards are geared for a very specific niche market. However, if you're a part of that market, this may be the card for you.
NFL Extra Points Credit Card vs Capital One Savor
One card that stacks up very well against the NFL card is the Capital One Savor card, which offers 4% cash back on all entertainment purchases—including tickets to major sporting events like NFL games. It doesn't offer the 20% discount at the NFL Shop, but if experiencing games in person is more your style, the Savor card might meet your needs better.
The Savor card also has an annual fee of $95 unlike the NFL card, but that fee is waived for the first year. You can try the card out for free and see if the other benefits, such as 4% cash back on dining purchases and 2% cash back on groceries, work for you. You could also downgrade to the no-fee Capital One SavorOne card, which still gives you 3% cash back on dining and entertainment.
Bottom Line: Is the NFL Card Right for You?
If the idea of a carrying card that offers you access to exclusive NFL events, a 0% APR on tickets, and discounts on team gear sounds like the perfect way to appease your inner superfan, then the Barclays NFL Extra Points card may be perfect for you. If, however, you're looking for better rewards rates, more redemption options, and a wider range of benefits, you'll be better off with another card.
>> Read More: Popular store credit cards

Jeanette Perez is a bestselling author and intelligence analyst who lives in the mountains of western Montana with 11 goats, two dogs, and way too many computers. She is passionate about helping college students and grads get their student loans paid off through smart money management.
Best Credit Cards by Type