New American Funding Mortgage Review
New American Funding offers conventional loans, jumbo-loans, mortgage refinance loans, and government-backed loans. You can qualify even without perfect credit. Keep reading this New American Funding review for more info.

Key Points:
New American uses manual underwriting, so it's a good option even for homebuyers who must be evaluated based on non-traditional credit metrics.
New American is a family-owned company known for offering top-notch customer service.
Many types of home loans are available from New American, including FHA, VA, and USDA loans, along with conventional and jumbo mortgages.
You can complete the entire loan application process online.
New American Funding Conventional Mortgage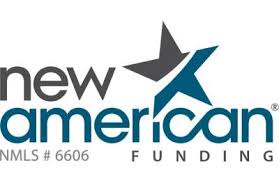 New American Funding Conventional Mortgage
Minimum Credit Score
Not disclosed (620 estimated)
Minimum Down Payment
Not disclosed (as low as 0% on other loan types)
Loan Terms
Fixed: 15 or 30 years
ARM: 5/1, 7/1, or 10/1
Other Loan Types
Jumbo and conventional loans, mortgage refinance loans, FHA loans, VA loans
See how New American Funding stacks up against top mortgage options
---
New American is a family-owned company that aims to be a different kind of mortgage lender. New American is willing to work with self-employed borrowers and, because it does manual underwriting, can also help people qualify for loans even if they don't have high credit scores.
New American offers many types of loans including conventional, jumbo, and refinance loans. You can also get a loan backed by the government, such as a VA, USDA, or FHA loan. The lender is also willing to work with first-time buyers and those using down payment assistance programs.
This review will tell you everything you need to know to decide if New American Funding is the right mortgage lender for you.
In this review:
New American Funding: By the Numbers
Mortgage Loans
Min. credit score
Min. down payment / Max. LTV
Term length
Conventional
Not disclosed (min. of 620 is ideal)
Not disclosed
Fixed: 15 or 30 years
ARM: 5/1, 7/1, or 10/1
Jumbo
Not disclosed (min. of 620 is ideal)
LTV: 90%
Fixed: Up to 30 years
ARM: 5/1, 7/1, or 10/1
FHA
580 (or 500 with a larger down payment)
Down payment: 3.5% (10% with a credit score below 580)
Fixed: 15 – 30 years
ARM: 5/1
VA
Not disclosed (500 – 580 estimated)
Down payment: 0%
Fixed: Up to 30 years
ARM: 5/1
USDA
580
Down payment: 0%
Fixed: Up to 38 years
ARM: Not disclosed (5/1 estimated)
Refinancing & Reverse Mortgages
| | | |
| --- | --- | --- |
| | Cash-Out Refi | Reverse Mortgage |
| Min. credit score | Not disclosed (min. of 620 is ideal) | None |
| Max. LTV | 97% | Not disclosed |
| Max. debt-to-income | Not disclosed | None |
| Origination fee | Not disclosed | $2,500 or 1% – 2% |
| Mortgage insurance premium | Not disclosed | 1.25% |
Which Type of Loan Is Right for Me?
Most people will take out a conventional mortgage. But even then, you'll need to choose if you want a fixed or adjustable rate while you repay your loan.
Fixed-Rate Mortgage
Fixed-rate mortgages have a higher initial rate than their adjustable-rate counterparts. But the rate remains the same over the entire loan term. The most popular loan term for fixed-rate mortgages is 30-years, and your loan interest rate and payment won't charge during the entire three decades.
>> Read More: 30-Year Mortgage Rates
If you plan to remain in your home a long time, want to know your mortgage costs upfront, and you want certainty in the size of your monthly mortgage payments, a fixed-rate mortgage from New American may be ideal for you.
New American Adjustable-Rate Mortgage
If you want the lowest possible starting interest rate, you should consider an adjustable-rate mortgage from New American.
Adjustable-rate mortgages start with lower rates than fixed-rate loans, but rates are tied to financial indexes that move. This means your rate and payment can rise over time.
>> Read More:
If you're struggling to afford monthly payments to get into a home for the first time, and you expect your income to go up in the next few years, an adjustable-rate mortgage could make buying a home more affordable.
You could also keep interest costs low if you plan to sell or refinance within a few years of buying your home.
Other Types of Loans
New American also offers other loan types including:
FHA Loans: These loans provide the chance to more easily qualify for a mortgage with a low credit score and low down payment. FHA Lenders offer relaxed qualifying requirements to first-time homebuyers because loans are backed by the Federal Housing Administration.
VA Loans: Veterans and military members can qualify for VA loans with no down payment and no minimum credit score requirements. VA lenders take on less risk and are willing to provide these loans because they are guaranteed by the Veteran's Administration.
USDA Loans: You can qualify for these loans primarily to buy properties in rural areas, even with imperfect credit and a minimal down payment. These loans present less risk to lenders because they are guaranteed by the United States Department of Agriculture.
Reverse mortgage: A reverse mortgage is an agreement in which you relinquish equity in your home in exchange for regular payments from the reverse mortgage lender. If you're in retirement and need extra income to supplement your savings, a reverse mortgage from New American may be right for you.
Cash-Out Refinance: A cash out refinance allows you to refinance your existing mortgage with a new loan that's greater than your current loan amount. That way, you can access extra capital to fund a home renovation or other large expense.
Pros & Cons of New American Funding
Non-traditional underwriting makes it possible to qualify even if your credit score isn't high based on conventional scoring models.
You have a choice of many loan options, including FHA and VA Loans, so you can qualify with a low down payment or no down payment.
This family-owned company is willing to help first-time borrowers and those who need help from down payment assistance programs.
You can apply online and track the entire process of qualifying for your loan over the Internet. You can also upload financial documents online, making the loan approval process easier and quicker.
You must contact New American to obtain a pre-qualification letter.
New American charges lender's fees when you obtain your loan, which means up-front costs can be higher than with some lenders that have worked to reduce or avoid fees.
Eligibility & Application Requirements
Because New American performs manual underwriting, many people can find a loan through this mortgage lender. But you do need to meet certain criteria in order to be eligible for a loan.
The tables above indicate the credit score and down payment minimums New American has disclosed for each loan type.
In addition, you'll need to demonstrate a healthy debt-to-income ratio, so New American knows you'll be able to keep up with your monthly payments. Most mortgage lenders like to see a maximum DTI of 43%—although New American hasn't disclosed its maximum.
Other Info You Need to Apply
You will need to provide some basic financial details in order to get approved for a loan from New American, including:
Your Social Security number
Tax returns
Pay stubs and/or W2s
Bank account information
Details about current debt
Information about the property you are buying
You can initiate the application process online with New American and can track your progress over the Internet. You can also get help from English or Spanish speaking loan officers if you need loan pre-approval or want assistance completing the loan application process.
In most cases, you can get to closing on your loan in around 30 days or less. This is much faster than with many conventional lenders.
Not Satisfied?
If you're not sure if New American is the best lender for you, you can check out our list of the best mortgage lenders or the best mortgage refinance companies. It's always a good idea to compare quotes from at least three lenders to make sure you're finding the best deal.
How We Rate Mortgage Lenders
Of the 18 mortgage lenders LendEDU rated, New American Funding came in fourth, with an overall score of 4.93 / 5.00.
Lendedu ranks mortgage lenders based on the weighted average of 12 data points, including:
BBB Rating (10%)
Trustpilot Rating (5%)
States Available (5%)
Lender Fees (10%)
Application Fees (10%)
Number of Branches (5%)
Number of Licenses and Registrations (5%)
Number of Regulatory Actions (5%)
Number of Mortgage Loan Originators (5%)
Customer Support (20%)
Zillow Rating (10%)
Other Rewards and Extra benefits (10%)
4.93
New American Funding

Christy Rakoczy is an experienced personal finance and legal writer who has been writing full time since 2008. She earned her JD at UCLA and graduated from the University of Rochester with a degree in media and communications. Her work has been featured on CNN Money, MSN Money, Yahoo Finance, USA Today, and more.