Some offers mentioned on this page may be outdated. To confirm offers and credit card details, check the issuer's website.
---
Navy Federal nRewards Secured Credit Card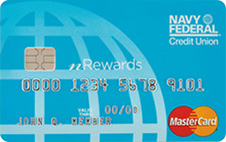 on Navy Federal's secure website
Navy Federal nRewards Secured Credit Card
What we like:
Ability to earn a point on all eligible purchases
Intro Offer

None

Rewards Rate

1

x point per $1 spent

Regular APR

18.00%

Annual Fee

$0
See how this card stacks up to our top rated secured credit cards
The Navy Federal Credit Union is based in the United States, and is often referred to as simply Navy Federal. They have been in business since the 1930's, offering financial solutions to consumers across the nation. Based on numbers released back in September of 2016, they have well over 6 million members with almost $78 billion worth of assets. This credit union in particular also offers credit cards. One of their most popular financial products offered is their credit card. Let's look closely at the Navy Federal Secured Credit Card.
Security Deposit & Credit Line
Secured cards, unlike cards that don't have any type of collateral security, will typically require you to put down a deposit before you are able to open the card.
The Navy Federal Secured Credit Card is no different. The good news is that you are able to get a major credit card while helping to build or rebuild your credit. This is a perk in and of itself.
On top of being able to build your credit, you will also be able to earn rewards back. Anytime you make a purchase, you will earn a point. Points can be redeemed for merchandise or gift cards to your favorite restaurants or retail establishments. To start redeeming your rewards, you must first earn 1000 rewards points. Keep in mind that rewards expire four years after they are earned.
Other great benefits include the digital wallets that help you track your spending with ease, mobile banking that lets you see up to the minute account information, and bonus coupons from Visa. These benefits are available to all card holders.
You will also be able to reap the benefits of their fraud monitoring and notification, which will help you to rest assured that your account is protected against fraudulent activity. The card is also equipped with EMV chip technology, meaning it is safer to shop.
Rates & Fees
Rates
Min APR: 9.99%
Max APR: 18.00%
Balance Transfer: N/A
Cash Advance: 11.99% – 20.00%
Fees
Annual:

$0

Late Payment:

$20

Balance Transfer: N/A
Foreign Transaction: None
Now, let's get into the fees that come along with the Navy Federal Secured Credit Card. First and foremost, it should be noted that there are no annual fees, no balance transfer fees, and no foreign transaction fees. This is almost unheard of, especially when it comes to a secured card. There are, however, fees associated with cash advances that do not originate at a Navy Federal Credit Union ATM or branch location. The fee can range up to $1 for non-Navy Federal Credit Union ATM locations.
The biggest cost that is associated with the Navy Federal Secured Credit Card is the deposit. You must make a deposit of at least $500 to open your account. They will hold the deposit until you close your account with it still in good standing. Then, you will be able to get the deposit back. Most people just see this as an investment when it comes to rebuilding their credit, or establishing it in the first place.
Next we will take a look at the interest rates. The interest rate on purchases, balance transfers and convenience checks will range from 9.99% to 18%, depending on your own creditworthiness. If you get a cash advance, however, your APR will be 2% over your personal variable APR. While you may start out with a lower interest rate, it isn't always guaranteed. If you have a returned payment, or your account falls past due by 60 days, you will be assessed a penalty APR of 18%. This won't change until you make at least six timely payments in a row. To avoid the interest rate altogether, you can choose to pay the balance in full each month.
Final Thoughts
It is easy to see that the Navy Federal Secured Credit Card would be a good choice for some consumers. This is especially true for consumers that don't really have good credit, or those that don't have any credit at all. If you are looking to build up your credit and improve your creditworthiness, then a secured card may be the right solution for you. The good news is that it doesn't take much to get approved for this card, as long as you have at least $500 to put down as a deposit. Just remember, it won't do you any good if you fail to make your payments on time each month. In fact, it would really do more harm than good to your credit.