Credit cards have been used as a form of payment for over half a century, but their start was subtle. Instead of swiping the plastic at a merchant's card reader, people used cardboard cards to barter for products and services as a form of short-term credit.
By the 1960s, plastic cards replaced the temporary IOU cardboard pieces, but instead of extending repayment for an indefinite amount of time, cardholders were expected to pay their bill in full when the month ended.
Now, consumers have the ability to pay back charged balances for as long or as little as their heart desires – and the go-to plastic cards used so prevalently throughout the world face a serious competitor.
Metal credit cards offer an allure not found with plastic cards, and more credit card issuers are catching on.
For the metal credit card aficionados around the globe, there is a growing trend drawing their attention, fondly referred to as the "plunk" factor. Though it may be harder to destroy a metal credit card when you're finished with it, throwing it down with the heft and sheen that only metal provides is something of a status symbol among credit card users.
Although metal credit cards have been in circulation for a number of years, they were marketed solely to the uber wealthy. Now, credit card issuers realize just how sought after metal credit cards are, and as such, have developed metal options for average consumers who don't have deep pockets. Here are the issuers that offer metal credit cards for your plunking pleasure.
The Best Metal Credit Cards for 2019
Chase Sapphire Preferred Credit Card
The Chase Sapphire Preferred credit card is a popular choice for frequent travelers and those who like an affordable metal credit card that provides a degree of elite status. The card itself does not carry as much actual weight as other metal credit cards on this list because it only has metal sandwiched between thin layers of plastic. Nonetheless, the Chase Sapphire Preferred Credit Card will not only get you compliments based on its weight and subtle sheen; it will also get you perks that no other credit card at its level can provide.
The Chase Sapphire Preferred is marketed as a travel rewards credit card, offering cardmembers two rewards points for every dollar spent on travel-related purchases and dining at restaurants. All other purchases earn one point per dollar. Currently, new cardmembers receive a bonus of 50,000 points when $4,000 or more is spent on the card within the first three months of account opening – a perk that adds up to significant savings. When redeemed through the Chase Ultimate Rewards site, those 50,000 points equate to $625 in cold hard travel cash.
In addition to the rewards points potential, Chase Sapphire Preferred cardmembers enjoy a flexible rewards transfer option between other frequent flyer or hotel loyalty programs, no foreign transaction fees, 24/7 concierge access, and insurance coverage to boot. The card comes with a $95 annual fee, but that is waived for the first year for new cardholders.
---
Chase Sapphire Reserve Credit Card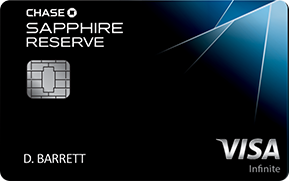 Another metal credit card offered by Chase is by far one of its most popular – so much so that within the first two months after launching the elite Chase Sapphire Reserve card, they ran out of the metal used to make the card, as well as the packaging in which it was shipped.
New cardmembers were issued plastic versions for a short period, which took away some of the allure temporarily.
Nonetheless, the Chase Sapphire Reserve credit card is back in production with its metallic alloy composition, giving it a weight that bypasses many metal credit card alternatives.
The Chase Sapphire Reserve credit card took the market by storm because of its sleek metal look married with its purchasing power. With a $450 annual fee, the Reserve is deemed an elite credit card, but it has the perks to match its heavyweight title. Initially, a 100,000 rewards bonus was promised to cardmembers who spent at least $4,000 in the first three months after opening an account – the equivalent of $1,500 when redeemed through the bank's rewards site. However, the unheard-of demand for the card has since brought down the sign-on bonus to 50,000, so long as the same spending threshold was met during that time frame.
Aside from its look and sign-on bonus, the Chase Sapphire Reserve credit card packs a powerful punch. Each year, cardmembers receive $300 in statement credits to offset travel-related purchases, including airfare and hotel stays. Additionally, three points are earned for every dollar spent on dining and travel, and redemption of rewards points equals 50% in value when the Ultimate Rewards site is used. This metal card does not charge foreign transaction fees and provides elite travel benefits not offered with the Sapphire Preferred card.
---
J.P. Morgan Palladium Card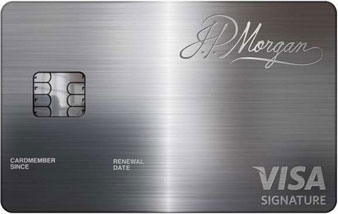 Metal credit cards began as a marketing tactic for the ultra-wealthy, and the J.P. Morgan Palladium card still focuses its efforts in this niche space. This card is made from the rare metal, palladium, combined with trace amounts of 24K gold, giving it substantial weight and a shine like no other metal credit card on the market. Cardmembers have their signature laser etched onto the front of the card with the card number and other details imprinted on the back making it an engraved metal credit card.
With a $595 annual fee, the Palladium credit card is made for spenders with impressive bank accounts. When it first arrived on the market, it was rumored that only Chase banking customers with a $1 million balance or higher were given access to the elite card; now, you need a mere $250,000 as a Chase Private Bank customer to be added to the club. While no signup bonus is offered, the J.P. Morgan Palladium card comes with a slew of rewards that would impress any credit card junkie.
So long as annual spending meets a $100,000 minimum, Palladium cardholders receive a 35,000 points bonus each and every year. Rewards are also earned on travel at a rate of two per one dollar spent, and one reward for every dollar spent on all other purchases. Cardmembers have access to the Chase Ultimate Rewards site, and redeeming for travel equates to a 50% bonus value. Palladium cardholders also have the option to transfer rewards to travel partners, including airline and hotel loyalty programs, and they have access to more than 350 exclusive airport lounges around the world. There are no foreign transaction fees, and EMV chip-enabled cards are offered to all new cardmembers.
---
American Express Centurion Card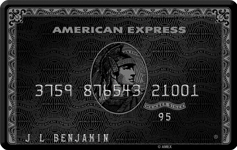 The American Express Centurion credit card was one of the first elite rewards credit cards offered to a select group of consumers. As an invitation-only card, the Centurion is fondly referred to as the Black Card, partially because of its titanium composition.
Paying for any purchase with this exclusive metal credit card garners stares, compliments, and at times, questions as to who the cardholder may be.
American Express does not release many details about the Centurion credit card, except that it is only offered through a direct invitation to individuals who meet certain spending and asset minimums. The credit card issuer does, however, share in its cardholder agreement that it comes with a hefty initiation fee of $7,500 and an ongoing annual fee of $2,500. For that type of prestige, most are willing to pay for access.
Centurion cardmembers receive several perks simply for having the card, including membership rewards points earned on all purchases. Travel benefits include access to invitation-only events and entertainment, upgrades to hotel loyalty program statuses, and no-cost access to airport lounges. There are also perks for travelers who fly internationally, such as a personal guide to help cardmembers navigate customs and immigration, and coordination of ground transportation for, of course, a fee.
Overall, the American Express Centurion card remains the most exclusive elite metal credit card on the market. In April 2017, American Express announced that the American Express Platinum Card would be issued in metal.
---
Chase Ritz-Carlton Card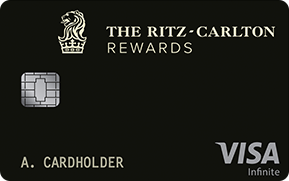 Like other Chase credit cards, the Ritz Carlton cardis designed for heavy hitters. Its composition of heavy metal in between thin sheets of plastic gives the card its weight, and its nearly-flat black appearance offers some draw.
The Ritz-Carlton credit card is aimed at metal credit card users who spend big on travel, specifically, Ritz-Carlton hotel stays on a consistent basis.
The Ritz-Carlton credit card by Chase comes with a $450 annual fee, but that is offset in the first year of membership if certain spending requirements are met. Similar to other Chase cards, the Ritz-Carlton credit card comes with an attractive signup bonus which boasts two complimentary nights at any Tier 1 – 4 Ritz-Carlton hotel. A minimum of $4,000 must be spent on the card within the first three months after account opening to earn the bonus rewards.
In addition to the upfront bonus, Ritz-Carlton card members earn five rewards points for each dollar spent at Ritz-Carlton Rewards and SPG hotels. Two points are earned for every dollar spent on airfare purchased directly from airlines, on rental cars, and restaurants, while one point is earned per dollar spent on all other purchases. Cardmembers also receive a $300 annual credit which can be used as a reimbursement for travel-related charges. There are no foreign transaction fees, and cardmembers have the added perk of boosting their program status with Ritz-Carlton and SPG hotels.
---
Dubai First Royale Card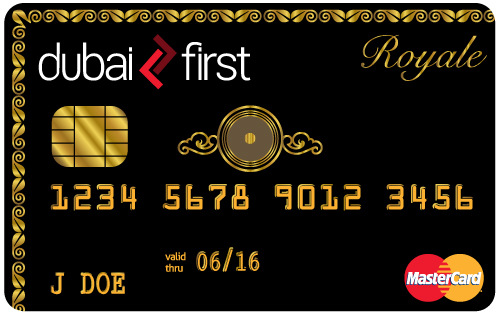 The Dubai First Royale credit card is by far the most luxurious of all metal credit cards available. It is trimmed in gold and has a small diamondembedded in its center. The black backdrop of the card makes the two sparkly features stand out more than any other metal credit card. These features make it one of the most visually appealing metal credit cards on the market today.
In addition to its attractive look, this credit card also offers some valuable benefits to cardmembers.
Metal credit card users interested in the Dubai First Royale card may be out of luck since the credit card is offered as an invitation-only experience. It is safe to assume that because the card does not set a spending limit for cardmembers, it takes a large bank account and equally impressive spending to qualify. Each cardholder receives a dedicated relationship manager and a Royale Lifestyle manager for which details are not readily available.
The Dubai First Royale credit card does carry an annual fee, but only cardmembers are privy to that specific amount. There is also no information provided as to the added perks Royale card members receive simply for being a cardholder, because a dedicated sign-in is required to access the card issuers site.
---
Make Your Own Metal Credit Card
Anyone feeling a little left out of the exclusive metal credit card club has an option: creating your own. Through this website, anyone can turn a dull plastic credit card into a stainless steel or metal credit card for a fee of $149. The card manufacturer allows customers to choose from a range of designs or submit a design of their own which is then laser engraved onto a matte black, steel card.
The credit card information which gives the metal credit card its power is simply linked from the original card, and cardmembers are up and running with their heavy duty purchasing power. While there is a fee associated with the service, customers are not required to submit an application nor are there ongoing fees for the card. If, however, an old metal credit card is lost or stolen, a new card must be created for the same $149 charge.
Metal credit cards have become more mainstream in today's credit card market, due in part to the clout they bring to the table. Cashiers, waitstaff, friends, and family are quick to assume the plunk of a metal credit card means the cardholder is working with some serious cash flow. Although that is the case for extremely exclusive card offerings like the American Centurion, J.P. Morgan Palladium, and Dubai First Royale credit cards, not everyone needs to have multiple zeros behind a bank account to qualify for a metal credit card.
Those who are looking to get by with a simple cash back, rewards, travel, or even secured credit card can take advantage of the feel of metal in their wallet. If the other options don't suit your needs, you have the option to turn your current go-to credit card into one with more weight with just a few clicks, and a few dollars. Call it a custom metal credit card.
Author: Andrew Rombach
Andrew writes engaging and informative content for readers looking to find information about topics such as student loans, credit cards, personal loans, and small business financing. Andrew's work has been featured in Market Watch, Bankrate, The Penny Hoarder, and the Lacrosse Tribune.
Best Credit Cards by Type