Some offers mentioned on this page may be outdated. To confirm offers and credit card details, check the issuer's website.
---
Merrick Bank Secured Visa Credit Card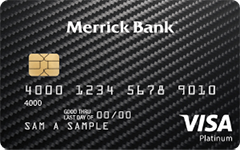 on Merrick Bank's secure website
Merrick Bank Secured Visa Credit Card
What we like:
Borrowers who need help rebuilding their credit
| | |
| --- | --- |
| Intro Offer | None |
| Rewards Rate | None |
| Regular APR | 19.70% |
| Annual Fee | $36 |
See how this card stacks up to our top rated secured credit cards
If you are looking for a secured credit card that offers you freedom and flexibility, then you should be pleasantly surprised to learn more about the secured cards offered by Merrick Bank. Merrick Bank was founded in 1997 and is actually one of the top 20 issuers of Visa cards across the country. They not only offer credit cards, but a variety of other financing options as well.
Their goal is to offer their customers a fair-priced solution to their financial issues, along with helping their customers get better stability with their long term financial picture. If you are looking to improve your credit, take a closer look at the Merrick Bank Secured Visa card and see if it may be the right choice for you.
Security Deposit and Credit Line
Since the Merrick Bank Secured Visa Card is a secured credit card, it does require you to put down a security deposit upon approval.
Your credit line is completely up to you, as it is equal to the amount of the security deposit you put down on the account when you first open it. Choose your credit line, which can be anywhere from $200 to $3,000, then you can start using your card right away.
As you use your card and make payments each month, Merrick Bank will report it to the three major credit bureaus. This can help you establish or reestablish your credit, and also help you see how much of an impact timely payments can have on your credit score. The funds you put down as a security deposit will be fully FDIC insured, and they are completely refundable – as long as you keep your account in good standing.
To be approved for this card, you don't have to have a minimum credit score, but there are a few eligibility requirements to be aware of. For instance, you cannot be in bankruptcy, not have any outstanding tax debt, and be at least 18 years of age with a valid social security number and verifiable U.S. address.
It also has some minimum income requirements, and you must fund your security deposit. Some perks of being a Merrick Bank Secured Visa cardholder include online management tools that allow you to manage your account online quickly and easily. You are also covered by a $0 fraud liability in the event of unauthorized purchases on your account.
Rates and Fees
Rates
Min APR: 18.45%
Max APR: 18.45%
Balance Transfer: N/A
Cash Advance: 23.45%
Fees
Annual: $36
Late Payment: $38
Balance Transfer: N/A
Foreign Transaction: 2%
Now let's check out the rates and fees associated with the Merrick Bank Secured Visa Card. This card has an annual fee of $36 for the first year, and payments are made on a monthly basis at $3 per month. The good news is that there are no account setup fees, other than your security deposit.
There are other fees to be aware of though, including transaction fees and penalty fees. Cash advances are charged a fee of 4% or $10, depending on the transaction size. Foreign transactions are charged a fee of 2% of each transaction in U.S. dollars. All late or returned payments are assessed a fee of up to $38, which can really add up.
It is also important to have a good understanding of the interest rates of your cards. This card currently offers an APR of 18.45 on regular purchases, which is pretty low compared to some of the other secured cards out there. This rate can vary though, depending on the market. Cash advances are currently billed at a higher rate of interest of 23.45%, variable.
If you make your payment within 25 days of the close of your billing cycle, you will not be charged any interest on purchases. Cash advances, however, are charged interest from the date you make the transaction.
The Bottom Line
As you can see, the Merrick Bank Secured Visa Card is a pretty good card for those trying to build their credit, or rebuild bad credit. The reason this card is ideal is because it has a lower interest rate than many of the other secured cards out there. While you will have to put some money down, it can be a great investment for your financial security in the future when it comes to your creditworthiness. Just be sure to make payments on time, because as easily as you can build up your credit with this card, you can also make it worse with improper use.

Jeff Gitlen is a graduate of the Alfred Lerner College of Business and Economics at the University of Delaware. He has spent the last 5 years researching and writing about personal finance topics, including student loans, credit cards, insurance, and more. His work has been featured on major news publications, some of which include Bloomberg, CNBC, Forbes, and Market Watch.
Best Credit Cards by Type