Some offers mentioned on this page may be outdated. To confirm offers and credit card details, check the issuer's website.
---
Men's Wearhouse Perfect Fit Credit Card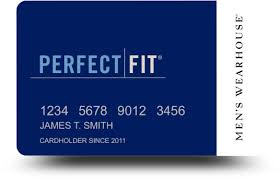 on Men's Wearhouse's secure website
Men's Wearhouse Perfect Fit Credit Card
What we like:
For those spending more than $500 annually at Men's Wearhouse
| | |
| --- | --- |
| Intro Offer | None |
| Rewards Rate | $50 rewards per $500 spent |
| Regular APR | 25.99% |
| Annual Fee | None |
See how this card stacks up to our top rated credit cards
The Men's Wearhouse Perfect Fit Credit Card is a rewards card with some perks and benefits for frequent shoppers of the men's retailer focusing on suits.
Save an extra 5% each time the cardholder shops at Men's Wearhouse
$50 reward for every $500 spent
Birthday offers
Free shipping on every order with no minimum
$30 off certain suit and tuxedo rentals
APR is 25.99%
Late payment fee up to $38
Men's Wearhouse, established in 1973, offers custom suits, off-the-rack suits, suit and tuxedo rentals, and tailoring services. It also features other men's clothing aside from formal wear and tuxedos. There are over 700 Men's Wearhouse stores around the country, and they also have a strong e-commerce presence.
The Men's Wearhouse Perfect Fit Credit Card is both a credit card and a rewards card for frequent shoppers, but customers don't have to have the Perfect Fit Rewards credit card to be part of the program.
With the Rewards Program, users get certificates that are valid for a period of six months after they're issued. For every $500 in purchases a member makes, they get a $50 rewards credit. Rewards certificates are sent out monthly for purchases made the month before, and it can take a few weeks after a purchase for a certificate to arrive. Rewards points can't be transferred or exchanged for cash.
Men's Wearhouse Credit Card Benefits
The primary benefit of the Perfect Fit Credit Card is that if you're a frequent shopper at the store you earn a point for every dollar you spend. This includes Men's Wearhouse, Men's Wearhouse and Tux, and Men's Wearhouse Outlet. Purchases include merchandise, alterations, tuxedo rentals, and layaways. There is no minimum purchase required to earn points, but you won't earn points on fees, such as damage fees from tuxedo rentals.
Along with the opportunity to earn a $50 certificate for every $500 spent, cardholders can also earn $30 off their suit and tuxedo rentals in some cases, and they'll receive free shipping when they make online purchases. As well as the benefits of the Perfect Fit Rewards programs, cardholders do get an additional 5% off every purchase. That 5% discount is the main benefit of the credit card.
As with many store credit cards, it can be relatively easy to obtain a Men's Wearhouse Perfect Fit card, and even applicants who have lower credit scores might get approved.
Men's Wearhouse Credit Card Downsides
There are some notable downsides to the Men's Wearhouse Perfect Fit Credit Card. The first is the high APR, which is currently 25.99%. Also, there isn't a need to have the credit card to participate in the rewards program. There aren't any additional rewards benefits that come with having the card as opposed to just being enrolled in the rewards program, beyond the 5% discount. And that 5% discount can quickly erode due to interest charges on this card if the balance isn't paid in full every month.
How It Compares to Similar Cards
In general, store credit cards are not a good deal for customers. The Men's Wearhouse Card has a relatively high interest rate, as do most other store credit cards. Store credit cards are often packed with promotional offers and rewards points, but they rarely balance out against the high interest rates you're going to pay.
Most store credit cards also tend to have very small minimum payments, which leaves interest racking up over time. Store credit cards also tend not to have a grace period, and whatever discounts are available with the use of these cards tend not to be worth their costs.
The only reason to get a store credit card that makes any financial sense for most people is if they need an easy approval so they can build or rebuild their credit.
Bottom Line
The Men's Wearhouse Perfect Fit card doesn't have enough perks to make it worthwhile for most people. It has a high interest rate, and the only benefit not available in the standard rewards program is an additional 5% discount on purchases. This isn't likely to be worth it for most shoppers considering the 25.99% APR.
Most Men's Wearhouse frequent shoppers might be better off skipping the card and just participating in the company's reward program. However, if you think you could pay off your balance each month and take advantage of the 5% discount, you might consider the card a good value.