LendEDU's Student Loan Driven March Madness Bracket 2017

March Madness is finally here.
After months of drawn-out bracketology and bubble talk that culminated in a 90 minute selection show this past Sunday, we are finally ready to enjoy some basketball.
To celebrate tip-off, LendEDU has put together our own unique NCAA tournament bracket. Our bracket includes the same 64 teams that will be competing for this year's NCAA basketball championship, except these schools will not be competing in basketball.
LendEDU's Student Loan Driven March Madness 2017 Bracket is a tournament based on the student loan debt per graduate at the 64 colleges and universities competing in this year's NCAA Basketball Tournament. Each school was placed in the same slot they are currently in for this year's basketball tournament. Instead of having to outscore their opponent in 40 minutes, schools advanced to the next round if their debt per graduate was lower than their opposition. LendEDU's bracket continued this method until the first LendEDU Student Loan Driven March Madness Champion was crowned.
People are drawn to the NCAA Basketball Tournament for a variety of reasons, including the unpredictability of it all. No matter how storied a school's basketball program is, no matter how dominant a team has been all year, anything can happen during March Madness. Some tiny school you may have never heard of can capture the hearts of viewers by knocking off a basketball powerhouse.
Although LendEDU's bracket lacks that unpredictability, our tournament is a contest of statistics. The schools that advanced far in the Student Loan Driven March Madness Bracket were the schools with the lowest student debt per graduate. The good news for you is that you do not have to wait a month to see who the winner is, we already have one!
Below you will find each section of the bracket (East, West, Midwest, South) followed by the Final Four portion of the bracket. Underneath each individual section, you will find a link for the full bracket.
---
East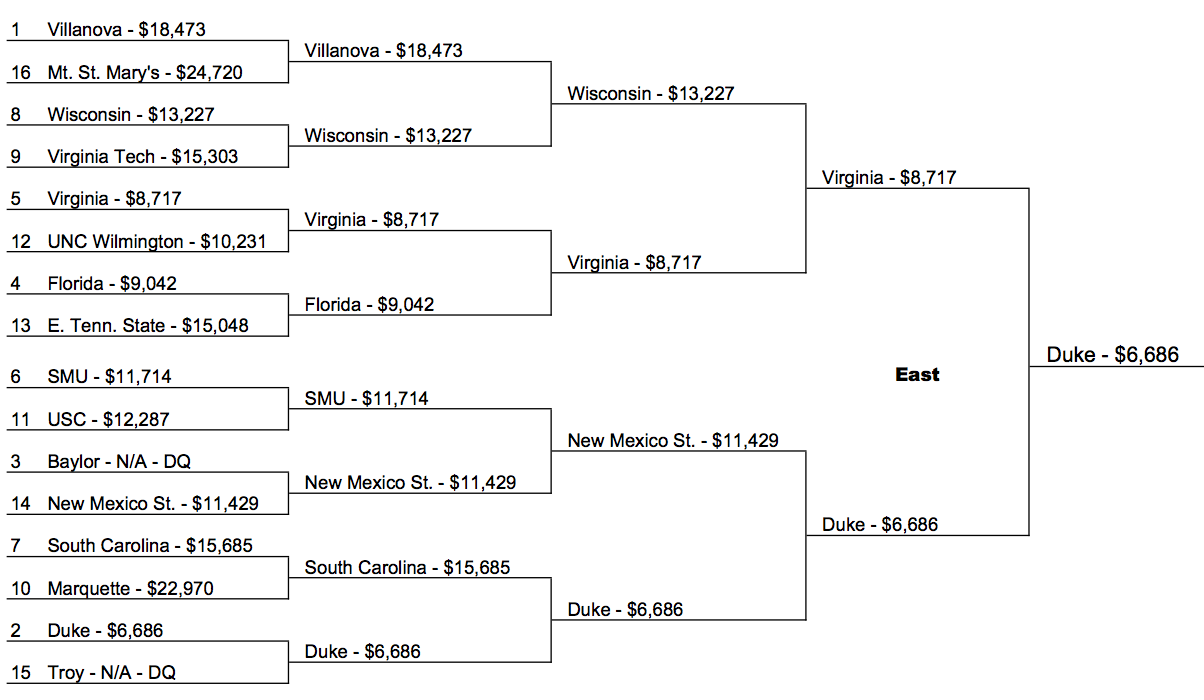 ---
Midwest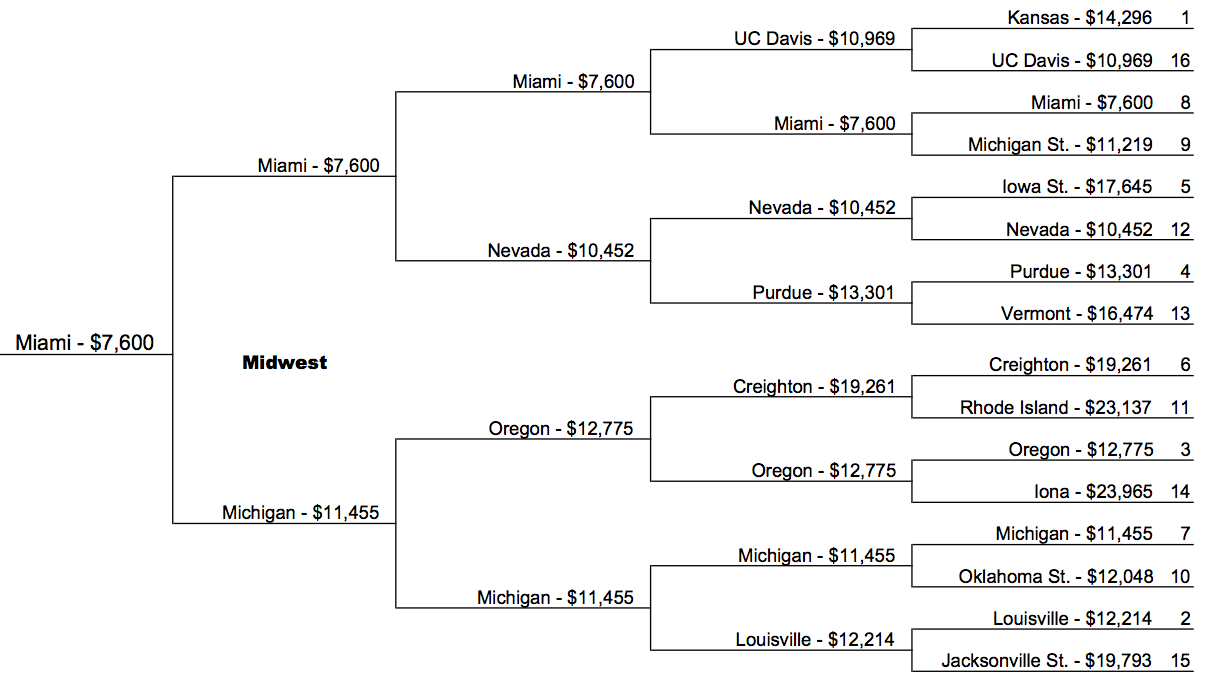 ---
West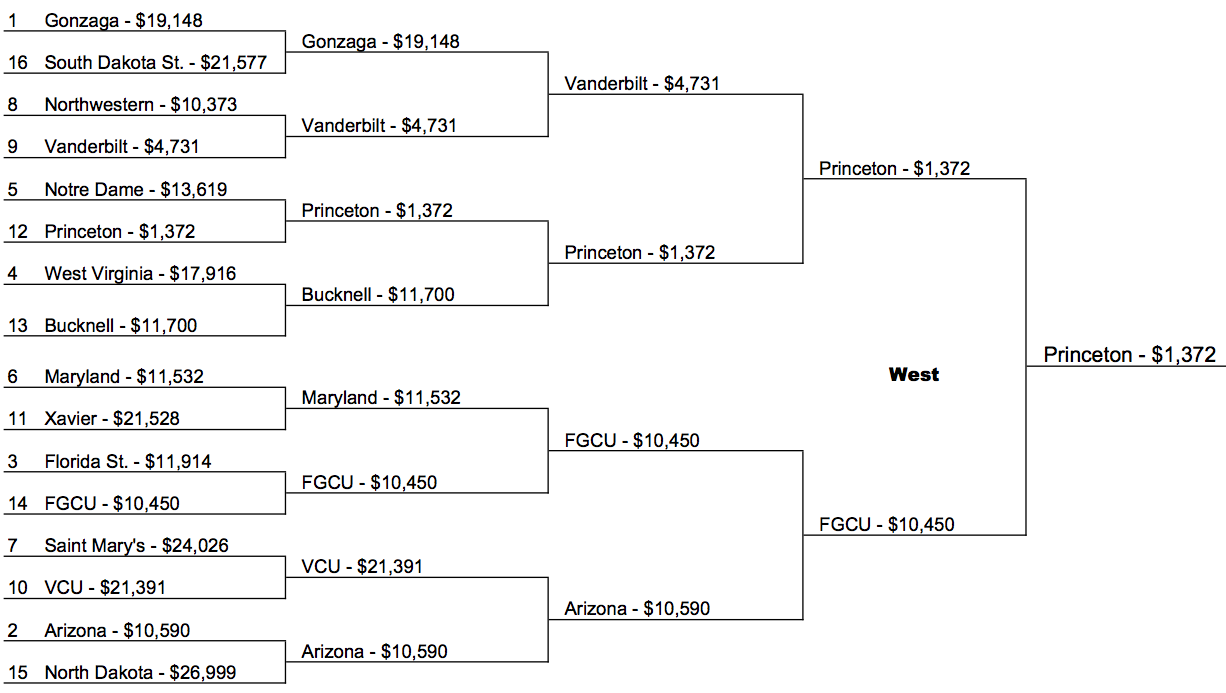 ---
South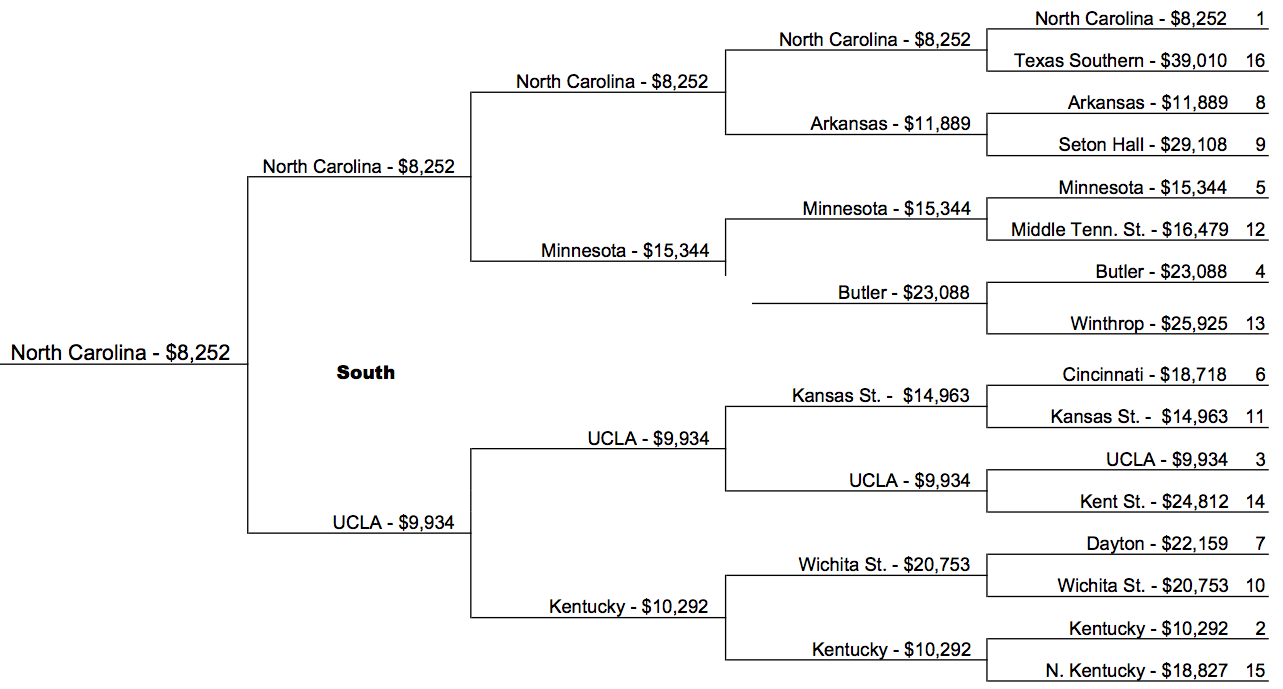 ---
Final Four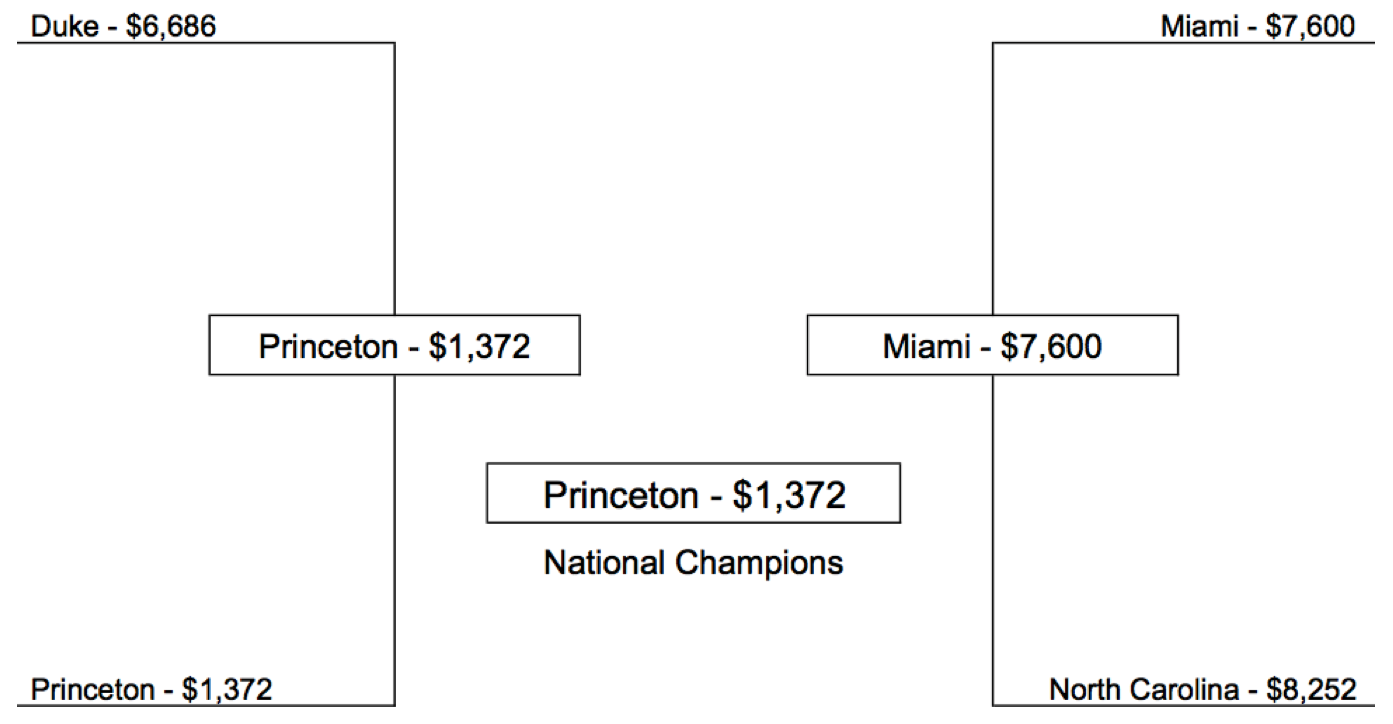 ---
Full Bracket
We were not able to fit the full bracket on this page. You can view it as a PDF in your browser, though, by clicking below.
To See The Full Bracket Click Here
---
More Information
And the winner is…
Princeton University with an impressive $1,372 debt per borrower!
The biggest upset was…
University of California, Davis – the 16 seed – over the University of Kansas – the 1 seed.
The closest matchup was…
Florida Gulf Coast University beating the University of Arizona by a mere $140 in the Sweet 16.
The biggest blowout was…
University of North Carolina – the 1 seed – over Texas Southern University – the 16 seed – by an astounding $30,758!
The Tournament MVP is…
Princeton University's Financial Aid Office for helping students fund their education with as little debt as possible.
---
Methodology
In order to determine the winner of each matchup, we compared the average student loan debt per graduate from the Class of 2015 – the most recent dataset available. The data used was licensed from Peterson's. Peterson's sends out a voluntary survey to all schools throughout the nation to gather the data. Schools who did not report the data to Peterson's (Troy University and Baylor University) were automatically disqualified.
See more of LendEDU's Research

Dave Rathmanner, a graduate of the University of Delaware, regularly plans and writes content about student loans, personal loans, credit cards, small business loans, mortgages, and a variety of other financial products. Dave's work has been featured in the Chicago Tribune, Bloomberg, Forbes, CNBC, U.S. News, International Business Times, Consumer Reports, VICE, Yahoo Finance, NPR, and more.