Some offers mentioned on this page may be outdated. To confirm offers and credit card details, check the issuer's website.
---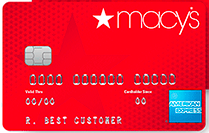 What we like:
Earn rewards anywhere Amex is accepted while still qualifying for special Macy's perks exclusive to store cardholders
Intro Offer

20% off Macy's purchases during the first two days your account is open, capped at $100

Rewards Rate

3

% back in rewards at restaurants,

2

% back at gas stations and supermarkets, and

1

% back on all other purchases (with the Macy's Amex)

Regular APR

27.49%

variable APR

Annual Fee

$0
See how this card stacks up to our top rated credit cards
Card Details
Pros
Choice of store card or Macy's-branded American Express
3-2-1 rewards with the Macy's Amex
25% off any day you like with Star Passes (no merchandise exclusions)
Added perks and benefits depending on your annual spend
Cons
No rewards with store card until you reach Platinum status ($1,200+ annual spend)
No 0% introductory interest rate on purchases or balance transfers
Very high regular APR
Short window on signup bonus
Recommended Credit Score
Macy's Credit Card: Earn Discounts, Cash Back, and Free Shipping from Macy's Stores
If you shop regularly at Macy's, you may want to sign up for either the Macy's store credit card or the Macy's American Express card, the latter of which can be used to make purchases and earn rewards anywhere Amex is accepted.
Although store cards may not provide the flexibility some cardholders are looking for, they still allow you to earn solid rewards if you shop at one store often enough. If Macy's is one of your favorite department stores, a Macy's credit card may be worth opening. You can always start with the Macy's store card if your credit isn't good enough to qualify for the Amex version. After working on rebuilding your credit, you can upgrade to the Amex.
In this review:
Macy's Credit Card Benefits
Macy's cards come with a number of different discounts for in-store purchases as well as annual bonus rewards. With both the Macy's store card and the Amex, you get:
A 20% discount on purchases in your first two days of being a cardholder (up to $100 in total savings)
Star Passes that provide 25% off on purchases on a day of your choosing
Invitations to special annual cardholder events
A birthday surprise
The above-listed benefits apply to both versions of the card, but the Macy's Amex provides some other benefits that aren't available with the store-only card, including up to 25% off qualifying car rentals and priority ticket access for eligible concerts, shows, and sporting events.
Cardholders with either card can also earn extra perks as they hit certain annual spending targets.
Macy's Status Levels
Macy's cardholders take part in Macy's Star Rewards program, which offers different tiers of rewards based on your spending level. These Macy's status levels include:
Silver: Cardholders who spend $1 to $499 annually on their Macy's card get Star Money Days when bonus rewards can be earned; invitations to special savings events; a birthday surprise; and Star Passes that provide 25% off on a day of your choosing.
Gold: Cardholders with $500 to $1,199 in annual spending at Macy's get all the same perks as Silver members, plus free shipping on Macy's purchases with no minimum.
Platinum: Once you hit $1,200 or more in annual spending at Macy's, you become a Platinum member, which means you get all the benefits associated with the Silver and Gold tiers as well as 5% back in rewards with no merchandise exclusions. (Gift cards do not count.)
Macy's Amex Card Rewards
Macy's American Express cardholders get additional rewards beyond what the Macy's store card offers, including 3% back in rewards at restaurants; 2% back in rewards at gas stations and supermarkets, and 1% back in rewards earned everywhere else. This is actually a fairly competitive rewards program. These rewards can be redeemed for merchandise at Macy's once you've earned enough points to receive $10 in Star Money.
Star Money can be used at Macy's, macys.com, and Macy's Backstage. You can use Star Money on any merchandise, including merchandise that rarely goes on sale. Because you can only redeem your rewards on Macy's purchases, points earned on your Macy's Amex aren't very flexible.
Downsides of the Macy's Credit Card
Unfortunately, there are also some downsides to the Macy's store card as well. Some of the disadvantages include:
Limited functionality: Although the Macy's American Express card can be used anywhere American Express is accepted, Amex cards aren't as widely accepted as Visa or Mastercard. The store card can't be used anywhere but Macy's.
Few perks or rewards if you're not a regular Macy's customer: Unless you want to redeem points and get discounts at Macy's, this card won't provide you with much value.
A very high APR: Many store cards have APRs well above those associated with general purpose cards, and the Macy's card is no exception. The

27.49%

APR is also above-average compared to other store cards.
How It Compares to Similar Cards
Both Macy's cards are similar to many other store cards that only allow points to be redeemed for merchandise sold in the store. Perks are reasonable for Macy's shoppers compared to the benefits provided by other store cards but the card is far less flexible than general purpose cash back or rewards cards.
Macy's American Express Card vs. Citi Double Cash
The Citi Double Cash card is a much more flexible and versatile credit card option than either Macy's card. Citi's Double Cash card provides 1% cash back on all purchases and an additional 1% cash back when purchases are paid for in full. Although the Macy's Amex allows you to earn 50% more rewards for restaurant spending, the Citi card actually gives you cash back, not just money to use at Macy's.
Not only does the Citi Double Cash card offer much more flexibility in how points can be earned or redeemed, but it also provides a 0% introductory APR on balance transfers for up to 18 months. There's a balance transfer fee equal to the greater of 3% or $5, but the long 0% promotional period still makes this a pretty good card if you want to transfer existing high-interest credit card debt.
How to Apply for a Macy's Credit Card
You can apply for a Macy's credit card account online or in-store. You'll need to provide your personal information, including your Social Security number, for your application to be considered.
Where Can I Use My Macy's Credit Card?
You can use your Macy's store card only at Macy's, macys.com, and Macy's Backstage. However, your Macy's American Express card can be used anywhere Amex cards are accepted.
Macy's Bill Pay
If you need to make a payment on your credit card bill, you have several options:
Initiate one-time payments via your online account.
Set up autopay and have payments directly debited from a checking or savings account.
Call 888-257-6757 to make your payment over the phone.
Visit any Macy's store register to pay your bill using a debit card, cash, or check.
You can also mail in your payment, but the mailing address depends on whether you're making an American Express account payment, a Macy's store card payment, or Express Payments.
Bottom Line
If you regularly shop at Macy's and you want access to exclusive in-store perks and benefits, one of the Macy's cards may be right for you. Just be aware you'll have to redeem the rewards you earn for Macy's merchandise only. If you don't mind this lack of flexibility when it comes to rewards redemption, this card is worth considering.