Some offers mentioned on this page may be outdated. To confirm offers and credit card details, check the issuer's website.
---
Lufthansa Miles & More World Elite Mastercard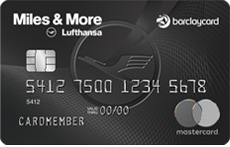 on Barclay's secure website
Lufthansa Miles & More World Elite Mastercard
What we like:
A person who prefers to travel with a companion
Intro Offer

Earn

20,000

award miles after first purchases and payment of annual fee, and earn an additional

30,000

award miles after making

$5,000

in purchases in first

90 days

Rewards Rate

2

award miles per $1 spent on ticket purchases directly from Miles & More integrated airline partners



1

award miles per $1 spent on all other purchases

Regular APR

18.24%

–

27.24%

Annual Fee

$89
See how this card stacks up to our top rated travel credit cards
The Lufthansa Miles & More World Elite Mastercard is an airline credit card issued through Barclays. While Lufthansa is a European airline, the card is the airline's U.S.-branded product.
This card offers generous reward-earning opportunities and other appealing features. This Lufthansa credit card is especially appealing for U.S. travelers who frequently go to Europe.
Maximize Your Rewards With the Miles & More Credit Card
When someone signs up for the Lufthansa Miles & More credit card, they receive two times miles per dollar on all ticket purchases from airline partners. For all other purchases outside of qualifying airline purchases, cardholders earn one award mile per dollar spent.
Lufthansa airline partners include:
Austrian Airlines
Brussels Airlines
Swiss International Airlines
Jet Airways
Members of the Star Alliance
The card also includes 20,000 bonus miles with an initial purchase, and the opportunity to earn an additional 30,000 award miles after making $5,000 in purchases after the first 90 days.
Cardholders can redeem miles for flight awards, as well as upgrades on Lufthansa and partner airlines associated with the company.
Experts say for this card to be considered worth it for the cardholder, they should be flying Lufthansa quite a bit so they're getting the double points. For example, this could be a good fit for business travelers who pay for their flights on their personal card and then are reimbursed.
How to Get This Lufthansa Credit Card
Approval for the Lufthansa credit card is usually similar to other travel credit cards. You do need a decent credit score in most cases, and the APR can go up pretty significantly based on creditworthiness. You can apply directly through Barclays, and depending on your credit history you may receive an immediate decision.
Basic Information: Rates and Fees
The Lufthansa credit card currently has a purchase APR ranging from 17.74% to 26.74%, depending on creditworthiness. There is a zero percent introductory APR for the first 15 billing cycles if you enable balance transfers posting to your account within 45 days after opening the card. After that, the APR for balance transfers goes to the normal rate.
The annual fee for the card is $89, although this is waived for Senator and HON Circle Members.
There is a balance transfer fee of three percent beyond the introductory offer, but there is no foreign transaction fee when using the miles and more credit card.
Benefits of the Barclays Miles & More Card
Along with the other reward-based benefits of the Miles & More World Elite Mastercard, there are other perks as well. First, cardholders receive two complimentary vouchers for the Lufthansa Business Lounge each year.
There is also a 15 percent-off program where cardholders get discounts on hotels and cars.
Another benefit of this card is a companion ticket is received each year that provides an additional economy class ticket for one trip booked annually.
There are restrictions as far as how it can be used, but for the most part, it can provide a value of hundreds of dollars every year.
Downsides of the Barclays Miles & More Card
The Lufthansa credit card is pretty straightforward. The biggest downside is the fact it's not very flexible for people who don't travel to Europe frequently, or who aren't planning a trip to Europe. Someone really has to use Lufthansa or a partner airline to get any value out of this card. It should be noted, however, that United Airlines is part of the Star Alliance.
Also, while it's anecdotal, some cardholders have left reviews about the Miles & More card complaining they were charged a much higher price for a ticket than they would have normally been when using their yearly companion ticket. This may be something to watch out for if you're considering the Lufthansa miles and more credit card.
Bottom Line
The Lufthansa Miles & More World Elite Mastercard has some benefits as well as some downsides. It has a pretty normal reward earning structure, it's good if you travel to Europe often, and it does have some travel perks. It's often better used as a companion card to a primary travel rewards card, as opposed to being the main card someone uses to accumulate miles or rewards.
Not satisfied? Check out the best credit cards that we have reviewed or the best Barclays credit cards, specifically.